WHAT'S YOUR RESORT STYLE?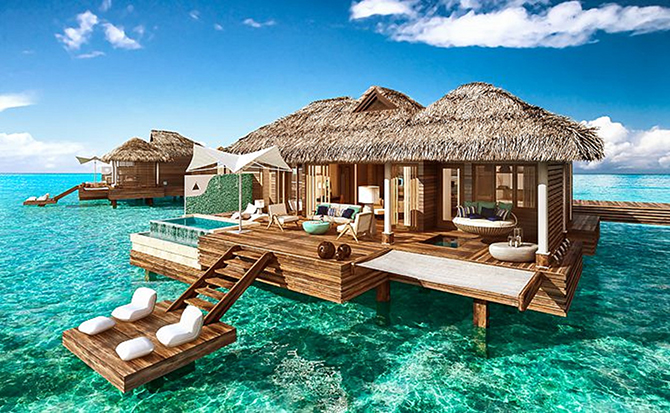 By Patricia Canole
The Caribbean's blue-and-green patchwork of islands and sea curve softly southward from Florida's tip. It's a sunny realm that beckons travelers to relax and enjoy. Some of their names may be unfamiliar, but the lesser-known islands of the Caribbean are real hideaways. These seductive islands easily live up to your highest expectations of what tropical bliss is all about. Of course, they tempt with quiet, palm-shaded coves, flourishing rainforests, towering volcanoes and cascading waterfalls. You'll have no problem dining on lobster and other fresh seafood while musicians serenade you with calypso and reggae. And there's no question that, as the blazing sun slides into the ocean, you can sip tall, frosty glasses of rum punch.
But where to go and to stay? Take our quiz to see if your vibe is Active, Secluded, Unplugged, or Ultra-Luxurious.
Your idea of beachside bliss is…
a) Rum punch and reggae
b) No one but you, your significant other and the occasional sea turtle
c) A hammock for two, cold beers, and that bestseller
d) Chilled face towels, and iced Champagne
The suite must have…
a) An extensive list of daily activities
b) Absolute privacy (indoors and out)
c) Nothing that rings, buzzes, or beeps
d) A Jacuzzi and 24-hour room service
Your dream dining scenario is…
a) A different restaurant to try each night
b) A romantic torch-lit dinner for two
c) Casual finger-lickin' local cuisine
d) Gourmet meals with wine pairings
On your getaway, you expect to…
a) Socialize with others
b) Hang the "Do Not Disturb" sign 24/7
c) Feel more relaxed than you've ever felt before
d) Be treated like a Hollywood A-lister
Your ideal spa treatment would be…
a) Mojitos, manicures and wedding chat with other just-marrieds
b) An alfresco massage on a quiet beach
c) Daily spa treats in the privacy of your room
d) An entire day of indulgence in a spa suite
Your ideal way to spend the afternoon would be…
a) Playing beach volleyball
b) Midday swims in your private pool
c) Napping under a palm tree
d) Shopping for chic resort wear
---
If you chose mostly A's, you're Active. Consider a lively all-inclusive or a resort with lots of activities and restaurants.
SANDALS (Antigua, Bahamas, Barbados, Grenada, Jamaica, and St. Lucia) With 15 resorts on six isles, this all-inclusive leader offers couples-only camaraderie in a variety of tropical settings, from sexy party-scene Negril to romantic Antigua to garden-like Ocho Rios. Restaurants feature award-winning world-class cuisine, and with Butler Suites, you'll enjoy the ultimate in pampering. Too much rum punch? Detox for an afternoon at the Red Lane Spa. Info: sandals.com.
---
If you chose mostly B's, you're Seclusion-Seeking. Consider an intimate, remote resort, where alone time is abundant.
JEWEL DUNN'S RIVER BEACH RESORT & SPA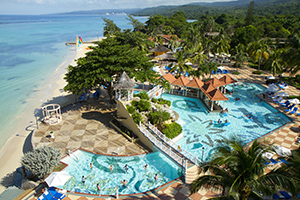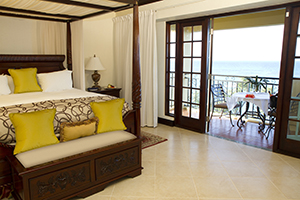 Jewel Dunn's River
Beach Resort & Spa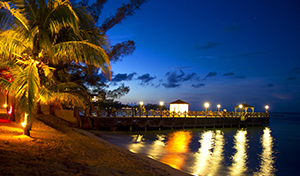 Jamaica
Set on lush acres in Ocho Rios, you'll find plenty to do: water sports, swimming pools, and a PADI-dive center. The resort offers adventurers excursions to explore Fern Gully with more than 550 native tropical species or Green Grotto for a boat ride on an underground lake. If all of this leaves you, both exhausted, pamper yourselves at the Spa with warmed stones from Jamaica's Black River. Info: jewelresorts.com.
---
SPICE ISLAND BEACH RESORT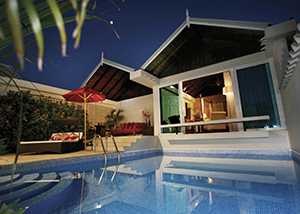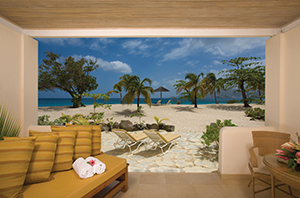 Spice Island Beach Resort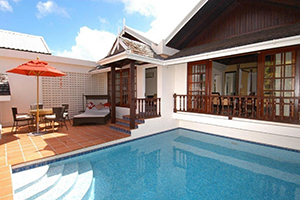 Grenada
This island is full of small surprises, but none is as delightful as this resort nestled on Grand Anse Beach. The breezy living is effortless here and the personalized service is impeccable. Beachfront suites are one step from the sand; luxury pool suites have private gardens and swimming pools. All guest rooms are enhanced with a Balinese aesthetic touch; —think canopied king beds, private plunge pools and outdoor showers with a sea view. Add in a Balinese aesthetic and you'll soon find your own privacy in paradise. Info: spiceislandbeachresort.com.
---
If you chose mostly C's, you're Unplugged. Consider a low-key resort without TVs and phones.
KA'ANA BOUTIQUE RESORT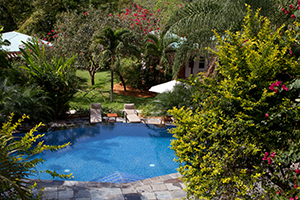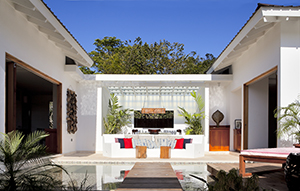 Ka'ana Bautique Resort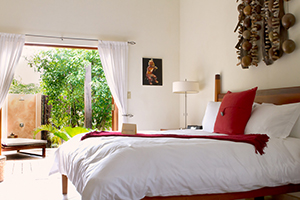 Belize
Opened since 2007, this intimate sanctuary, cradled in the Maya Mountains, fills the niche for those who'd like to explore such wonders as the Rio Frio cave (where stepping stones lead into a massive cavern of waterfalls and ancient Maya artifacts). Upon return to your haven in the jungle, soothe your body and soul at the spa before indulging in a candlelight dinner for two. After all, there are limits to roughing it! Info: kaanabelize.com.
---
JAKES HOTEL, VILLAS & SPA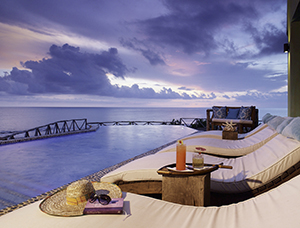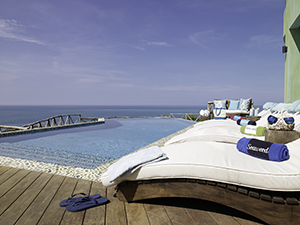 Jakes Hotel, Villas & Spa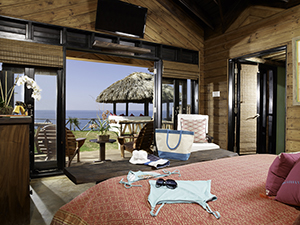 Jamaica
Here is where to escape for quiet time—even if it's just for a long weekend. Located on Treasure Beach, Jakes is a member of the trendy, luxury hotel group Bespoke Hotels and where guests come here especially to unplug. The resort is about getting in sync with the sound of the sea while snuggling in a hammock or enjoying herbal massages at Driftwood Spa. By your second day, you'll find its charm and personality irresistible. A peaceful setting to wish upon the stars that seem so much brighter in this laid-back corner of the world. Info: jakeshotel.com.
---
If you chose D's, you're Ultra-Luxury. Consider a five-star resort known for its superb service and upscale amenities.
PETIT ST. VINCENT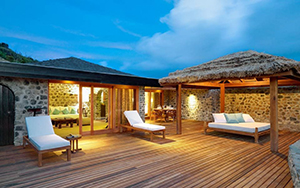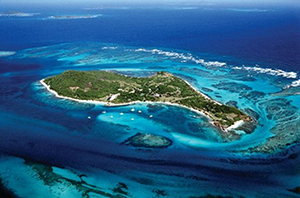 The Grenadines
This lush private island resort is so secluded, there's no need for room keys. Also not included are phones, TVs, and Internet access (though if you require to contact the outside world you can pick up a signal from the bar). Should you find yourselves hungry during your stay, unlimited room service is available wherever you may be on the island. Info: petitstvincent.com.
---
LE GUANAHANI & SPA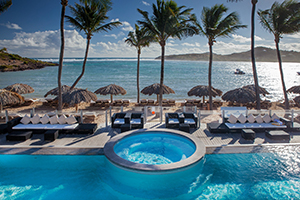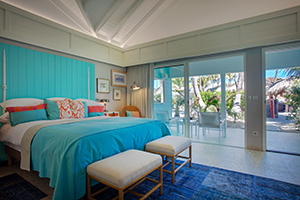 St. Barths
Glitz and glam go hand in hand on the Caribbean's très chic French isle. But this lovely resort is raising the bar with luxury and where you'll find breezy white meets dreamy pink, yellow and blue accents. All rooms and suites offer private terraces, and many feature private pools. Hidden amongst the lush vegetation, the Spa by Clarins comes complete with rejuvenating signature treatments. No matter where you stay, the chef and his crew will prepare the ultimate dining experience (opt to have it beachside). So intoxicating is this resort... you just may not want to leave! Info: leguanahani.com.
---
SANDY LANE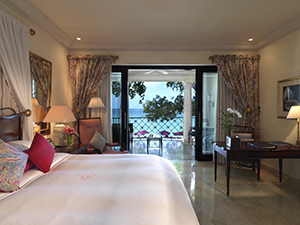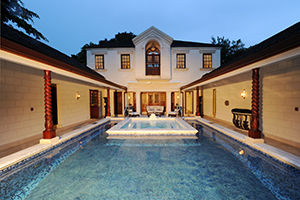 Barbados
Arguably the most opulent resort in the Caribbean, this haven boasts pure relaxation. From the chauffeured airport pick-up and the lavish Romanesque spa to the restaurants and golf courses, it's all about five-star gratification. The attention to detail is carried to the beach: the Evian misting; the sunglass cleaning, and a towel handed to you after a swim. The spa is just as spectacular. Enjoy the signature ritual of foot soak in a candlelit room side by side followed by a massage for two—along with treats and drinks by a private hydrotherapy pool. Info: sandylane.com.