POSTCARD FROM ST. LUCIA
By Patricia Canole
HEAVENLY RESORTS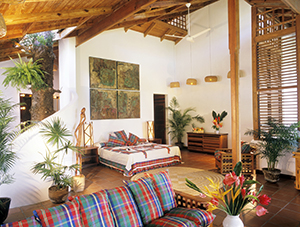 Anse Chastanet
This award-winning resort boasts spacious art-accented suites tucked into steep green hillsides above a secluded beach and marine reserve. Doze in hammocks on the volcanic sands or learn to scuba dive at the resort's modern dive shop, one of the largest in the Eastern Caribbean (ansechastanet.com).
Ladera
With private plunge pools in open-air suites, magnificent sunsets over the twin Pitons in the bay beneath you and the serenade of amorous tree frogs in the air, this gem rates over-the-top in accommodations and service. Small wonder it's repeatedly been called the best resort in the Caribbean (ladera.com).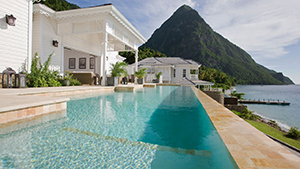 Sugar Beach, A Viceroy Resort
This luxurious resort is a favorite with repeat guests: its flowery paths, swaying palm trees and slices of emerald-green rainforest are hypnotic. For a real treat, be sure to book a Bamboo Massage at the Rainforest Spa (viceroyhotelsandresorts.com).
---
BEST COCKTAILS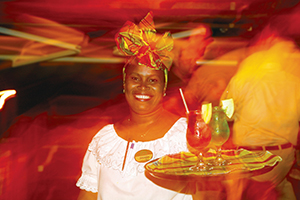 The Bar
There's nothing like sitting back and taking it all in on Ladera's veranda, perched some one thousand feet above the Caribbean Sea, where the daily drink specials are as intoxicating as the view. Our favorite? The luscious Down and Out, a blended concoction of peach Schnapps, coconut cream, ripe banana and fresh strawberries. There's live music as well.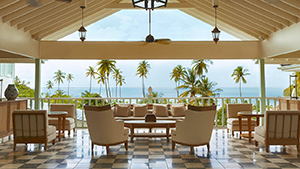 The Palm Court Lounge
Savor a touch of sophistication at this elegant setting while viewing the dramatic sunsets. Located within the Sugar Beach Resort, it serves up nightlife entertainment along with a good selection of cocktails, mixed drinks, wines, and beers. The Tea Mojito is a relaxing blend of white rum, tea essence, lime juice, mint and soda water.
---
SPECTACULAR BEACHES
All of the beaches on St. Lucia are public, but access can sometimes be a problem. In general, it's best to stick to those on the west coast; the windswept east side of the island faces the Atlantic Ocean, and the surf can be rough. Most of this volcanic island is lined with dark sand, but there are notable exceptions.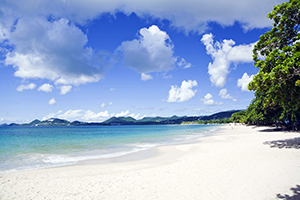 Pigeon Island
This small, uncrowded beach adjacent to this national historic park is the perfect spot for a picnic. A little café next to the beach sells snacks and drinks if you don't want to bring your own.

Choc Beach
This beautifully sandy beach north of Castries looks like something out of a postcard, with lots of coconut palms and clear, tranquil waters that are ideal for an afternoon swim.
For more information on these beaches, visit stlucia.org.
---
BEST ACTIVITIES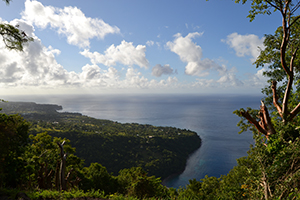 Barre de L'isle Trail
St. Lucia's mountainous center is covered with rainforest (19,000 acres of it, in fact), home to bromeliads, wild orchids and the brilliantly hued (and endangered) St. Lucia parrot. This relatively easy hiking trail takes you through the center, with paths that veer off to panoramic views overlooking where the Caribbean meet the Atlantic. Several companies offer guided hikes, but it's well-marked enough that you can do it on your own if you prefer.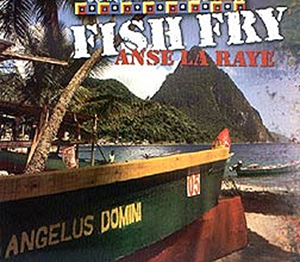 Anse la Raye Friday Night Fish Fry
This weekly street party hosted by this small fishing village is a perfect place to enjoy just-caught lobster or snapper, yes, but it's also an excellent way to check out St. Lucia's culture. Locals and visitors alike dance and have fun at this noisy, festive open-air event.
For more information on these activities, visit stlucia.org.
---
BEST OCEANVIEW DINING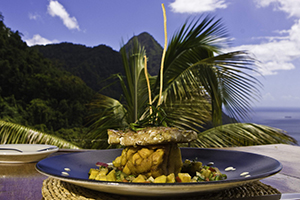 Dasheene at Ladera
This open-air restaurant is the most romantic place to watch the sunset over the twin Pitons and lovely Soufriere Bay. Accomplished chef Nigel Mitchel whips up fabulous dishes to accompany the dramatic views.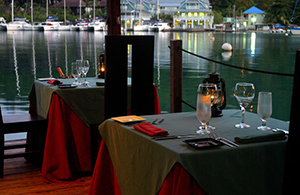 Rainforest Hideaway
Go ahead and splurge! Take the three-minute ferry ride to Marigot Bay to this favorite restaurant on a dock in the bay. The menu is eclectic (from chops to pasta), but we'd recommend one of the locally caught fish dishes prepared Caribbean style (rainforesthideawaystlucia.com).