GREAT ESCAPE: THE KITANO NY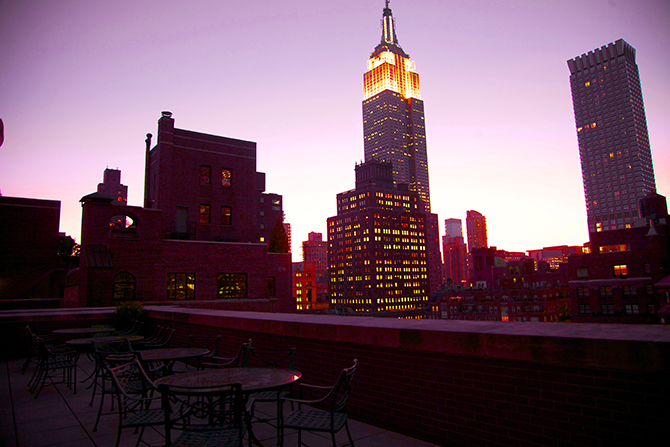 By Clint Brownfield
Let's face it—New York is without a doubt the center of the entire world. Visitors from all over come here to view the treasures in our museums, attend our incomparable theaters and sporting and cultural events. Dining? We're the food capital of the world, too. Visitors may even do a little wheeling and dealing while in town since New York also happens to be the business capital of the world. But sometimes we New Yorkers want to take a breather from all the hustle and bustle. If you find yourself in need of a break, then amble over to the southwest corner of Park Avenue, and 38th Street at the apex of Manhattan's tony Murray Hill neighborhood and enter the serene atmosphere of The Kitano New York, which describes itself as New York's first and only Japanese-owned boutique hotel.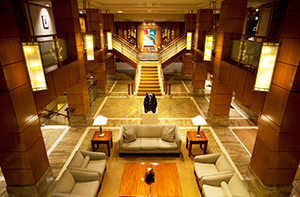 Kitano Lobby
AN URBAN OASIS
Entering the hotel's lobby, a calm, and soothing atmosphere helps ease whatever inner turmoil might be coursing through your system. But make no mistake, this is not a stodgy cartoon-like a version of an old-timey men's club. Polished marble flooring, rich mahogany paneling, original works of art and a sweeping staircase up to the second level pave the way for the sleek, understated tone that makes the hotel unique. A whimsical touch, via Botero's imposing sculpture of a big happy dog greets all who enter. The name of the sculpture is simply Dog. The lobby also features an inviting lounge where you can sip a cocktail or perhaps savor cup of tea—very relaxing. All of this is available, whether you're staying in the hotel or not. It's an oasis.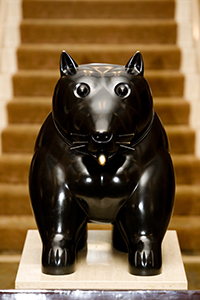 Kitano Lobby Sculpture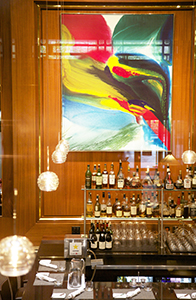 Jazz At Kitano - PAUL JENKINS "Phenomena Seen But Not Heard"
ALL THAT JAZZ
But, if you want to rev it up a little, that's no problem at the Kitano. Just head toward the door at the back of the lobby and slip into Jazz at Kitano. One can also enter through the entrance on East 38th Street. New York used to have lots of jazz clubs—but not so many these days. Darkly lit smoky joints, usually in basements, were the places to enjoy jazz in the city. Jazz at Kitano isn't like that. Located in an 1896 landmark townhouse that was acquired by the hotel in the mid-1990s (it formerly housed members of the Rockefeller family), the main room, with its soaring atrium, is home to the world's best jazz artists and promising up-and-comers. Several nights a week jazz patrons can behave like cool cats and bop along with the cool cats on stage. Check out the kitano.com/jazz-schedule for weekly schedules and to see if there is a cover or minimum for a particular performance. In addition to music, Jazz at Kitano also offers a Sunday jazz brunch buffet ($40); daily lunch and dinner featuring Asian, Continental, and American classics.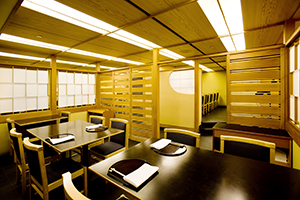 Hakubai Seating
EAST MEETS WEST
But the hotel's food offerings do not end at Jazz at Kitano. On the lower level of the hotel a spectacular (and possibly under-discovered) Japanese food temple awaits—Hakubai Restaurant, considered by many to be the finest Japanese restaurant in the United States. Here, Executive Master Chef Yukihiro Sato offers his take on Kaiseki, a centuries-old Japanese cuisine with roots in Zen Buddhism and the traditional Japanese tea ceremony. The main dining room seats 49; there are three private dining Tatami Suites, which feature traditional sunken dining tables. Guests must remove their shoes before entering the private suites. Bamboo and other natural materials, in addition to tatami, shoji screens, and ikebana floral arrangements set the tone for the authentic, and serene, Japanese decor. More than a half-million dollars has been invested in its collection of Japanese dishes and serving pieces, all providing an understated platform to make way for the real stars of the room—the food.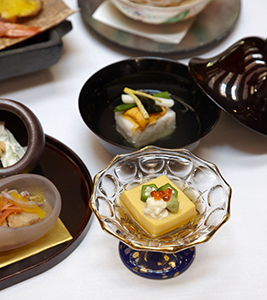 Kaiseki was developed more than 500 years ago. According to legend, Buddhist priests in strict Zen training would store a hot stone (seki) in their kimono pocket (kai) in order to make their fasting more bearable. The Kaiseki was originally served during traditional tea ceremonies and offered before the elaborate ritual. It was thought that the tea would taste better if the people weren't hungry. So the word 'Kaiseki' is used for the light meal served during the tea ceremony. But dinners at the restaurant are far from the 'light snacks' served at those tea ceremonies. Served at dinner, the eight-course (or more) Kaiseki is as much an art form as it is a cuisine.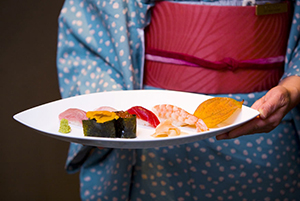 Diners start off with an appetizer, which might include minced young fish and vegetables—served on hand-painted porcelain or pottery. A light soup follows in a lacquer bowl, perhaps with soybean cake, mullet row, and udo. Next, a rare lacquer box is presented containing sashimi or another delicacy. After that comes hassun an array of delicacies such as fish, bamboo shoots, sushi or asparagus rolled with salmon, which is typically followed by a boiled or simmered dish, perhaps with vegetables and fresh fish. Several courses later, diners will have experienced one of the most authentic Kaiseki meals one can savor in New York City. All comprised of the freshest seasonal ingredients available on the market that day. So forget dinner and a show. This is a show!

Tatami Suite Bedroom
BEAUTY EVERYWHERE
Another thing you'll notice all over the Kitano, in the public spaces and also in the restaurant, rooms, and suites, is a proliferation of beautiful flowers. These are Ikebana floral arrangements and are changed weekly under the supervision of Mr. Noritaka Noda, president of Ikenobo Ikebana Society, New York City Chapter. These living works of art are another reason to periodically drop into the Kitano to unwind, relax and get away from the hustle and bustle in the center of the world—New York City.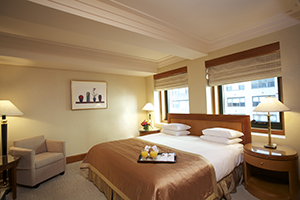 Kitano King Superior
If you or your out-of-town friends would like to book a room, the 18-story Kitano New York offers 150 guestrooms, including 18 suites, each featuring custom-made mahogany and cherry furniture, custom-made mattresses and original artwork. Windows open to views of historic Murray Hill, Grand Central Terminal, the Empire State Building and other New York landmarks such as the Morgan Library and Museum across from the hotel on 38th Street. Private meeting rooms are available as well as a business center and an in-house fitness center. The Kitano owes much of its success to the high percentage of guests who return, time and again, making it their serene and calming New York home-away-from-home.
For more information, visit kitano.com.