GRAIG WEICH: SUPERHERO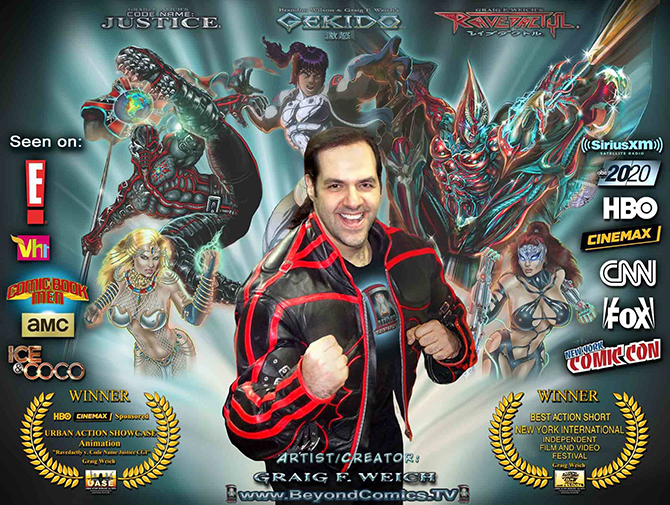 By Daniel J. Bollinger
Graig Weich is the award-winning artist, writer, film director, and CEO of the New York City-based BeyondComics.TV—a multi-media production company and winner of the HBO-sponsored UAS Film Festival and NY International Independent Film & Video Festival for Best Action Short. BeyondComics.TV not only creates comic book graphic novels but also creates sculptures, toys, animation, 3-D characters, movie special effects, websites and more.
I met Graig at an art auction and had the chance to learn a little more about his company and what he sees for the future.
Tell us a little bit more about BeyondComics.TV and where it's been seen?
It's such an honor to be a part of the superhero universe. I draw, write and create all new superhero comic book graphic novels with the celebrities. The short film I directed based on them won the HBO sponsored UAS Award.
Most of the movies, video games and merchandising all stem from their comic book source material but there haven't been any new independent superheroes to break into the mainstream media for years, and that's when I realized new content was in need.
It was a blast to have my work featured on AMC's Comic Book Men a few times, on E! Entertainment Television's Ice Love's Coco and Howard Stern Show's 100 News. Cary Hiroyuki-Tagawa (Mortal Kombat and The Man In the High Castle) just became a partner in my company and will be featured as a villain drawn in my comic book Gekido. It also features Ice-T's wife Coco, America's Next Top Model winner Adrianne Curry, Howard Stern's producer Gary "Bababooy" Dell'Abate and Donald Faison (NBC's SCRUBS).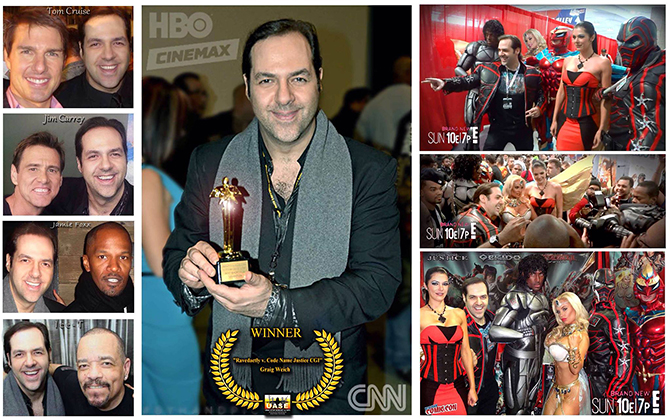 Who else would you like to draw into your comics?
I've personally met with some more A-list celebrities that I'm in talks with. I can say that I enjoyed meeting and talking with Tom Cruise, Sam Jackson, and Jim Carrey.
What first got you started in comics?
Ever since I could remember, I was drawing superheroes, and my parents noticed I was making images they could identify. But I guess right before my 2nd birthday my parents got me my first action figure superhero—Superman, I think! I was hooked instantly and began "flying" around the house in my homemade cape. The rest is history.
My father was a huge comic book fan. My mom mentioned to me when I was six that I should create my heroes and work for myself. By the time I was eight years old, I was acting out stories I thought up while playing action figures with my parents. Then, I drew my first comic called Macho Man. By age 14 I began seriously creating superheroes and a year later was published as the cover artist for Video Game Magazine. My big break came when Todd McFarlane from Image Comics (Spawn and The Walking Dead) hired me as his official poster artist and was featured on a TV show which launched my career in comics (though I took a long hiatus to go to school).
How did the story of Gekido and your other superheroes originate?
Gekido is the first hero I co-created with writer Brandon Wilson who reached out to me to create all the designs, visual characters and has my input on Gekido to become what you see today, he is brilliant, and it's an honor to work together and call him my friend. For my other characters Code Name: Justice and Ravedactyl (coming out soon) I pull from real life struggles and theories I've come up with on life after death and our purpose in existence with a superhero twist.
What were your favorite comic books as a kid?
Superman, Batman/The Dark Knight Returns, and Spiderman, then my father introduced me to the classics, Spy Smasher, Mandrake the Magician, Captain Marvel (SHAZAM), The Lone Ranger, Zorro and The Phantom.
Who are your favorite comic book characters outside of your comics and any advice?
The original Spiderman, he is the basis of most heroes today showing personal problems, and though he is powerful, he has vulnerability and struggles like the rest of us. He also has some of the coolest super powers. That's what forced me as a creator of comics to come up with new ideas and super powers that I haven't seen done in comics the way I put my twist on them. I still get excited and inspired today by epic emotional classic music soundtracks and fast techno pop beats, amazing comic book artists and Matrix style movies and re-watching movies like the original Robocop, The Dark Knight.
All that sparked my excitement and thus I learned the hard way how difficult it can be to pursue your dreams, so the best advice I can offer others who are interested in this field is when you're about to quit because you don't think you have it in you to keep going any longer, that is when 99 percent of us give up and stop. And it's at that point that you must become the one percent to pause and rev yourself back up and keep going. It's at a moment that makes the difference between failing and succeeding. You must become your own hero to save yourself so you can then grow to help save others.
What is a typical day like for you?
I enjoy challenging myself to create new, original superheroes, monsters, storylines that keep revealing new secrets. Characters with new super powers and skills. Taking what we love and putting my spin on it in a new way. Making the impossible possible and working on leaving a legacy through my creations to add to the wonderful world of comic book graphic novels. Through all the years, there's nothing like holding a finished printed comic book in your hands as a souvenir of all that hard work that produced something that can give enjoyment.
Meeting my fans at comic conventions and getting all those supportive emails is what makes it all worthwhile. A fan in his 30s approached me at Comic Con and permanently tattooed all my superheroes on his entire arm. Then there's the young girl in a wheelchair who began crying and telling me how happy my comic book made her feel. After that, I realized how serious my job is. I have a chance to inspire people with my creations, and I felt a tremendous responsibility to do everything in my power to never give up and keep going no matter what—to create comics that make a difference. I've donated my art to help raise money for children and animals in need for many years, so in a way, it's like my fictional superheroes are helping save people in real life.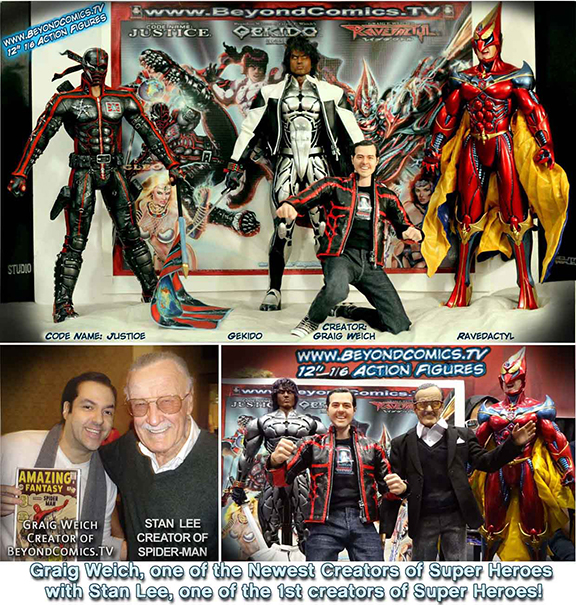 What interesting things are you working on now and for the future?
New 3-D color holographic motion printed comics will be coming with no need for glasses or electronics using the newest lenticular technology. My three new comics are Gekido (available now) that follows the adventures of an Anime Asian mystical hero who fights an ancient Ninja clan. Then, Code Name: Justice who fights to stop corruption and uncover the truth behind the conspiracies in our world while facing his inner demons. And next up is Ravedactyl: Life Beyond Death, where mythological armor processes a human to discover the secret origins of humankind while saving the world from the apocalypse, all due out shortly. Of course, turning my creations into movies, TV, video games, animation and more is very exciting.
I'm thrilled we signed for an Action Figure license deal. It's so exciting to be able to hold my creations in my hands and play with them. They use all new tech with seamless synthetic skin and a steel skeleton inside with 33 points of articulation revolutionizing action figures as we know it. The prototypes premiered at Comic Con in the U.S. and the Philippines, and that's just the start. The other heroes in the pipeline are also being worked on to create a whole new Beyond Comics universe of heroes. I would also like to open a charity to help sick children as well and help teach the arts to kids to continue the expressionism of creativity.
Where can one read up more about you and order some of your signed comic books?

Check out my comic book Gekido (written by co-creator Brandon Wilson) at BeyondComics.TV and enter for a chance to be drawn as a character in my upcoming comic book on my site. Also, check out YouTube.com/BeyondComicsTV; twitter.com/BeyondComics; Instagram.com/GraigWeich; Facebook.com/GraigWeich.