NoMAD LUXURY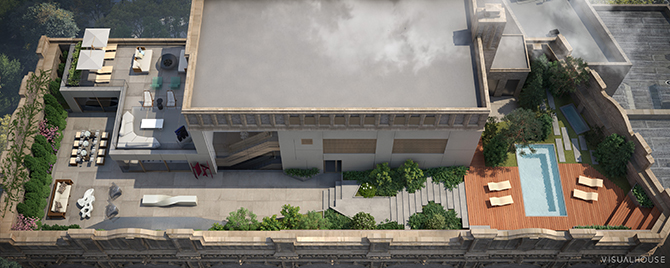 By Daniel J. Bollinger
The luxurious 212 Fifth Avenue is a 47 unit conversion overlooking Madison Square Park in Nomad. This building, once a 1912 twenty-four story factory, features high ceilings and a minimum of view-interrupting columns. There is a lot of NYC history surrounding 212 Fifth Avenue as this was one of NYC's first skyscrapers. Fifth Avenue is well known for being an international symbol of wealth, power, and status. This was confirmed in 1862 when Society's Grande Dame Caroline Schermerhorn Astor choose to settle on its cross street at 34th Street. Another interesting piece of history is that The Statue of Liberty's arm and torch were showcased in Madison Square Park from 1876 to 1882 to help generate donations to finish constructing it. With all this rich history surrounding Fifth Avenue and Madison Square Park, Madison Equities and Pembrooke & Ives have designed some gorgeous condos with modern and neo-medieval influences with extreme luxury and loft-life appeal.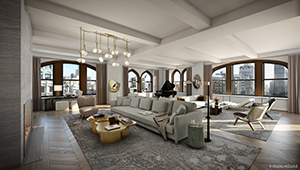 THE RESIDENCES
All the residences have similar finishes. Gallery layouts with open living, kitchen, and dining areas that emanate from the focal point of the foyer. The foyers are over-sized and make a great impression for the design of the rest of the unit. Large foyers with coffered ceilings add a regal and classic feel, especially with their high ceilings. Beautiful floors of book matched marble slabs make a statement. The open layouts of the kitchen, living, and dining areas are tremendous. High ceilings and oversized windows flood these apartments with plenty of light. Units have up to three viewing directions. Not only are there amazing views of Madison Square Park but some units offer views from the Empire State Building to the north all the way down to the Freedom Tower to the south. Floors 15 to 21 have 56-foot open living spaces. The four bedrooms have an almost 12 foot long and four-foot wide kitchen island comprised of four-inch thick Calacutta Gold marble. All the kitchen appliances are Gagganau and Bosch and have milled wood integrated cabinets. The master bedrooms are also large with master bathrooms to match. The master bathrooms are "pure indulgence": floor-to-ceiling custom fluted marble walls, extra-wide vanities and a lavish freestanding white solid surface Lacava tub offers true tranquility. The shower room has an excellent niche factor (as does the tub area) with not only a rain shower head but also a standard shower head with beautiful marble bench seating. Some shower rooms even have steam showers. Madison Equities and Pembrooke & Ives is defining what luxury stands for with these residences.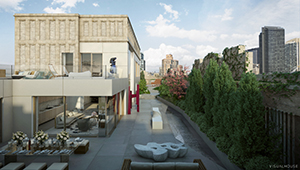 DESIGN DETAILS
There are some fabulous design details throughout the residences that actually accentuate the luxury that is 212 Fifth. For one, there are a plethora of pocket doors throughout. The pocket doors are slam proof both ways (opening and closing) and feature custom pulls. The custom pulls are very art deco and accentuate the luxury design. All hardware in the apartment is made of custom brass and the brass accents on the outside door are another great design detail. The centralized smart wiring that is zoned for each room is a clever design feature as well. Another very unique feature of the building is a second floor dedicated to maid's apartments.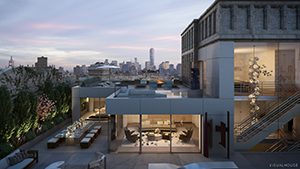 AMENITIES
The amenities are what you would expect in a conversion of this quality. There is a 24-hour doorman/concierge servicing all three entrances of the building. Unique to this building is that there are three different entrances to the building on Broadway, Fifth Avenue, and 26th Street. There is valet parking from all three entrances, a screening room, game room, bike storage and the list goes on. There are actually two playrooms, one for toddlers and another for tweens. There are two lounges as well. The state of the art fitness center has an adjoining yoga studio and a private treatment room. Add a boardroom and a golf simulator room and you have an amenities package befitting this Fifth Avenue location.
For more information, visit 212fifthavenue.com.