THE PENTHOUSE AT 94 THOMPSON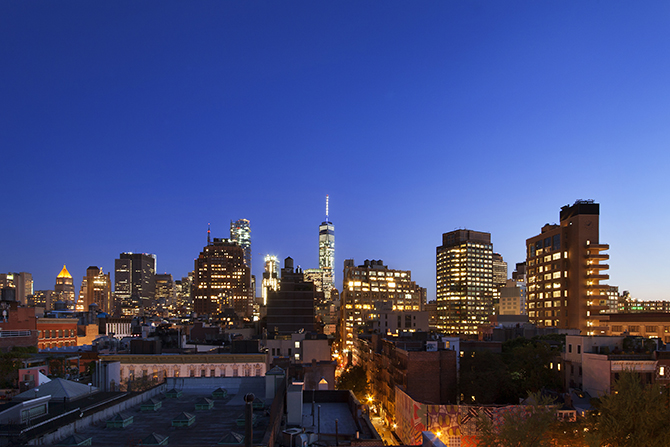 By Daniel J. Bollinger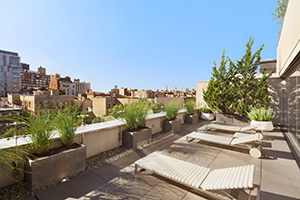 The penthouse at 94 Thompson has been in the news before, and you've probably heard about it because it is where Heidi Klum hosted a pre-party before her legendary Halloween bash last year. This penthouse is befitting movie stars and millionaires alike for many reasons. One, it is discretely tucked away on one of SoHo's quietest streets for those who value their privacy and two, it is filled with custom design and details galore for those who simply cannot or will not "follow the crowd."
Around the corner from one of the best pizzerias in the city (Bens Pizza of Soho) and amongst the excellent restaurants and unique shops of Thompson Street like San Carlo Osteria Piemonte and Lunessa you will find this boutique co-op. The spaces in this co-op were originally sold raw and architects Nico Rensch, and Victoria Blau designed quite a unique and beautiful residence. Three Levels, 3,300 interior square feet and three outdoor spaces totaling 2,200 square feet surely help make this a magnificent penthouse. There are other design details that help as well.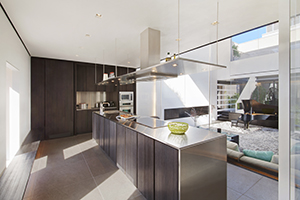 THE MAIN EVENT
On the main floor, there are glass walls that serve to close off each room but also allow the resident to enjoy the space as a whole. The living room has a super high 23' ceiling and a glass enclosed Zen garden which allows a plethora of light to illuminate this level naturally. That combined with an elongated fireplace with a projector movie screen sized wall above it doubling as a home theater makes this room perfect for entertaining/partying. Unless of course, it's a beautiful sunny day and you and your guests would rather enjoy the outdoors. Then it's off to the third level of this penthouse, the outdoor rooftop terrace. This rooftop has a covered pergola, BBQ, sink, ice maker, fridge, a powder room, and 360° views of the iconic downtown skyline. There's no reason to leave the roof until the party's over.
All the sunshades, lights, and electronics are controlled by either remote control and wall unit at the entrance of the apartment. Some of the finer design details that make this unit one of a kind are: there is an automated banquet-sized dining table right off the living room. It has Japanese style seating meaning you sit on cushions on the floor. The table can be lowered/raised using a remote. The kitchen is a chef's kitchen with fully integrated cabinetry and pull out concealment panels for a clean look when not in use. But the master bath takes the cake in design. Steps lead down to the shower area with the largest ceiling mounted rain shower head with steam. The shower area is a tub which you wouldn't realize because of its custom design. This is something that one has to experience themselves; my words do not give it justice enough. There are great custom door designs as well, and floor to ceiling frosted sliding glass doors leading to the terraces.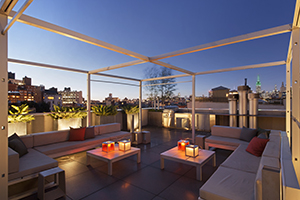 This penthouse has a warm feel with a minimalist industrial touch. Its SoHo location and custom designed features make it one of a kind. Douglas Elliman's Tom Postilio and Mickey Conlon have the 94 Thompson listing which they aptly describe the "dazzling aerie" as "an antidote to mundanity."
For full specs of this residence or to schedule a private showing, please contact them:
Tom Postilio at 917-543-0005, tom.postilio@elliman.com or
Mikey Conlon at 917-224-7177, mickey.conlon@elliman.com.