JERSEY GUY IN MANHATTAN

By Bill Spadea
One of my favorite things about living in New Jersey is how easy it is to get to New York City. For many on the Jersey side of the Hudson, Manhattan seems hectic, overwhelming and all about work. For me, it's less than an hour away. As a radio and TV host, it's hard to grab a little time to relax and enjoy friends and family.
LET'S BE HONEST
The tales about driving in Manhattan between the couriers, Pedi cabs, yellow taxis and the throngs of pedestrians, well, they're all true. Although I have to confess that actually, I love the challenge. When I need to be in the City for meetings or to catch up about politics with my friend Ernie Anastos at FOX 5, I almost always drive. On occasion, I have "blocked the box" and had to endure the well-deserved scornful looks from pedestrians making their way around my car with Jersey plates.
But, you don't have to drive; taking the train is comfortable, convenient and affordable. Plus the cost and hassle of parking can be avoided altogether. As a Jersey guy having a long commute within NJ was always inconvenient, long and impractical for me. But with NJ Transit mainly organized to get in and out of NYC, for this 22-hour adventure, well, it's perfect.
For my wife Jodi and I, the journey starts at the Princeton Junction Train Station which costs $16 one way and can be as quick as 52 minutes but even on the slowest local not more than 90 minutes. Driving can take more than two-and-a-half hours from the center of NJ, more if the bridges and tunnels are backed up (more often than not!).
UPON ARRIVAL
From Penn Station, the cab, subway and Uber options are easily accessible any time of day or night. First stop, Hotel Hugo (hotelhugony.com) in SoHo. Upscale, modern but comfortable and providing one of the best rooftop views and drink selections around. For a city hotel where the expectations might be cramped space and common service, the experience is as good as it gets regarding room and comfort. Then there's the bar...did I mention the view? On one side of the rooftop, there are sofas overlooking the buildings in one of NYC's most trendy areas. On the other hand, there's a great view of what we left behind—Jersey. The modern skyline of Jersey City does look great from the perch close to the Hudson. The food at the bar is excellent. But this is just the first stop on a food journey through NYC to maximize the 22 hours of "downtime." We grab a specialty drink during happy hour and snack on a small order of excellent fries.
The first time we ever went to Bar Hugo it was an after-dinner stop. It's quite the nighttime scene. Crowded, but not overwhelming, busy but not chaotic, and the service is exactly what you'd expect. Fast, courteous and efficient. The sofas need to be reserved ahead of time. My colleague at Chasing News, Tara Jakeway, who lives nearby called ahead and told her friend Samir, the manager of the bar, that I would be there later that night with my wife and friends. Now, maybe he's a fan of the show or maybe he's just that good, but when we arrived after dinner around 11 PM, both sofas, which could easily seat up to 20 people were clear with a reserved sign. Nice! I met Samir; he sat us, and the first round was flowing. Now my radio show did edge out WOR and ABC last month in NY, and Chasing News is doing well airing on My9 and FOX 5 weeknights in NYC, but I'm not exactly a recognizable face. Imagine the looks from the other bar patrons as my small group of six took up a third of the rooftop. Enter my wife, Jodi. With my friends clearly enjoying the fact that other guests were eagerly anticipating the arrival of a real celebrity, Jodi went to Samir and "released" the remaining seating. So points to her for being accommodating to everyone else and points to Samir for actually sticking to the reservation and helping make the night a great experience.
WHAT'S ON THE MENU?
Then it was onto dinner. My new favorite restaurant in Lower Manhattan called The Clam (theclamnyc.com). Guess what they do well? Yeah, well. Our reservations were for 8 PM. The first course is always from the raw bar. My wife and I love raw clams and oysters. We always ask for the briniest selection when given a choice. But at The Clam you just order the oysters and the fresh clams and they come delicious. Served on ice with a mignonette (with red wine vinegar and shallots) to top with. Small clams and smooth oysters. Maybe a little lemon and hot sauce too. My advice is to limit to four shellfish a person. Just to start with the seafood taste and protein to get your appetite going. There's a lot more to come.
The second course we moved to the clam dip and what they call "zesty chips" creamy, tasty, not overpowering on any one taste. A perfect combination with the salty chips. You will want to order more but don't. This is just the beginning.
For your next course, you'll want at least two sides of vegetables for the table, and when you taste the Brussels sprouts, yes the ones you hated as a kid because your mom boiled them and they were gross. Here they are perfect. Roasted to a beautiful golden crisp and joined with bacon and peanuts combined with sriracha to give a little heat. The second must-have side is the sautéed kale. There's enough garlic that you should insist your partner has an ample amount as well. Yes, that works to cancel out the essence of garlic which can stay with you!
For the main course, stick with the specialties. Not that the entrees aren't delicious but when I see specials I always go to them and at The Clam they are, to put it simply...crazy good. The clam chowder is full of delicious and tender clams, and no one ingredient overpowers. Again, it seems balance of flavors is one of their strengths. The grilled clam pizza is one of the best things you'll eat. Ever. From the small, and you can't stop at one. The important thing here is to save enough room to at least taste the clams and spaghetti. The pasta is al dente (meaning cooked appropriately and not overcooked) served with a spicy tomato salad on top. And the dish that will change your life is—the fried clam and lobster slider. It's not greasy nor is it skimpy on the proportion of fish to the bun. The grilled buns have a nice buttery taste, and the fried clams are tender with the right amount of crisp.
Forget dessert! Have another drink. The shishito-rita is delicious. Although I am a whiskey drinker, this incredible cocktail with tequila and triple sec is outstanding. I do love heat in my food, and I was sold the minute I saw a cocktail that included shishito peppers which are mild compared to jalapeno, but it's a drink after all.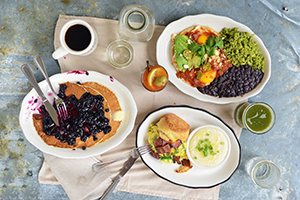 Brunch at Bubby's Tribeca
DELICIOUS OPTIONS
After dinner it's off to one of the great cocktail bars in New York. Owned by Kenta Goto, a former bartender at the Pegu Club, Bar Goto (bargoto.com) may quickly become your "go-to" bar. The style and recipes all offer delicious options with the ingredients and attention to detail; every drink is an experience. Honestly, the guy is truly an artist. Beyond the drinks, the food served is way beyond expectations for traditional bar food, even for an upscale Japanese-themed place. We had pork belly noodles. Yup, found a way to try it even after the dinner!
So, there you have it! Start your incredible journey around 4 PM in Jersey, and you've got time to settle into the hotel room, grab a drink and a snack before dinner reservations at 8 PM. By 11 PM you're having a pork belly dessert and a delicious cocktail. OK, off to bed around midnight, maybe 1 AM…gotta get some sleep before breakfast!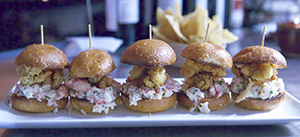 Sliders from Clam
BRUNCH TIME
Checking out at 9:30 AM and head to a delicious brunch at Bubby's (bubbys.com) in Tribeca on Hudson Street. Not only is it an outstanding restaurant, but it's also an experience that will make lunch that day unnecessary. The blueberry sourdough pancakes are the right combination of tart and sweet. And the cheese grits, even if you don't think you love grits...WOW! Of course there's also bacon. Cooked perfectly to the right balance of chewy and crisp, you'll leave satisfied and making a plan to come back.
By noontime, we're headed to Penn Station to get back to Jersey. Door-to-door under two hours including the trip to Penn and the car ride home from Princeton Junction. Not too bad. In all, 22 hours from start to finish. Four great restaurant/bars each with their own atmosphere, flavor, and culinary extravagance.
So next time you think you don't have time, remember how much you can do in NYC in 22 hours.
---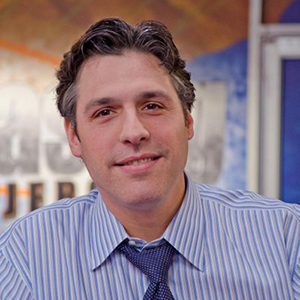 Bill Spadea is the top-rated morning drive host in New Jersey on NJ 101.5 FM as well as the Ringleader/Host on Chasing News which airs weeknights on FOX 5 and My9 in New York. Before he got into TV and radio, he was a successful real estate executive, political strategist and served in the U.S. Marine Corps Reserves. Spadea graduated Boston University and has been married to his wife Jodi for 22 years. They have two kids and live in Princeton, NJ.