PAT COLLINS' PICKS OF HOME ENTERTAINMENT RELEASES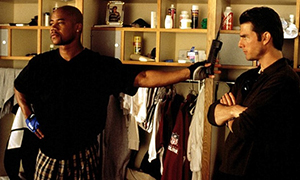 JERRY MAGUIRE/20TH ANNIVERSARY SPECIAL EDITION - BLU-RAY
NOT RATED
"You had me at hello"… "You complete me"…"Show me the money." These are three of the movie's memorable lines, and on the topic of money, the budget for director Cameron Crowe's romantic dramedy was $50 million. The global box office gross added up to $273 million. The title character memorably played by Tom Cruise exudes abundant self-confidence as a young, ambitious sports agent whose client Rod Tidwell (Cuba Gooding Jr.) emerges as a star football player for the (fictitious) Cardinals. A romance with single mom Dorothy Boyd (Rene Zellweger) results in Jerry becoming a surrogate father to her precocious young son. Mr. Crowe cast a then five-year-old Jonathan Lipnicki to replace the child actor he initially chose. Mr. Gooding's dynamic performance brought him a best supporting Oscar. Mr. Cruise was nominated as well. The commemorative Blu-ray edition features an hour of deleted scenes, 40 minutes of behind the scenes footage, interviews with the cast and a soundtrack CD.
---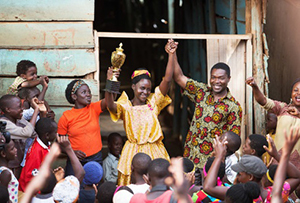 QUEEN OF KATWE
RATED PG
Begin the New Year with an uplifting movie about a young chess prodigy from an impoverished village who triumphs over her financially privileged male opponents to become a champion chess player. Ten-year-old Phiona (Madina Nalwanga) is one of three children living with their widowed mother Harriet (Oscar winner Lupita Nyong'o) in a village near the Ugandan capital of Kampala. A trained civil engineer Robert Katende (David Oyelowo) who cannot find work in his field and teaches chess to the village children, encourages his most skilled pupil to enter a highly competitive chess tournament. Mira Nair who also directed Mississippi Masala and Monsoon Wedding shot her film in the slums of Katwe and asked Alicia Keys to contribute a new song "Back To Life." Tim Crother wrote the book which inspired the movie. This Disney production does not feature princesses or cuddly creatures, but it ranks as one of the studio's best family films and begins with this quote - "The size of your dreams must always exceed your current capacity to achieve them." Caissa, the goddess of chess, would agree.
---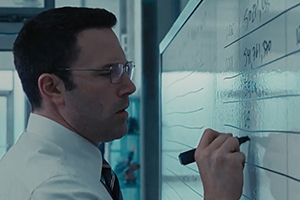 THE ACCOUNTANT
RATED R
There are three actors on my list of favorite big screen accountants—Gene Wilder as the shy, neurotic Leo Bloom in The Producers, Charles Grodin, who co-starred with Robert De Niro in Midnight Run and Ben Kingsley's Itzhak Stern in Steven Spielberg's Schindler's List. Ben Affleck's autistic CPA/assassin/math genius Christian Wolff resembles none of the above. Wolff, a forensic accountant in Plainfield, Illinois, un-cooks the books for drug cartels and mobsters before taking a "respectable" position with a high-tech firm which manufactures prosthetics. Its in-house accountant Dana Cummings (Anna Kendriks)—alerts Christian to a $61 million discrepancy in the company's books. Meanwhile, U.S. Treasury Department investigator Ray King (J.K. Simmons) becomes suspicious of Wolff's sources of income and dispatches an agent to investigate. In a flashback to Wolff's childhood director Gavin O'Connor establishes his protagonist's survival skills in sharp shooting and martial arts. Wolff will rely on both for a carnage filled finale. The Accountant's needlessly complicated plot changes from dull to absurd as Affleck and Kendriks' characters outrun the pursuing villains. Memorable cameos are played by Jeffrey Tambor, as an imprisoned Gambino family accountant and John Lithgow in the role of Christian's strict father. The director and screenwriter Gavin O'Connor received well-deserved criticism from many parents of autistic children. In their opinion, the film reinforces the negative image many Americans have of autism as a result of the shootings in Sandy Hook, Connecticut and Roseburg, Oregon where the perpetrators were autistic loners.
---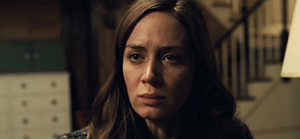 GIRL ON THE TRAIN
NOT RATED
Director Tate Taylor's movie version of Paula Hawkins best seller moves with the speed of an old locomotive as it chugs along from Rachel's (Emily Blunt) obsession with a suburban couple she observes from the train to a murder case in which she is the prime suspect. An alcoholic divorcee in her mid-30's Rachel is newly unemployed, but she continues to commute to the city. From her Metro North window seat, she follows the comings and goings of an affectionate yuppie married couple Megan and Scott (Haley Bennett and Luke Evans). During yet another voyeuristic excursion Rachel sees Megan in the company of another man and subsequently admonishing Megan her for being unfaithful. When Megan goes missing and is presumed dead, Police Detective Sergeant Riley (Allison Janney) accuses Rachel of committing the crime. This suburban whodunit/soap opera also involves Rachel's ex-Tom Watson (Justin Theroux), his new wife, Anna Boyd (Rebecca Ferguson) and their infant daughter. Mr. Tate fails to give the audience a reason to emotionally invest in any of the film's principal characters. His train derails as it moves toward an ending that cannot come soon enough. For a first-class train thriller, watch Murder On The Orient Express (1974) the Agatha Christie classic with Albert Finney as Hercule Poirot and the original 1938 The Lady Vanishes directed by Alfred Hitchcock.
---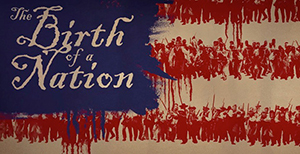 BIRTH OF A NATION
RATED R
A year ago at the Sundance Film Festival Birth Of A Nation and its director/star/co-producer Nate Parker were greeted with a standing ovation and won the coveted Grand Jury Prize and Audience Award. Oscar buzz and mostly positive reviews followed. Fox Searchlight bought world distribution rights for $17.5 million. That was then. This is now, and both the film and Mr. Parker go unmentioned during a competitive award season. Mr. Parker's fall from grace began when reports surfaced of his alleged involvement in the 1999 sexual assault of a then fellow Penn State student. Tragically she committed suicide in 2012. Mr. Parker and co-defendant Justin Celestin were acquitted of the rape charges. Nonetheless, Mr. Parker's promising career has stalled. In his based-on-actual-events film, he plays real-life preacher Nat Turner who initially encouraged his fellow slaves to obey their masters, but after a horrific personal tragedy, Turner organized and led a slave rebellion in 1831 Virginia. The excellent cast includes Armie Hammer, Aja Naomi King, Jackie Earl Haley and Gabrielle Union.
---

TV SERIES NOW ON HOME VIDEO
Sherlock—Season 4
Sleepy Hollow—Season 3
Broad City—Season 3
Mr. Robot—Season 2
Homeland—Season 5