A WALK IN THE PARK
By Patricia Canole
"This different and many smiling presence" is how Henry James once referred to Central Park, bounded by Fifth Avenue, Central Park West, Central Park South, and Central Park North. The entirely man-made park, unlike any other urban park in the U.S, indeed elicits smiles from the more than 14 million people who wander through it throughout the year. It is an equally pleasant place to sky-borne creatures—nearly 250 species of birds call it home!
Not long after work began to clear the site in August 1857, a friend suggested to journalist Frederick Law Olmstead, whose avocation was landscaping, that he should compete for the job of superintendent of the new Central Park. He found backers in newspaper editors Horace Greeley and William Cullen Bryant, and when writer Washington Irving added his name to the list, Olmsted got the job. Later that same year, the Parks Commission announced a design competition for the new park, and Olmsted's friend, landscape architect Calvert Vaux, suggested they join forces.
A PARK FOR ALL SEASONS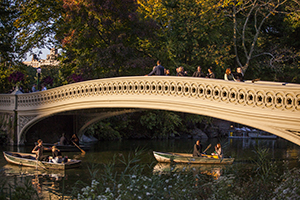 In April 1858, after Olmsted and Vaux submitted what they called their "Greensward" plan. Olmsted wrote: "Every foot of the Park's surface, every tree, and bush, as well as every arch, roadway, and walk has been placed where it is with a purpose." In the years since buildings and monuments have been added, and playgrounds, roads, and even parking lots have been constructed. But the original purpose is still well served and where people come to enjoy nature all year round.
The rise in support for the park had begun in 1844 when William Cullen Bryant warned that commerce was devouring Manhattan inch by inch. He pointed out that there were still unoccupied parts of the island, but that "while we are discussing the subject, the advancing population of the city is weeping over them and covering them from our reach." In 1853, the state legislature authorized the city to buy the central site. The price tag was a hefty $5 million.
A PEACEFUL OASIS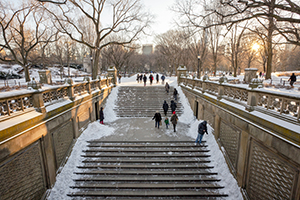 The land was no bargain. A swampy pesthole filled with pig farms and squatters shacks, it was used as a garbage dump. But Olmsted succeeded in turning it into what New Yorkers today proudly call Central Park. Actual work began in 1857, and by the time the park was considered finished 16 years later, nearly five million cubic yards of stone and dirt had been rearranged and almost five million trees planted. Before construction started, 42 species of trees grew on the site; by the time it was completed, 402 kinds of deciduous trees thrived, along with 230 species of evergreens and 815 varieties of shrubs. There were also 58 miles of pedestrian walks, 6.5 miles of roads, and a bridle path 4.5 miles long. A reservoir was created in 1862, covering 106 acres, and a sprawling lake occupied another 22 acres. A series of smaller lakes and ponds was also created, and some 62 miles of pipe were installed to carry off the unwanted water.
Fortunately, Central Park is alive and well in spite of many schemes to "improve" it. In 1918, someone in all seriousness suggested digging trenches in the North Meadow to give people an idea of what the doughboys were going through "over there." A year later, plans were submitted for an airport near Tavern on the Green, which was then a sheepfold. There have been several proposals to use some of the space for housing projects, and plans for underground parking garages have been coming and going since the 1920s. Not only have the Parks Department and the Central Park Conservancy resisted encroachment, but they've also been working for years to restore the park to what it once was. The result is that one of the best things about New York City is getting better every day!
CENTRAL PARK HIGHLIGHTS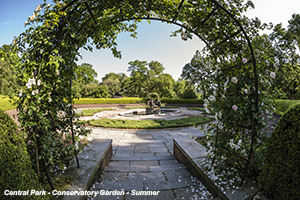 Conservatory Garden
A park nursery was replaced in 1899 by a glass conservatory, which was removed in 1934 to create this series of three formal gardens: one is planted with seasonal flowers, another with perennials, and the third with grass surrounded by yew hedges and flowering trees (Fifth Avenue and 102nd Street).
The Great Lawn
The largest field in the park was formerly a rectangular reservoir that was drained just in time to provide a location for a Depression-inspired collection of squatters' shacks known as Hooverville. By 1936 it was cleared again, and the oval-shaped lawn, with Belvedere Lake at the south end and two playgrounds to the north, was fenced off to create a cooling patch of green. It didn't stay that way long. It was surrounded by ball fields, and overuse almost eliminated the grass. Thankfully, this green space has survived and attracted thousands of locals and visitors to our city who bring blankets and picnic dinners during warmer weather (East and West Drives and 79th and 86th Streets).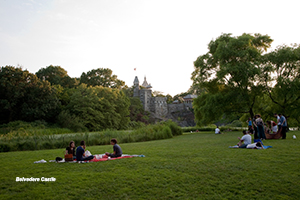 Strawberry Fields
This teardrop-shaped memorial grove undergone rehabilitation with funds provided by Yoko Ono in memory of her late husband, John Lennon. The former Beatle was assassinated in front of the Dakota apartment house, which overlooks this tranquil spot. You'll find many fans around the "Imagine" centerpiece mosaic (West Drive at Terrace Drive).
Belvedere Castle
A scaled-down version of a Scottish castle was placed here to become part of the view. Its interior is just as impressive. The building houses a National Weather Service station (79th Street between East and West Drives).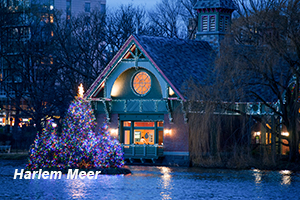 The Mount
When General Washington's army was retreating through Manhattan in 1776; the British were held at bay here by a small fortress overlook McGowan's Pass. The Mount was named for a tavern on top of the hill, which in 1846 became, of all things, a convent. The nuns moved out when the park was created, and the building was converted back into a tavern. It was one of the city's better restaurants in the late 19th century but was demolished by order of Mayor John Purroy Mitchel in 1917 (East Drive and 102nd Street).
The Jacqueline Kennedy Onassis Reservoir
Designed as part of the Croton Water System in 1862, this billion-gallon reservoir actively fed the city's thirst until 1994, when it was pulled out of service. Covering nearly 107 acres, it is better known for the soft surface track that encircles it, providing a perfect amenity for serious runner—one of whom was the late Jacqueline Kennedy Onassis. Once around is 1.58 miles (East Drive and 86th Street).
Harlem Meer
The park's original northern boundary was at 106th Street until 1863, when it was extended another four blocks northward, at which time this 11-acre lake was created. It uses the Dutch word for lake, although it hardly qualified as a lake or a meer for a long time. In 1941, the Parks Department altered its shoreline to eliminate the natural coves and inlets the original designers had placed there, and the whole lake was rimmed lined with concrete. Fortunately, this corner of the park, long desperately in need of loving care, has been restored to its natural beauty (Central Park North and Fifth Avenue).
---
FUN FACTS
• The first New York City Marathon took place in 1970 when 127 runners circled Central Park four times. The meager $1,000 budget left no room for extravagance. To save money, post-race sodas were purchased in Greenwich Village and delivered uptown, where it was more expensive. Times have changed: It's now one of New York City's premier sporting events with participants from all corners of the globe.
• If you get lost in the park, find the nearest lamppost. The first two numbers signify the nearest numbered (east-west) street.
• Before construction on Central Park began in 1856, Fifth Avenue from 59th to 102nd Streets was called Squatters' Sovereignty, where the poor lived in shacks made of wooden planks and flattened tin cans. When construction on the park started, the poor were evicted and soon the area housed the city's richest and most powerful.