ENTREPRENEUR'S CORNER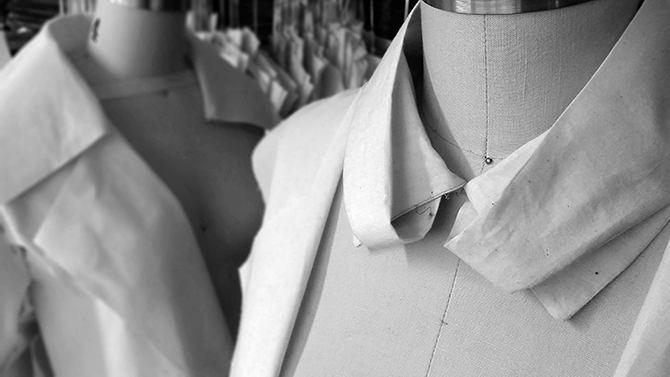 By Joanna Rogers
Mi Jong Lee wasn't supposed to be a successful fashion designer. As a good Korean girl, she was expected to marry, have children and quietly raise them. Girls weren't supposed to aspire to anything greater than that.
But she did—thankfully. Lee's Madison Avenue store, Emmelle, is the go-to boutique for elegant, professional women around the globe, among them Oprah Winfrey, Madeleine Albright, Catherine Zeta-Jones, and Hillary Clinton. She uses vibrant fabrics from Italy, France, and Japan, that drape beautifully across the body. Even more amazing: Every item is designed and hand sewn at her showroom in the Fashion District.
FOR WOMEN ON THE GO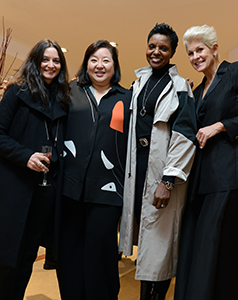 Mi Jong Lee and Real Women campaign muses
"I design for women who are in the workforce, who are on the board of directors, who own companies, who are always on the go," says Lee, 57, who has one daughter living in Paris. "These women are interested in fashion but not tied to fashion trends. They wear clothes to represent who they are in their lifestyle, but they're not owned by what they are wearing. They are not ladies who lunch."
Lee's route to fashion success was anything but traditional. She left South Korea at age seven. Her father was a diplomat, and the family moved to Mexico, Spain and Costa Rica per his postings. "I was in Spain when Franco was alive, and in Costa Rica before all the eco-tourism that made it what it was today," she says. "Spanish was my second language before English." Later, she studied Sociology at Cornell; after graduating in 1981, briefly returned to Korea to get a Master's Degree in Sociology "I was young, enthusiastic, and wanted to change the world," she says.
Unfortunately, the world didn't want to be changed, especially not by a girl. "My professor told me to my face, 'Why would I waste time with a girl? You are from a good family, you are pretty, in a few years you'll be married and gone!'" So she dropped out of school and allowed her parents to arrange a marriage.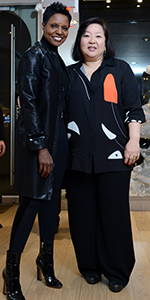 Phyllis Newhouse with Mi Jong Lee
Not long after, she packed her bags and headed to New York City, where she studied fashion at Parsons School of Design. She opened her store in 1982 and called it Emmelle (her initials…get it?). Located on Madison Avenue, it was a mere 400 square foot. "I had to stand on top of a toilet to grab my inventory," she recalls with a laugh. "I bought clothes and started designing on the side little by little," says Lee, who still sketches every item. "It became very successful." She's not kidding! Today, she has 38 employees, and a wholesale business that sells to 60 stores around the globe. She is happily married to a New York City firefighter.
FROM THE HEART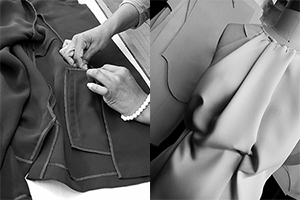 In 2007, she opened her showroom on West 37th Street. "Everything is done there," she says. "I do it the old-fashioned way. Every single garment is sewn by one sewer from beginning to end. I'm very proud of it. All the patterns are made by us. My heart is so in there."
In 2015, she launched her designer line, the Mi Jong Lee Collection. "It is feminine but wearable clothes that women can wear from board meetings to dinners," she said. "When I started 30 years ago, I dressed women in three pieces suits, like men. Now, women are amazing! They own their femininity; they are empowered, they can wear their faux leather pants and a beautiful sweater and can walk into work. They can express who they are and handle all the questions.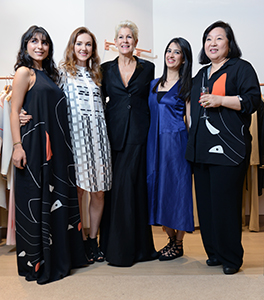 Mi Jong Lee Sring 17 collection
Each season, Lee draws inspiration from one visionary artist—say, architect Zaha Hadid or painter Henri Matisse—and loosely reinterprets it. This year it is sculptor Alexander Calder, "because we all needed something light," she says.
She has also recently launched the label's Spring campaign, Real Women. Real Clothes, which features six powerful women wearing her fashions. The women, who include real estate broker Louise Phillips Forbes, fashion guru Amanda Hearst, and Phyllis Newhouse, an army veteran and the founder of a cyber-security company, were photographed by Seiji Fujimori. Their portraits will be on view in the Madison Avenue store throughout the Spring. "I want to show that the women I design for are multi-faceted, multi-dimensional and really empowered in their own domain," she says. "They're not tied down to any single definition of what a woman should be. These are the women I design for."
For more information, visit mijonglee.com