15 MINUTES WITH JAMIE DRAKE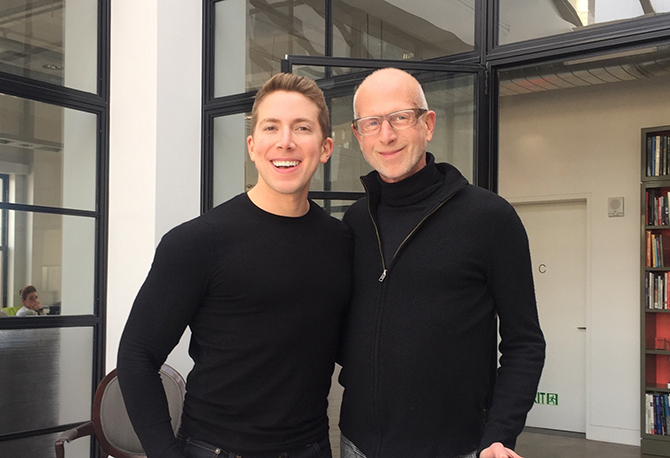 By Baruch Shemtov
Interior designer Jamie Drake has developed an international reputation as the mastermind  behind glamorous spaces designed for everyone from Madonna to Mayor Michael Bloomberg. Drake's work has garnered him a long list of accolades including a spot on Architectural Digest's AD100 list and an induction into Interior Design magazine's Interior Design Hall of Fame. Beyond his residential projects, Drake has also made his mark on the City of New York, having worked on both Gracie Mansion and City Hall. Now that he's joined forces with designer Caleb Anderson at Drake/Anderson, Drake continues to expand his creative vision around the world.
What is your design philosophy?
At Drake/Anderson we love to create spaces that have real personality, resonant of the clients who inhabit them. Interiors that tell of the owners interests and experiences are the most interesting to experience.
How has that aesthetic evolved?
Over time, styles indeed morph. Our contemporary interiors today are filled with intriguing artisan commissioned furnishings, lighting and accessories. More traditional ones are not at all fussy, devoid of a lot of pattern, and kept fresh with varied textures and the injection of modern notes.
What impact does design have on people's lives more broadly?
Design certainly enriches people lives. Often thought provoking and invigorating aesthetically, the best design must answer the singular programmatic and lifestyle needs of the users.
How has New York inspired your creative process?
Gotham is a constant source of inspiration and delight. Whether its strolling down a street admiring the architecture and stores, or zooming by in a car, an endless array of visual stimulation is there.
What was it like to work on the interiors of Gracie Mansion and City Hall?
Having the opportunity to work on the restoration and redecoration of two of our cities greatest treasures was truly humbling. The amazing history of both provided the source clues for our schemes. It was an honor to be a part of preserving these treasures for now and the future.
What's the best way to instantly transform a room?
Install dimmers, switch some light bulbs to a dimmer wattage and light a few candles. Instant mood transformers!
You've worked with so many legends.  Which historical figure do you wish you could have worked with?
Hmmmm... so many! To choose one, today I'll pick Catherine the Great, a true visionary with a strong personality. Her love of luxury joined with her keen intelligence is legendary, and her budget was pretty good too!
What's next for Jamie Drake?
I'm looking forward to Drake/Anderson, my one year old partnership with Caleb Anderson, to continue to blossom. We are currently working on projects in Florida, Texas, California and New York, as well as in London and Bermuda. We love to do projects all over the world, and hope to do more in China in the near future. Also, we've never designed a hotel and we hope to build a hospitality practice, with some potential projects in discussion currently.
---
JAMIE'S NEW YORK FAVORITES
A Coffee…
Any Starbucks, because I have a deep need daily for their caramel iced coffee. Starbucks is everywhere and always consistent. With my coffee I don't need surprises.
A Gift…
Zeze, my florist of choice. The arrangements that Zeze and his team create are always lush, exotic and truly pretty in the best way. Who doesn't love fresh flowers! Although I almost always order over the phone, a visit to his charming shop on First Avenue filled with fantastic objects and gifts is a real treat.
A Dinner
My classic favorite for thirty plus years is Il Cantinori on East 10th Street. It's on the block I moved to when I first came to New York City 41 years ago to attend Parsons School of Design. Delicious food, a warm environment and decades of memories make it my numero uno. My favorite new place to go is Augustine, Keith McNally's latest creation is the perfect French Bistro. I'm always amazed at how Keith creates spaces that truly look as if they've been around for a hundred years or more. The cheese soufflé is a must!
Some Time Alone...
My bedroom. Nothing like stretching out with a book or just the day's newspapers in the solitude of home.
A Celebration…
I actually have a big birthday coming up in 2017 (it isn't 21 nor 70!) and I'm planning something very special at an iconic New York treasure…but for now it's a secret! It will be chic and somewhat understated, but not too. I'm relying on my favorite event planner RAIOLA/Co to create the magic and relieve me of the detail stress.