GREAT ESCAPES: BARBADOS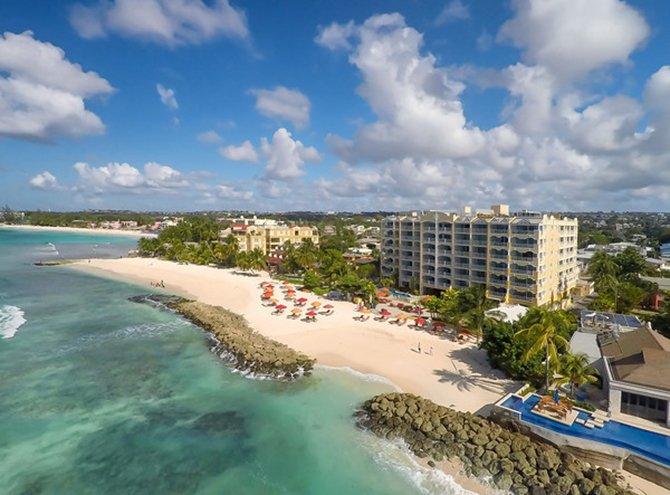 By Tricia Connolly
On the island of Barbados—where monkeys are green and fish fly—how could a getaway be anything but magical? It's the perfect blend of relaxation and adventure. Lazy hours on a palm-fringed beach balanced by time spent exploring; elegant dinners at picture-perfect restaurants combined with forays into the local culture. If you enjoy getting up close and personal with multi-hued coral, tropical fish, and hawksbill turtles, there's scuba diving or snorkeling, as well as catamaran sailing for those who like to keep it topside. This easternmost and most British of all the Caribbean Isles offers all that and more. And Bajans (as islanders call themselves) deliver their hospitality with a warmth and charm that can't be beaten.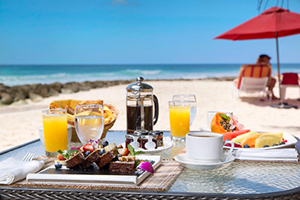 BEST STAY
Ocean Two Resort and Residences offers a blend of chic, secluded luxury tucked away amidst some of the island's best attractions, restaurants, and nightlife. Designed to be your home away from home, the property's layout and superb team ensure you never need to want for anything. Being one of the newest hotels on the island and having one of the best beachfront locations on the island with a collection of 88 chic rooms and suites makes Ocean Two one of the most talked about places to stay on the island. Where most luxury resorts are located on Barbados' West Coast, Ocean Two is one of the few located on the South Coast giving guests easy access to the best of the Barbados.
If you are looking for a dose of R&R, you can choose to lounge on the beach, on the beachfront pool deck or seek some solace on the rooftop terrace and pool. With the complimentary pool and beach food and drink service, there is no need to ever leave your chaise lounge. If you're looking for a bit more fun or action, Ocean Two offers complimentary non-motorized water sports, a 24-hr fitness center, and a surf school just next door. When it comes to exploring the island, Ocean Two offers complimentary concierge services to assist with planning and booking your getaway. They'll gladly book a rental car, make dinner reservations or simply provide recommendations.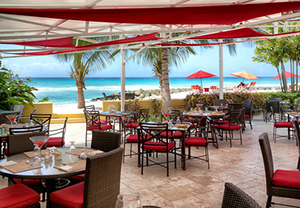 Modern, bright, and contemporary is what comes to mind as you step into your beachside escape. The vibrant property offers a rare combination of luxury meets homey with accommodates featuring four-star resort amenities including daily housekeeping, on-site dining, a swim-up pool bar, 24-hour reception services, and a fitness facility.
Elegant and spacious hotel rooms include king beds with luxe linens and pillows, a large en-suite private bathroom and private balcony with partial ocean views. Upgrade to the Ocean Front Suites and you are afforded either one- or two-bedroom options which feature some of the most exquisite ocean views you'll ever see. The beautiful, elegant suites offer a spacious private with an indulgent king bed with luxuriously soft linens and pillows. The beautiful marble floor is paired with dark wood furnishings and cool coastal artwork to compliment the room's aesthetic style. Each suite has a fully equipped modern kitchen gleaming with stainless steel appliances, fridge freezer with filtered water and ice maker, dishwasher and inclusive of laundry facilities. Take advantage of the complimentary property-wide Wi-Fi available in your room and on the beach, iPod docking station and cable TV in both the living room and the bedrooms. All suites are fully air-conditioned to keep you cool on those hot sunny days.
WHAT TO SEE & DO
For those that want to get out and about and discover the island there are some essential activities one must do while visiting Barbados to ensure you get the "proper Bajan experience."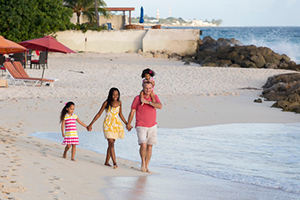 Catamaran Cruising
Enjoy cruising along the calm West Coast with one of the many boats all offering some of the best services and smiles at sea. Choose from either a morning or afternoon sail where you can lounge and work on you tan while the team serves you cold Banks Beer or a rum punch and points out some of the lavish mansions, hotels, and restaurants. When the boat anchors for lunch guests can jump right in to enjoy a truly unique experience of swimming with turtles. This is a definite must have for our "Becoming a Bajan" list.
Oistins Fish Fry
This hot spot of food and fun is the perfect setting to indulge in Bajan Culture. Enjoy rubbing shoulders and partying with locals to the sweet strains of calypso music. Bajans dance arm in arm—and, of course, all that dancing builds up an appetite, so head for the food and beverage stalls and enjoy the traditional Bajan fare. Fish cakes, jug-jug (guinea corn and green peas), fried fish, all washed down with a Banks Beer. Local arts and crafts can also be found in abundance as local artisans take the opportunity to display their wares. Ocean Two offers an Oistins shuttle and table reservations every Friday facilitated through the front desk concierge team.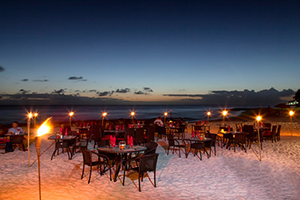 Island Exploring
When you see pictures of Barbados, you may think it to be just white sand beaches and coconut trees, but there is so much more to the island, and we recommend checking out a couple of spots that are off the beaten path. If you're adventurous and want to drive yourself, Google Maps is a must to maneuver your way around the winding country roads. If getting lost isn't your style, sign up for an island tour where you and friends can hop in the back of an open top jeep and enjoy the sights with an off road twist. Embrace the nature, history, culture and folklore of Barbados at captivating places of interest. So, whether you choose to drive or be driven, here are a few of the must see spots on the island:
Cherry Tree Hill Stop
at the crest of this hill, just east of St. Nicholas Abbey, for a stunning panoramic view of the entire eastern coast and the Atlantic surf.
The Animal Flower Cave
provides a truly unique view of the coast that you won't expect. Small sea anemones resembling flowers live in small pools in this cave at the island's northern tip. The cave—discovered in 1780—has a coral floor; the view of breaking waves from inside the cave is magnificent.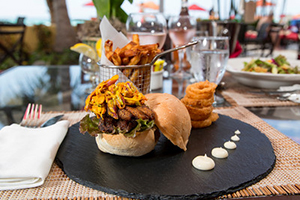 Harrisons Cave
This limestone cavern, complete with stalactites, stalagmites, subterranean streams, and a 40-foot waterfall, is one of Barbados' most popular attractions. Tours include a video and an hour-long underground journey via electric tram.
A TASTE OF BARBADOS
The island is affectionately known as the Culinary Capital of the Caribbean and there is a wealth of restaurants to suit everyone's tastes and budgets. However, you won't have to venture far to get a great dining experience, as the Taste restaurant at Ocean Two offers a hearty breakfast, delicious lunches and a sophisticated dining experience in the evening. It features an eclectic mix on international cuisine made with a local flare and using local ingredients. Our in-house Executive Chef can also customize menus for a private dining experience on the beach, in your room or on the rooftop terrace for those wanting to celebrate a special occasion.
Offering excellent service and the warmest of smiles, the staff at Ocean Two Resort and Residences ensures that your every need is met and your Caribbean getaway is a truly unforgettable experience.
For more information on Ocean Two Resort and Residences, visit oceantwo.com