MODERN LOVE - ON ICE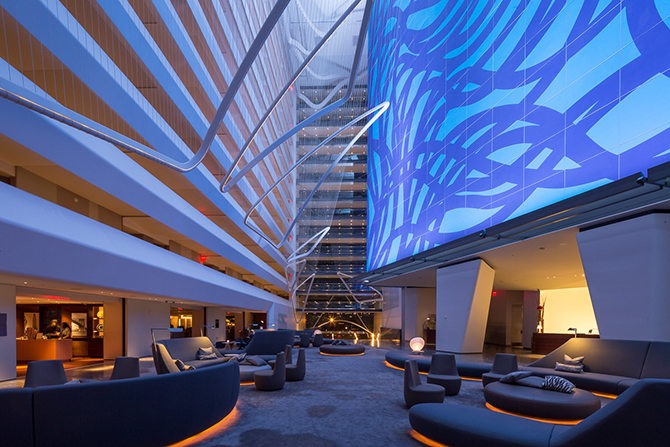 By Gretchen Kelly
The wind whips up an icy chill from the nearby Hudson River on a late winter night in lower Manhattan. It blew right through us as we ducked out of the gusts into the warmth of the shopping alcove on the ground floor beneath the Conrad New York. Up a short escalator into the lobby of the contemporary art-filled atrium, warmth and light flooded our senses. The bold blue and purples of the famed Sol Lewitt painting, Loopy Doopy which rises 13 stories through the airy atrium—and the vibrant presence of 2,000 other pieces of contemporary art in the hotel—are intriguingly not at odds with a sense of comfort, light and cheeriness that immediately put the roses back in our cheeks.
So did the open kitchen of the hotel's ATRIO Wine Bar and Restaurant where Chef Gerron Douglas' savory Crustini and Charcuterie plates and a glass or two of robust Malbec launched a romance-laced Conrad Skate Package. It includes an overnight stay with all the trimmings including an ice skating lesson with real-life Olympians (and marriage partners) Melissa Gregory and Denis Petukhov at the nearby Rink at Brookfield Place.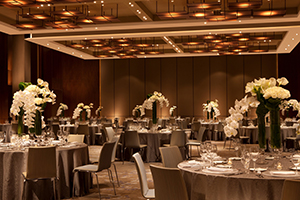 FINE CUISINE
After warming with apps and wine, we moved into the dining space that reminds one of a VIP lounge in a mid-century modern airport—again, a fusion of warmth, style, and airy space. Dinner for two included Douglas' amazing Lobster Bisque Cappuccino laced with truffle foam and served in a coffee mug, a plate of Roasted Scallops in Raisins and Coriander and a Seafood Paella that could make you think you were lounging on the Costa Brava in Spain, rather than dining with a stunning view of the Hudson River in downtown Manhattan.
After dinner you get to retreat to more creature comforts: the all-suite softly lit living and sleeping space (with scented amenities from Shanghai Tang in the walk-in rain shower). Rose petals, Champagne for two and chocolate-covered strawberries add oomph to the V-day factor, but the room's intimate scale and the soft textures and sheen of marble (and that Hudson River view) would make the suite a haven for two on any day.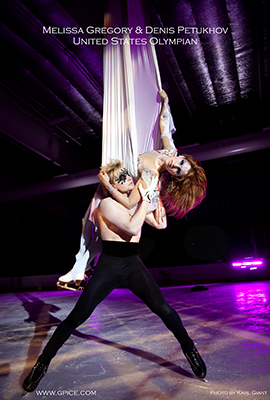 GO FOR THE GOLD
You also get to wake up to that view as you put on your woolens and get ready for the wow factor of the package—a skating lesson with Olympians Denis Petukhov and Melissa Gregory. The couple met as skaters, fell in love and haven't stopped partnering with each other (in life and on the ice since). "Don't worry about falling," Denis says encouragingly, "it's part of the sport" (and love, too, actually). The lesson includes safety tips on falling the right way (that would be forward, with bent knees and a good sense of gravity) and a free skate time when you get to take your partner by the hand and try your moves together on the ice just as Petukhov and Gregory do. "As in dancing, one partner leads," Petukhov says. "A lot of what you see on the ice with couples skating has a foundation in ballroom dance."
He pauses in his lesson to shore up a small child who has paused on the ice and looks a little unsteady, then skates gracefully back to us, reminding us that to be successful on ice (and in love) passion, trust and patience are all important.
Back at the Conrad for a cup of hot chocolate before a late checkout, there's still time to walk the space and take in the art—it feels as much museum as hotel space. The air outside was still cold as we headed back to our everyday lives as New Yorkers, but the vigor of a morning skate with Denis and Melissa and the sensual spice of ATRIO's cuisine the night before left a lingering heat that kept the winter at bay for a long time afterward.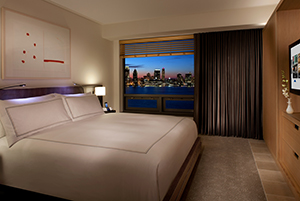 Guests purchasing the Conrad Skate Package will enjoy overnight accommodations for two in a well-appointed suite at Conrad New York; continental breakfast for two at the hotel's ATRIO Wine Bar & Restaurant and a private, one-hour skating lesson for two with former U.S. Olympic skaters Melissa Gregory and Denis Petukhov. To commemorate the weekend, each guest will receive an Olympic branded drawstring backpack; Olympic branded gloves, hats, pins and personalized autographs from each Olympian.
Available through February 26th. Rates for The Conrad Skate Package begin at $599 per night, and the package can be booked online at conradnewyork.com/specials-and-packages