A "Giving" Dinner Party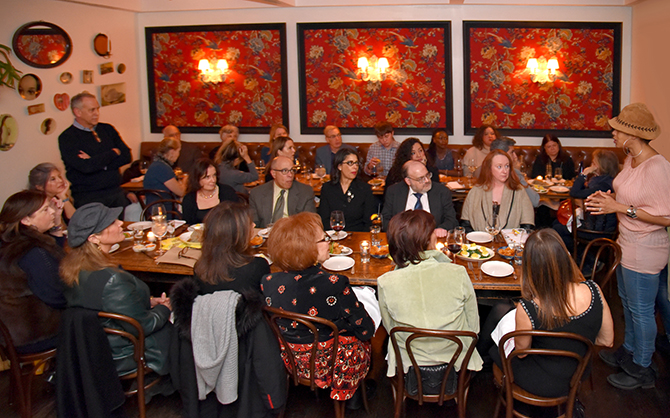 Sundance Institute photo by AnnieWatt.com
By Joan Hornig
February is my favorite month of the year. I know it's cold, dark and oddly short, but it has two holidays I love to combine and do so knowing that I'm taking liberties with their traditional intention—Valentine's Day and Presidents' Day. I like to celebrate both before or on February 14th by hosting a party for a charity I designate as My Valentine while giving the nod to a great President—Thomas Jefferson—who is credited with creating a unique form of a call to action dinner party. Since we do not adhere to a strict birthday celebration date for either Washington or Lincoln, why wait until April 13th (Jefferson's birthday) to remember something he pioneered that has become a favorite tool for non-profit community building—the Jeffersonian Dinner?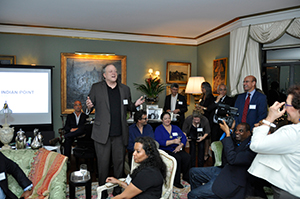 Riverkeeper (Hornig Home) photo by AnnieWatt.com
IGNITE A PASSION
While everyone is familiar with Valentine's Day when we recognize that special someone(s) for which we have a soft spot in our hearts, I choose to channel Thomas Jefferson in February when planning my "I recognize/I love you" event. Many of us think of Jefferson as a President, scientist, farmer, connoisseur, scholar and the author of the Declaration of Independence. But if we go back to 1819 when he was chairman of the Thomas Jefferson Foundation we should add a proactive host to his legacy. At his famous home in Monticello, he gathered stimulating guests and choreographed evenings of engaged citizens around a single theme. He imposed a strict rule: No one-to-one conversations with dinner partners seated to one's side at these educational dinners. His idea was to connect people and encourage discussions about many different topics to ignite a passion for meaningful causes. Participation was sought and elicited from every woman and man in attendance because of their different interests and expertise. The concept was that different perspectives and experiences shared and debated would best help identify ideas that would spur the development and advancement of a young rapidly growing nation and would yield the best solutions.
It is no surprise then that The Jeffersonian Dinner party has grown in popularity with non-profits because it often effectively launches the creation of new cause-centered communities. While not formal fundraising events, experience has shown these dinner parties enlist new allies, help create and disseminate ideas, expand attendees' networks and spread knowledge about and interest in organizations.
A GLOBAL REACH
Since starting my company, Joan Hornig Philanthropy is Beautiful® Jewelry 14 years ago, I have hosted a February "friendraiser" in my home modeled loosely on this Jeffersonian model. I always support a different non-profit with a different area of focus. In the past, we have done events addressing education, the environment, animals, the homeless, the arts, veteran's needs, health, and tolerance. The non-profits and their supporters often come to my attention through the sale of my jewelry. Many of my customers around the world have been inspired to reach out to me to ask for my help with their efforts. I love the collaborative effort, the people I meet this way and the organizations who understand creative outreach is important.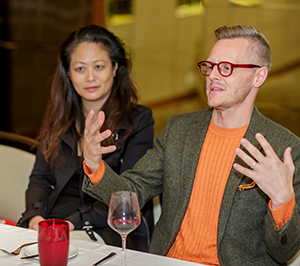 Sundance Theater (Christopher Hibna) photo by AnnieWatt.com
My foundation does not make grants, but I do actively work with individuals dedicated to helping nonprofits they are passionate about raise money and garner attention. While I do dedicated trunk shows for non-profits in retail outlets like Bergdorf Goodman, design signature pieces for specific non-profits upon request, and speak at events about my philanthropic efforts, I also help in other ways. Inevitably over the course of a year, a non-profit headquartered outside NYC will reach out to me with the hope of making inroads in expanding their services by gaining new supporters here. On the calendar, this year is Recipe for Success, a non–profit founded in 2005 by Gracie and Bob Cavnar, in Houston that now has programs operating across the country. It is dedicated to combating childhood obesity by changing the way children understand, appreciate and eat their food by helping the communities provide healthier diets for kids. Today it is the largest outreach of its kind in the nation, empowering 4,000 children every month with Seed-to-Plate Nutrition™ as well as The VegOut! Challenges, Farmers MarKids, Hope Farms and Eat It Food Adventures where nutritious food is shared, appreciated and celebrated. They have large national partners and are growing exponentially.
CHANGING LIVES
I met Gracie while doing a jewelry trunk show in Houston shortly after she began Recipe for Success. She was intrigued by my business model which donates 100 percent of my profit to the charity of the purchaser's choice. The philanthropic concept stuck with her, and she reached out to me last fall to talk about introducing her foundation's programs to New Yorkers who may want to become involved. Together we decided to have an event on February 13 and formally launch my "Lettuce Give Back Collection" inspired by vegetables and healthy choices. While it won't be a Jeffersonian dinner, it will follow the spirit of one.
Obviously, the years 2017 and 1819 are quite different. Our technological tools of communication reach millions and change lives. But there remains no substitute for the excitement generated by people growing and learning together as they adopt a cause and effectuate change. I am not one to be a slave to rules so I have created my formula for my Jeffersonian events and I encourage others to do the same. My events tend to include 3,050 guests and focus on fostering active participation including a call for action. Any follow-up from guests I consider a success: they may agree to host their own events, open doors of introduction for the non-profit with personal contacts, write checks or just tell others about how much fun they had learning about the organization and the larger issue it addresses.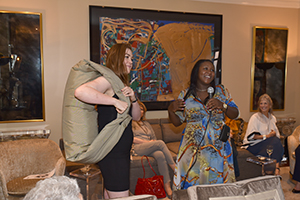 The Empowerment Plan photo by AnnieWatt.com
My hope is that many others will consider hosting their version of a Jeffersonian event to help a non-profit this year. If I can celebrate Jefferson's birthday in February, then any date will do.
There are readily available guidelines all over the internet for hosting a Jeffersonian dinner, and it doesn't have to be large, expensive or overwhelming. You choose a theme or a non-profit, get the guests prepared to think about the topic, invite people who have different backgrounds and professions and limit the number of individuals to those who can fit around a dining table to facilitate focused conversation. The goal is to have everyone feel invested in the issue or problem being discussed. You and the participants will undoubtedly find this fun as well as stimulating and energizing. The non-profit will benefit from the guests continuing to talk about their evening of consequence, not small talk.
This method of entertaining has generated a lot of open connections, networking and follow-up conversations as well as philanthropic commitments. It's a movement I encourage others to try. Frankly, I'm an addict and host at least six Jeffersonian style events a year!
Philanthropy is defined as love of humanity. It seems right that in the month celebrating love to follow one of our founding father's wisdom and dedicate at least one evening or party this year to helping others address important issues.
We at Joan Hornig Jewelry thank you for considering another way to keep the giving going.
---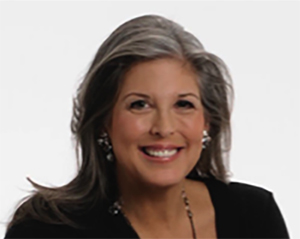 Joan Hornig is a New York-based Jewelry Designer, Social Entrepreneur and Philanthropist. She left a Wall Street career 15 years ago to create a jewelry line at Bergdorf Goodman, where 100 percent of her profit is donated to the charity of the purchaser's choice.