471 WASHINGTON STREET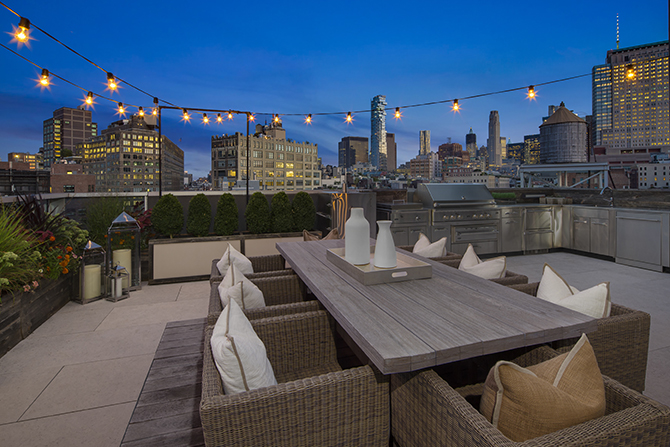 By Daniel J. Bollinger
Choose this luxurious address, and you just may feel like Hollywood elite! At 471 Washington Street—located on the corner of Canal Street in the Northwest corner of Tribeca—its triplex penthouse(consisting of the 7th, 8th, and 9th floors with two rooftops) is lavish. This five bedroom, six bathroom penthouse has 11-foot ceilings throughout and comprises over 7000 square feet which includes outdoor space with seven terraces. To give you a sense of the type of residence this is, Kanye and Kim Kardashian stayed here during fashion week.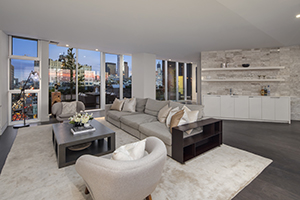 SUPERB DESIGN
The 7th-floor houses bedrooms: The master is stunning. One design detail that stands out is the island housing a concealed television that sits in front of the bed. The master bathroom is even more elegant. A wet room with his/her shower stations and rain shower heads are draped in floor-to-ceiling marble with marble shelves. A deep soaking tub is outside of the wet room and his/her sinks. The secondary baths also have deep soaking tubs. There is also a home gym on this level.
The 8th floor is the living area. A living room with a fireplace, a playroom, and a guest bedroom with a private balcony. It also has a complete chef's kitchen with all Bosch appliances. The 360-degree views here are stunning but wait there's more. The 9th floor is for entertaining. There is a second living room and a massive outdoor patio(half covered/half open) which is the main attraction. There is a full kitchen outside with a smoker, grill, sink, refrigerator, and over 20 feet of stainless steel countertop. It is an entertainment mecca.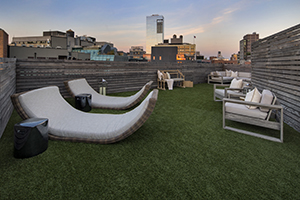 There are two rooftops. The first one (level 10) is fairly large for sunbathing and it wraps around half of the apartment. The rooftop above (level 11) has a wading pool and 360-degree views of the city.
Some impressive design details of 471 Washington are the 11-foot ceilings, a remote motorized shade system, a Creston automated control system with designer lighting, and all of the hallways have integrated walls. For those that like to entertain this is the apartment for you.
For more information on 471 Washington, contact the Andrew Azoulay Team, theandrewazoulayteam.elliman.com