CAFFE DEI FIORI—DELIZIOSO!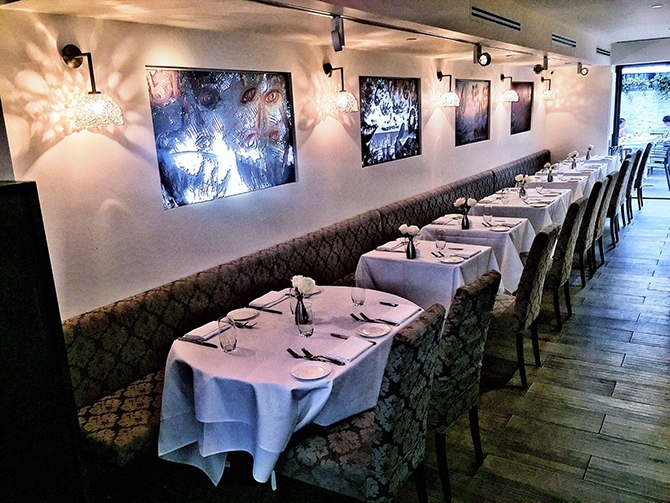 By Clint Brownfield
There is a perception that Manhattan's Upper East Side is a frosty outpost only populated by the richest people in the world. That can be true, but the stretch of Lexington Avenue, roughly from 69th St. up into the mid-80s, is still "a neighborhood." It's dotted with barbershops, shoe repair shops, restaurants, boutiques offering unique clothing and home accessories and just about anything you can think of to make life livable in this tony enclave. I've lived in this neck of the New York woods for more than 40 years, and to me, it's home.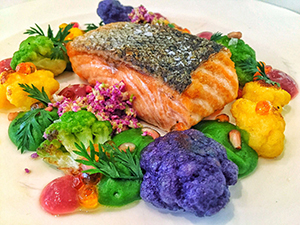 Late last year, an Italian-born friend, who now lives in New York with his wife and four-month-old baby girl, invited me for coffee so we could catch up. He asked me to meet him in the early afternoon at Caffe dei Fiori at 973 Lexington Avenue, between 70th and 71st Streets.
I wasn't familiar with the place so I darted through the rain for four blocks and was trying to find it when Gianni appeared and reeled me in. I was expecting a basic coffee shop but quickly realized that this was a full-blown, sleek restaurant that meanders through several levels of a converted townhouse. We sat at a table in the front window, which is a good perch to watch people wind their way up and down Lexington.
OLD WORLD CHARM
It turns out that Gianni, who was raised in Rome and whose family has deep roots in Naples (royalty, castles), is good friends with Daliso Gulmini, who owns and has created Caffe dei Fiori. Daliso promptly appeared, and his natural charm began to work its magic. He arrived in New York a few years ago, and it was his goal to establish a neighborhood and destination restaurant that would showcase the food he was raised on in his native Bologna. And that he did, in the form of Caffe dei Fiori, which is named after his favorite café in Bologna, where he ate nearly every day growing up in one of the world's greatest food capitals.
So, what I thought was going to be a meeting over coffee, turned into a spectacular, slow-cooked meal that would last for about two hours. I have yet to discover a better way to catch up with a friend than lingering over a two-hour lunch. So off we went. Photos of the new baby were proudly shown; we discussed politics and tried to solve all the problems in the world. Things begin to perk right along when we did what sensible people all over the world do. We each had a nice glass of Prosecco.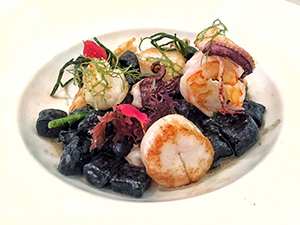 MOLTO BENE
When Daliso offered us lunch we simply asked him to bring out whatever he thought we should have. Two months later, I'm still fondly thinking about what followed. For an appetizer, I was presented Polpe e Stracciatella an extravaganza of octopus, eggplant, Stracciatella cheese, with a cherry tomato confit. I think it was the best octopus I've ever eaten—slightly charred, tender and juicy. Then a simple risotto appeared, as did Daliso, who looked like a little boy who was about to show you his favorite toy. At first, I thought it was a golf ball, but my eyeballs came out on Slinkies when I realized the 'golf ball' was a white truffle. Simple slowly cooked risotto takes on new meaning with a generous shaving of white truffle on top. If truffles are in season, give it a whirl. Another glass of Prosecco doesn't hurt, either.
By this time Gianni and I were beginning to reach our limit but that didn't stop Daliso. Next came out a half-order (most of the appetizers can be ordered in half or whole portions) of tagliatelle al ragu Bolognese. Daliso let us know that the ragu had been cooked for a minimum of four hours. I guess you could make it at home, but it's a lot easier to just order it at Caffe dei Fiori.
This was accompanied with a half-order of tortelli. All the pasta is handmade in the restaurant, and the tortelli is filled with either ossobucco meat or a combination of ham, veal and Parmesan cheese. Each tortelli was about the size of a nickel and was swimming in a beef broth that was so good that I wanted to take a quart of it home and drink it out of a double old-fashioned glass. Instead, we washed it all down with a bottle of Gironia Rosso Riserva 2008, from the restaurant's extensive collection of Italian wines.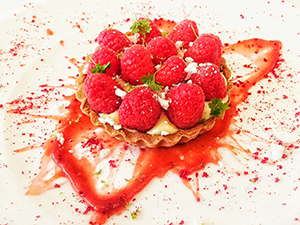 THE FINISHING TOUCH
At that point, Gianni balked at the idea of dessert. I didn't balk—and went ahead with their take on a molten chocolate cake. Gianni relented and had two bites. I think he's still at the gym. The cake was scrumptious. The restaurant also makes its own selection of gelato and sorbets in-house.
The restaurant is decorated with contemporary Italian furniture, Murano glass lighting fixtures, and sleek tableware, but also somehow manages to be cozy at the same time. It is not stuffy. An outdoor dining space in the back of the restaurant is available in the warmer months; there's a convivial bar on the lower level (Prosecco anyone?) and the space on the top level can be reserved for private functions.
There is great emphasis on organically grown, locally sourced ingredients and great care is taken to determine if diners have any food allergies or food restrictions. And, if you don't see something on the menu that you'd like, the chef will happily create whatever you want.
So, the next time you're strolling Lexington Avenue in the 70s, stop in at Caffe dei Fiori and put yourself into the hands of Daliso and his friendly and expert staff who will roll out a very welcoming Bolognese red carpet. The Upper East Side isn't so frosty after all!
For more information, visit caffedeifiorinewyork.com