PARTY WITH SAY GRACE CATERING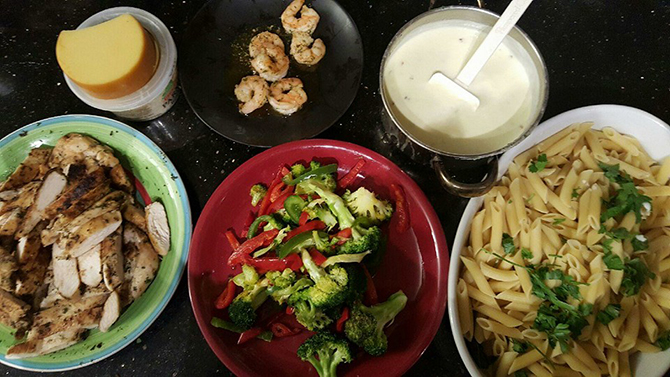 By Daniel J. Bollinger
Shawnae Dixon is the owner of Say Grace Catering which will definitely "bless your life." I met her while she was catering a party and where her food was so great I wanted to get to know her business better. She is a true New York success story. Overcoming many obstacles in her path and never giving up she is a successful caterer and proud mother of six. She also makes a mean jerk chicken dish with pineapple.
How long have you been in business?
I have been in business since April 2015 when I started locally. At that time, I would fry turkeys for the holidays and sell them to friends and family. I would also cater holiday dinners, parties, and outdoor functions. I didn't make the business legal until I realized it was a business and I could be successful.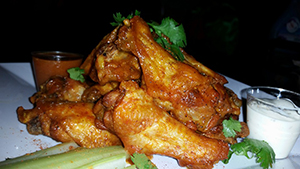 Buffalo Wings
Who is your primary clientele?
My greatest client is radio: Charlamagne tha God of the Most Dangerous Morning Show in the World "The Breakfast Club" is the best. I work with Angie Martinez, TT Torrez of Hot 97.1FM, and Podcast extraordinaire Jack Thriller. I collaborate with a great deal of musicians, artists, and radio personalities.
What events do you cater?
I cater corporate events, exclusive private industry parties, family functions, milestone parties, retirement parties, outdoor events, weddings, children's parties, and showers. On the side, I also work as a private chef and cooking instructor. I teach children and adults in an array of settings how to prepare delicious meals, stay safe around kitchen equipment and have a pantry filled with fun.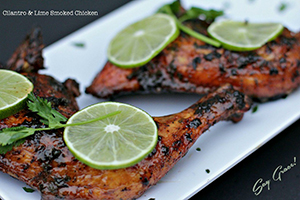 Cinatlro & Lime Chicken
What area does your business serve?
I serve anyone anywhere; I cater most of my events in the Tristate area. I have traveled to Maryland, Virginia, Georgia, Florida, Pennsylvania, and Delaware and have recently been asked to provide service in West Africa, which I have humbly accepted.
What inspired you to go into cooking/catering?
My late grandmother Lois A. Henry Mosley was a dietician for over 40 years with the Willowbrook Institution for individuals with disabilities. She had a love and passion for cooking. Grandma Lois catered every Sunday in our church at Rossville A.M.E. Zion on Bloomingdale Road, Staten Island, NY. She even published three volumes of cookbooks through the Staten Island Historical Society. I started cooking around age nine at classes she taught at the church. There I fell in love with the kitchen, and although she was stern, she made it fun.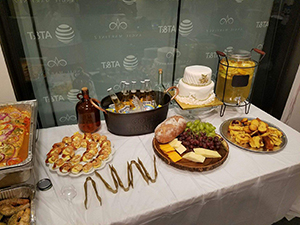 Where did you learn to cook?
Of course, grandmother taught me the basics. She showed me how to check the temperatures of meat and how to blend simple seasonings and elevate dishes with herbs. Beyond that, I am self-taught. I explore food and ingredients that will bless my life. Things that make me reflect on what's ideal for us and not just good.
Tell us about some of your signature dishes?
My five-cheese blend baked macaroni and cheese. That recipe makes people that don't know me love me. Jerk Chicken, because people from every corner of the earth love this dish and it doesn't have to be prepared by someone from the Caribbean. I get asked all the time if I am from the Islands. My response is, always, "Yes, Staten Island." And don't forget cornbread in many variations. I don't consider myself to be a baker, but I bake a mean cornbread.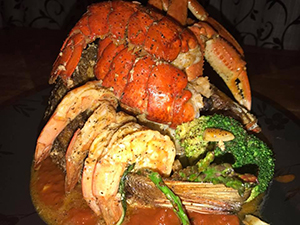 Tell me more about your original "Cornbread Bar."
I recently trademarked the "Cornbread Bar." I realized people like this so much but couldn't understand why I called it cornbread when it tasted more like cake. I also realized I had something no one else had. I created a legacy on a baked good. Cornbread is considered a traditional Southern staple and I love the traditional cornbread, but I realized that our palettes are so funny and we love things running together that taste good and compliment other parts of our meal. Who would have known that cornbread could be featured all by itself? I found out and made it my market.
Is there anything you are particularly proud of?
My family! They are my greatest support. I know that I have them through the thick and the thin in my life. When we lost our home in Super Storm Sandy, we stuck together. We didn't know how long the road was ahead and what was in store, but we knew we had each other. My children survived what could be considered a horrific tragedy. So my husband and I made sure that we stayed close to them and made them feel safe.
For more information on Say Grace, visit saygracenyc.com or social media handles including Twitter, Facebook, and Instagram @saygracenyc.