NEIGHBORHOOD EATS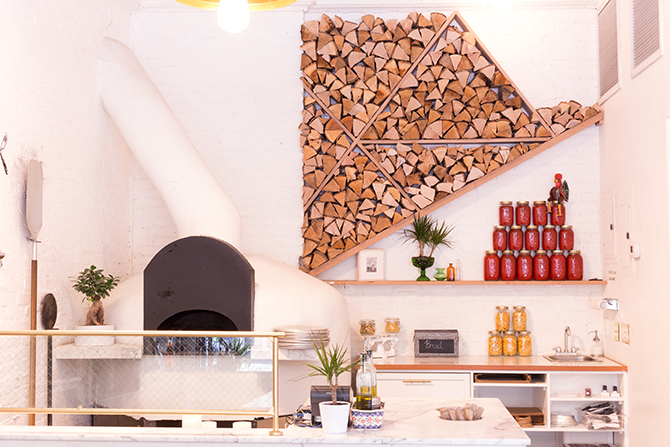 By Daniel J. Bollinger
FUMO, located in Hamilton Heights on Amsterdam and 139th Street, is across from City College of New York. Their motto is "Eat Real Food" because of their love for fresh, homemade cuisine which is evident in every dish. All of their dishes are simple and authentic. Owners Peirluigi Ossani from Ravenna Italy, Francesco Capolongo from Naples Italy, and Steve Gallo an Italian-American have teamed up to bring us this fabulous restaurant.
FUMO is Italian for smoke. They chose that name because of their brick oven. I recommend The Roni, a meat lovers' paradise with pepperoni, sausage, bacon, cherry peppers, and fresh mozzarella. The Parma pizza has prosciutto, arugula, parmigiana, fontina, and truffle oil. Both have hearty amounts of toppings, and the crust is nice and crispy. Each pie is made fresh to order, and you can taste it in every bite. For starters, FUMO offers fried calamari, baked clams, and meatballs—all delicious.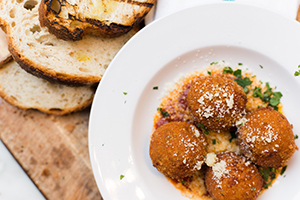 UNIQUE MENU
But if you are looking for something different I suggest Arancini and Fritto. Arancini is a Sicilian-style rice ball filled with green peas, chopped meat, Mozzarella, and Pomodoro. It is unique: the outside has a nice crust on it while the inside is tender. Fritto is calamari and shrimp with a cucumber tartar. The cucumber tartar is unique and has a cool, crisp, refreshing taste.
For greens, FUMO offers a variety of salads. I recommend the Shrimp Salad with mesclun, goat cheese, grilled asparagus, grape tomatoes and shrimp with balsamic vinaigrette. It is the perfect combination of ingredients and flavors. There's also the Baby Spinach with honey pecans, avocado, and carrots in a balsamic vinaigrette. A great blend of flavors and textures that mix well.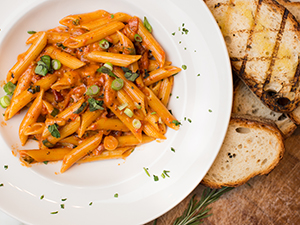 PASTA LOVERS UNITE
Yes, it reigns supreme here. The Spaghetti Funghi is excellent. With wild mushrooms, Marsala cream, and truffle oil it is sure to satisfy. The pasta is cooked al dente, and the sauce is very creamy. Baked Ziti is classic with ricotta, Mozzarella, and Pomodoro; they bake this dish in their wood burning oven, and you will taste the difference. FUMO has gluten-free and whole wheat pasta available for those with gluten allergies and those looking for healthier pasta alternatives.
Main courses are just as fantastic. I recommend the Grilled Salmon, Steak and Fries, and the Chicken Marsala (which is not listed on the menu). The salmon is delicious. Glazed in garlic and oil with white wine it is served on a healthy portion of kale. Cooked to perfection the salmon is flaky and delicious. The steak is marinated skirt steak, grilled, and is so tender it can be cut with a butter knife. The Chicken Marsala is tender and cooked to perfection: The Marsala sauce is thick, red, and real. For dessert, there is the Tiramisu and Panna Cotta. Tiramisu is an Italian classic and FUMO delivers exactly as it should be. The portion is large, and it is sweet tasting and spongy. Panna Cotta is an Italian flan and is deliciously creamy and sweet.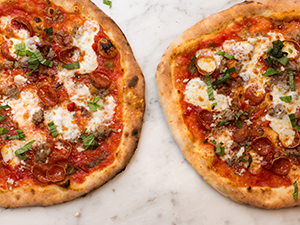 FUMO is a great restaurant that serves quality dishes at very reasonable prices. You can taste the authenticity and quality ingredients in all of their dishes. They are open for brunch and have some excellent drink specials. They also do catering, so if you are hosting a party or event, you can satisfy your guests with some of the most authentic Italian cuisines in all the city. If you are a fan of real authentic Italian food FUMO should be on your list.
For more information on FUMO (1600 Amsterdam Ave), visit fumorestaurant.com