LOCKS APPEAL
By Patricia Canole
Super sleek hair? So boring. Natural curls, whether loose and wavy or tight and bouncy, are fabulous. Sounds too good to be true, right? We get it; curly hair is prone to dandelion-like puffiness. Fortunately, keeping your hair in tip-top shape is possible. Meet Wendi Levy and Kim Etheredge, two "mixed chicks" who created a product line because there was a need.
For years, multi-cultural people with hard to manage hair searched far and wide for just-the-right products to tame their tresses. Both Wendi and Kim were frustrated and started developing their own product. Then, something happened: Friends and family encouraged them to market it to consumers. They did and before too long were running a business out of the garage. Mixed Chicks was born! As Kim sums it up: "I grew up in Los Angeles, the capital of sun, water, fun, and convertibles. It's a beautiful place, but it is hard on hair. I had to search from one end of the store to the other to concoct a combination for my unruly hair," she told us. "That was not only a pain but expensive too."
Lucky for her she met Wendi who hails from New Jersey. "Growing up on the East Coast, there were Black neighborhoods, White neighborhoods, a Puerto Rican neighborhood—everything was segregated. Including the stores. When Kim and I met, we laughed about our shared problem," she said. "The idea of making our own product seemed silly at first, but it happened, and now Mixed Chicks is on the map."
Mixed Chicks has given men, women, and kids with curly, wavy, kinky hair the keys to their best hair days. Now, both Kim and Wendi are excited to announce the expansion of their problem-solving brand with an all-new collection of curl defining and styling products. "We've embraced a variety of textures to help solve unique hair care woes," Kim explained. "Our new products can help anyone achieve the styles they want using the techniques they love." Extra penetrating oils and vitamins deliver hydration and shine to every strand. The new line features six unique products. For more information on Mixed Chicks, visit mixedchicks.net.
---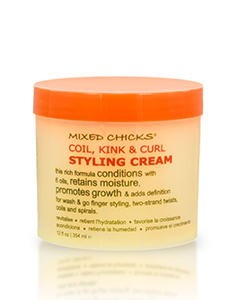 PROMOTE GROWTH
...with Coil, Kink & Curl Styling Cream. This cream uses six nourishing oils to help hair retain moisture while making styling easy.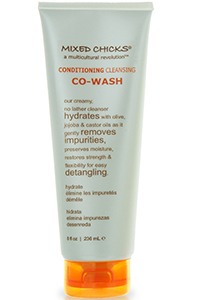 HYDRATE
...with Conditioning Cleansing Co-Wash. This creamy, no lather cleanser is a revitalizing shampoo alternative that uses jojoba and castor oils to restore strength and flexibility for easy detangling.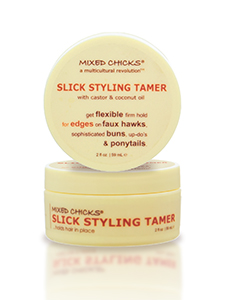 GET FLEXIBLE HOLD
...with Slick Styling Tamer. This lightweight pomade provides taming and sleek styling for sophisticated buns, ponytails, up-dos, faux hawks, and more.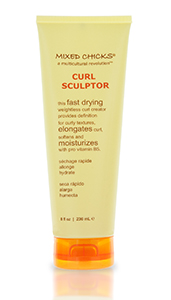 SOFTEN & MOISTURIZE
...with Curl Sculptor. This light curl definer uses pro-vitamin B5 for a weightless, fast drying formula that's perfect for a natural style or free-flowing look.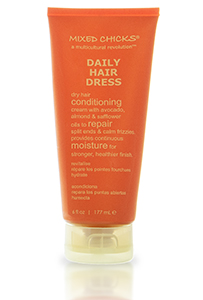 CONDITION & REPAIR
...with Daily Hair Dress. This avocado, almond, and safflower oil infused creation rejuvenates dry, brittle hair by adding continuous moisture and repairing split ends. It works wonders for moms styling ponytails, braids, and curls.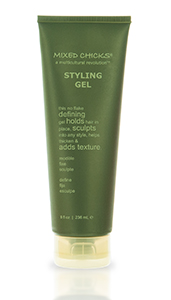 SCULPT & TEXTURE
...with Styling Gel. This no flake defining gel works to add thickness and texture while holding hair firmly in place.