IRELAND'S WILD ATLANTIC WAY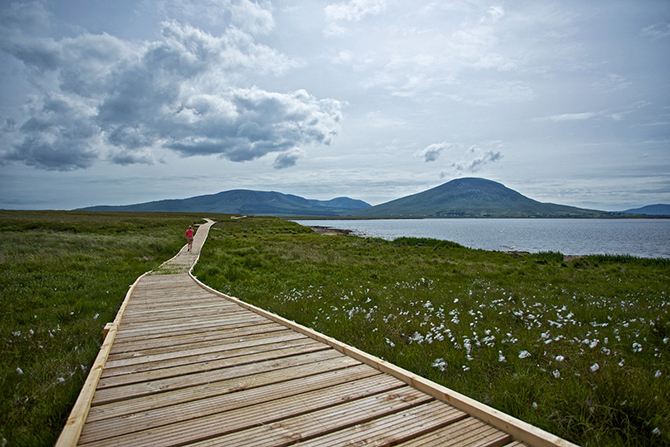 By Clint Brownfield
Here's something for your bucket list: Ireland's Wild Atlantic Way, which does not refer to the ethos of the people of Ireland—although you'll find lots of mirth and merriment along the way. What we're talking about here is a series of roads that hug the West Coast of Ireland. It's the longest, signposted coastal drive in the world—1,500 miles long, which may seem strange since the Republic of Ireland is only 300 miles from top to bottom. But if you travel the entire length of the Wild Atlantic Way and explore every bay, inlet and nook and cranny along the way, you will have traveled 1,500 miles.
You can drive the entire route in one fell swoop or break it up into mini-travel chunks. However you decide to explore this gorgeous part of the world, Ireland's Wild Atlantic Way should be placed on your must-do list. By traveling the entire route, you will have gained insight into the history, geography, geology and the very welcoming people of Ireland.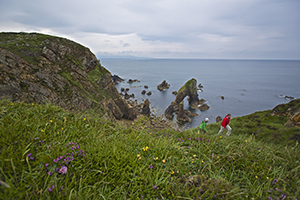 SAVOR EACH MOMENT
Begin your trip at the very northern tip of the Republic at Malin Head in County Donegal, the northernmost point in Ireland. At this stage, you will also notice that driving is done on the left side of the road. There are also tour providers who will do the driving for you while you sit back and enjoy the scenery. You'll notice that signage is both in English and Irish. Among the highest sea cliffs in Europe—even more dramatic than the famed Cliffs of Moher in County Clare—are Sliabh Liag (or Slieve League Cliffs). These under-discovered cliffs alone are well worth the trip as are many of the other sights along the way.
Just to the south is County Sligo where you may first encounter some of the best seafood (and seaweed) you'll ever savor. Call ahead for a reservation at Eithne's by the Sea where your memorable meal will be prepared straight from the boat or farm. Pick up a copy of Galway author and Chef Michael O'Meara's award-winning Sea Gastronomy: Fish and Shellfish of the North Atlantic cookbook, which offers all you'll ever want to know about the bounty from the sea in this area. Seaweed and its healthful benefits can also be sampled along the way. Try lunch at the Beach Bar in Aughris (where you can also sip a little whiskey by a traditional peat-burning fireplace) and then relax in a therapeutic seaweed bath at Voya Spa in Strandhill.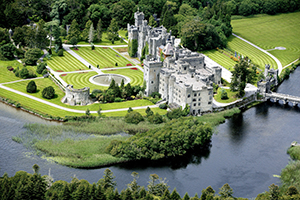 HIDDEN TREASURES
The country's Wild Atlantic Way will take you to many places off-the-beaten track. Discover and explore four national parks Glenveagh, County Donegal; Ballycroy, County Mayo; The Burren, County Clare; and Killarney in County Kerry. Also along or near the route are the picture postcard towns of Knock and Cong. Lodging possibilities along the way are as varied as the sights. From campgrounds and small seaside B&Bs to truly memorable places where you can live like aristocracy including Lough Eske Castle, Donegal; Ashford Castle, County Mayo; Dromoland Castle, County Clare; and Adare Manor, County Limerick, which are just a few miles to the east of the Wild Atlantic Way.
A trip to the Aran Islands is also a must-see if you want to get off the beaten track. These three islands at the mouth of Galway Bay, County Clare, can be reached by ferry or a five-minute flight from the mainland and appear as if parts of the Cliffs of Moher broke off and floated out into the Atlantic Ocean. Lodging ranges from camping, hostels, B&Bs and historic hotels such as Kilmurvey House, a guesthouse housed in a restored 18th-century stone mansion on the largest of the Aran Islands—Inishmore (Inis Mór). While there, spend an evening at Joe Watty's Bar which will provide you with one of the most memorable times of your life with its great food, drink and live music.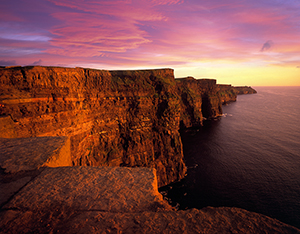 Midway on route is Galway, Ireland's fourth most populated urban area (about 80,000 population). It will be European Capital of Culture in 2020, alongside Rijeka, Croatia. Dating back to its origins in the 11th century, today Galway is a thriving city that justifiably attracts lots of visitors. Christopher Columbus stopped by on one of his voyages in 1477 and is believed to have prayed at St. Nicholas Collegiate Church, which continues as the largest medieval parish church in Ireland in continuous use as a place of worship. And, of course, there is Galway's famed Oyster Festival where each year revelers consume oysters and a particular elixir called Guinness. Merriment ensues at this traditional celebration. Stay at Galway's grand dame Hotel Meyrick or at the G Hotel and Spa which was created by noted hat and fascinator designer Philip Tracey.
Meanwhile, back to geology—in County Kerry, just a few miles off the Wild Atlantic Way, is Crag Cave, which is well worth the detour. Here visitors are taken on a 30-minute guided tour to view the stalagmites and stalactites that have been forming for the last million years. Open all year; it also features an information center and well-stocked gift shop in case you want to give your credit card a workout.
SPECTACULAR SIGHTS
Back on the Wild Atlantic Way and above ground, you've got about 750 miles to go, heading south from Galway. Perhaps one of the highlights of your drive is the Cliffs of Moher, one of Ireland's most visited tourist attractions. These spectacular sea cliffs have an elevation of around 720 feet and stretch for five miles along the dramatic coastline. There is also an on-site visitor's center, restaurant and gift shop.

It's off to Dingle we go and even more spectacular panoramic coastal vistas. This charming town is one of Ireland's most inviting places to spend a night (or how about two?). Stroll the streets, poke into the shops and cruise out to some of the islands offshore and all of your worries and cares will melt away.
The last stop on the Wild Atlantic Way is Kinsdale, on Ireland's southern coast, and from there it's just a short way up to the famed Ring of Kerry and the metropolis of Cork. Whew! You've made it! What a lot to see!
To start your own Wild Atlantic Way adventure, visit ireland.com.