GRAND HOTELS
By Patricia Canole
New hotels open almost every week of the year. Some stay. Some go. And some—through a combination of ambiance, service and history—become legends. Let's visit some of these legendary places that continue to amaze travelers!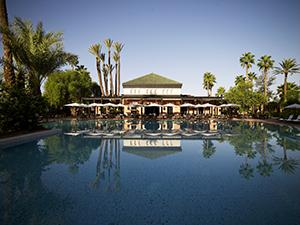 LA MAMOUNIA, MARRAKESH
The grandest hotel in Marrakesh, La Mamounia (lamamounia.net), has amazed guests for years—and with good reason: richly decorated columns support brilliant mosaic tiled roofs, open courtyards frame shallow aquamarine pools and palm-filled exotic gardens surround the sunset-red Medina walls. The look is a blast from the ruling dynasties of the past. Le Bar Churchill is the same smoky, exotic hangout it always was. Le Marocain is on the top of our fine restaurants list. Tucked among flowers and fountains, guests can dine on seafood tagine and sip mint tea on the candlelit terrace. Choose a riad (traditional Moroccan house) nestled in the gardens with its own private pool or in the main mansion, choose a king-size bed in a small-but-gorgeous room adorned in rich velvets.
---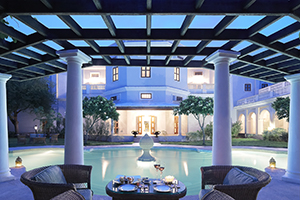 TAJ FULAKNUMA PALACE, INDIA
Think of a fairytale residence belonging to royalty and you'll get the Taj Fulaknuma Palace (taj.tajhotels.com). Once a 19th- century guesthouse for royalty, it has taken years to convert this 60-room palace into one of India's top hotels. Made of Italian marble, the rooms are furnished with antiques and French tapestries. In fact, the Dining Hall has the longest dining table in the world, seating 101 (now that's a dinner party!). It may be very old and very bling, but it's got modern touches too, like the stunning spa, where you can indulge in an Indian head massage or Ayurvedic treatment overlooking the terraced gardens. Later, you can tuck into the best curry you'll ever taste in one of two restaurants. Guests are invited to take a tour of the hotel conducted by the in-house historian who focuses on the palace's past. The Presidential Suite has a private pool and butler.
---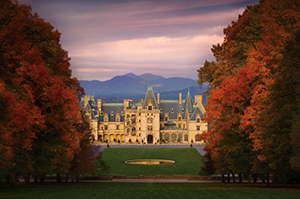 THE BILTMORE ESTATE, NORTH CAROLINA
America's largest home rises high in the Blue Ridge Mountains of North Carolina. Opened in 1895, The Biltmore Estate (biltmore.com) is modeled after a 16th-century French chateau and has 250 rooms, 34 bedrooms, 43 baths and 65 fireplaces. This Asheville property was originally the home of George Vanderbilt—grandson of Cornelius—who indulged his passions for art, literature and horticulture. Following his wedding to Edith Stuyvesant Dresser and their honeymoon to Paris, the newlyweds returned to The Biltmore in 1898 to make it their permanent home. Although never intended to be a hotel, friends stayed for months and were treated like hotel guests. Plaques with their names were placed on bedroom doors, and personal servants (a precursor to modern-day butlers) were assigned to attend them. Today, the estate and gardens are open to the public for guided tours. However, you can live like a Vanderbilt and stay at the Inn on Biltmore in one of the exquisite guestrooms or suites, or choose The Cottage, once the cozy residence of the former estate's gardener. Blazing fireplaces, butler service, afternoon tea, fine dining and spa services are just some of the amenities. Romantic extras, such as horse-drawn carriages, can also be easily arranged.
---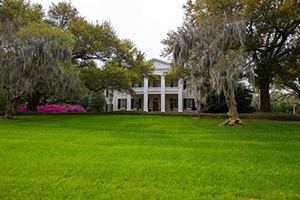 MONMOUTH HISTORIC INN, MISSISSIPPI
The Natchez Trace Parkway Trail, which winds along the Mississippi River, is covered in history. For centuries, it was used as a trade route. Today, it's a scenic trail that originates in the town of Natchez—the oldest settlement on the Mississippi—which brims with antebellum mansions. Imagine you're characters from Gone With the Wind comfortably settled at Monmouth Historic Inn (monmouthhistoricinn.com), an intimate 30-room haven dating from 1818. Stroll among the flowers gardens and oak trees dripping with Spanish moss and then sip a mint julep in the parlor before retiring to a cozy canopied bed.
---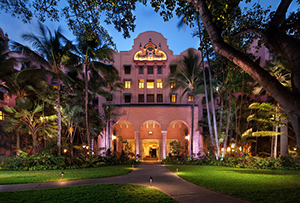 THE ROYAL HAWAIIAN, HONOLULU
When the "Pink Palace of the Pacific" first opened in 1927, there was only one other hotel along the beachfront. Today, the Waikiki Beach is lined with high-rises, but it's the historic Royal Hawaiian, A Luxury Collection Resort (royal-hawaiian.com) that is still favored by Hawaii aficionados. During the 19th century, King Kamehameha I used this land as his royal playground. The glamorous rich and famous flocked to the hotel during the 1930s and it remained until WWII, when it was leased to the U.S. Navy. Tourist mania returned in the 1950s and the Royal Hawaiian has been popular ever since. Historical walking tours offer insight into the hotel's rich past, and its weekly luau is one of the best in the islands. Other amenities include the plush garden-style spa, where bamboo treatments are especially popular.
---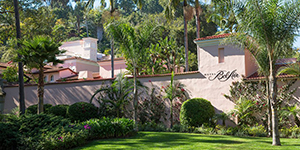 HOTEL BEL-AIR, LOS ANGELES
Once a hotspot for top celebrities including Marilyn Monroe and Grace Kelly, the luxurious Hotel Bel-Air (dorchestercollection.com) continues to be a trend-setting hotel. The façade's signature color, known as "Bel-Air Pink" and its Spanish Colonial architecture make this hideaway a distinctive choice; all guest rooms and suites inspired by the Golden Age of Hollywood. With views of the canyon, indoor and outdoor fireplaces, grand pianos and spacious decks, the 12-acre property provides a peaceful nest for the La Prairie Spa with seven treatment rooms including a couple's massage room and a mosaic steam room. Not to be overlooked is Wolfgang Puck's restaurant, where fresh local California cuisine is served with a European accent.