BERMUDA SHORTS
By Patricia Canole
You realize the moment you arrive in Bermuda that this place is special, an improbable Eden set in a dazzlingly blue, surprisingly temperate patch of the Atlantic just 600 miles from North Carolina. Rich in beauty and British charm, this 21-square-mile isle offers travelers easy access, plus a unique blend of alluring landscapes (pink beaches and pastel cottages) and underwater thrills (the wreck diving is phenomenal). Read on and discover what this entire isle has on tap.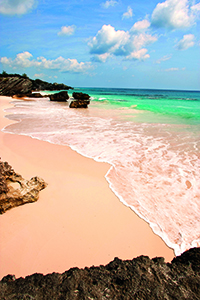 BEACHES ARE PINK
Not hot pink or neon pink or even candy-cane pink, but a soft pink that's a lot more noticeable on cloudy days or when the sand is wet. The great effect is caused by the shells of tiny marine creatures called foraminifera, which flourish on the offshore reef and then wash ashore after they die. Horseshoe Bay is Bermuda's most popular pink strand, but there are often so many tourists there you can barely tell sand from the sunburns! Opt for Long Bay beach instead.
IT ALL BEGAN IN INDIA
The history of Bermuda shorts is steeped in the British military. Overcome by the Indian heat, British sailors stationed there simply snipped off the bottom of their uniform trousers. Being stiff-upper-lip sorts, they kept the woolen knee socks. The revolutionary style later spread to the British garrison in Bermuda and over the years evolved into the pleated, tapered, pastel shorts we know today. Locals sport their Bermuda shorts year-round (rain, wind or shine) and wouldn't be caught dead in anything other than a traditional navy blue blazer.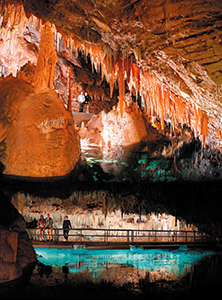 INCREDIBLE UNDERGROUND SCENERY
Beneath Bermuda is a chain of 150 limestone caves discovered in 1907 by a group of kids looking for a lost cricket ball. Visitors can explore Crystal Caves on pontoons that float on a vast underground lake framed by thousands of stalactites and stalagmites. Nearby Fantasy Cave can also be explored with a guide. Those who would rather do it themselves can poke around the cave at Blue Hole Park or snorkel the half-submerged sea caves at Shark Hole.
GOOD LUCK
Bermuda is famed for its moongates: limestone portholes that decorate local gardens and are said to bestow happiness especially on all who pass through one—especially newlyweds. A local captain built the first moongate in 1860, based on one he had seen in a Chinese garden. The oldest example is the ivy-covered moongate in Hamilton's Par-la-Ville Park, but the gate overlooking the beach at Tobacco Bay is by far the most picturesque.

WHITE ROOFS ARE EVERYWHERE
They are a highly practiced architectural feature made from thick limestone tiles that are layered to catch rainwater, which is then drained off into cisterns. The bright white sealant makes the roof waterproof and helps purify the runoff—the primary source of fresh water for nearly every Bermudian.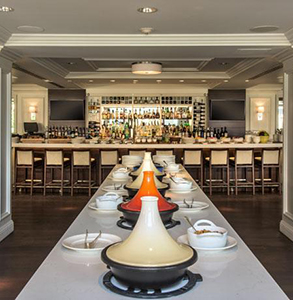 AFTERNOON TEA
There's nothing quite like taking a break and enjoying a traditional English afternoon tea. If you're feeling a wee bit British, head to Crown & Anchor Bar, Restaurant, and Terrace in the Hamilton Princess & Beach Club (fairmont.com). Enjoy homemade scones, Devonshire clotted cream, finger sandwiches and pastries served on beautiful silver trays alongside steaming pots of tea.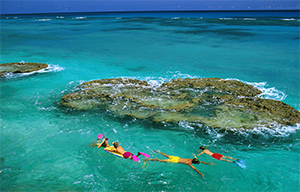 FINDING NEMO IS A NO-BRAINER
Bermuda is surrounded by the northernmost coral reef in the Atlantic Ocean and home to many of the marine species you find in Caribbean waters: turquoise parrot fish, butterfly fish, blue angels and silver barracuda are just the beginning. Snorkeling is superb right off the beach at places like Long Bay and Church Cove. Also, many outfitters offer scuba diving excursions to vertical walls and dozens of shipwrecks in the surrounding Bermudan waters.
A HISTORY LESSON
A trip to Bermuda is not complete without a visit to the Royal Naval Dockyard, which has become Bermuda's leading tourist attraction—a sort of theme park (without the roller coaster) that includes museums, pubs, sports, and shops. Housed inside the massive British fort, the Bermuda Maritime Museum is about a lot more than old ships and sailors. You can rent snorkels and sea kayaks at the snorkel park to explore the nearby reef. There is also a glassworks and ceramics factory and an indoor craft market where you can buy island keepsakes such as cedar wood jewelry boxes, black rum cakes, and many other hand-crafted objects.
For more information, visit Go To Bermuda (gotobermuda.com).