BUTTERMILK FALLS INN & SPA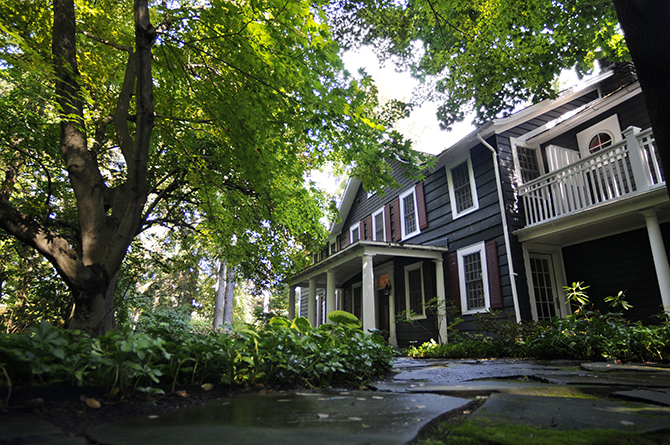 By Jeff and Stefanie Sylva
In 1777, a British expedition sailing up the Hudson River fired upon the private home of Leonard Smith located in the small village of Milton, NY. Fortunately, the attempt to burn it down failed. Centuries passed, and eventually, the Smith house became the Main House of owner Robert Pollock's concept for a country-chic resort, the Buttermilk Falls Inn & Spa.
SPECTACULAR VIEW
Buttermilk Falls Inn and Spa, which receives its name from the on-site waterfall that cascades to the Hudson River, has 18 rooms and suites in several different structures. The historic 18th-century Main House has ten rooms, each with its distinct ambiance, some with unique features from the original structure such as a stone chimney. The suites and guesthouses are housed in a mix of restored former outbuildings or new, architecturally intriguing structures. Each of these accommodations has captivating views of the river, the gardens and grounds of the retreat. A working gas fireplace and private outdoor space complete the picture. Some of the Main House rooms have an inviting patio or balcony sitting area, perfect for some peaceful moments to unwind and enjoy the fresh air.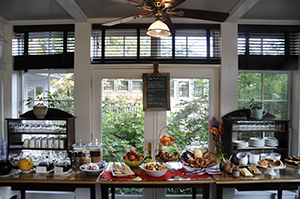 DELECTABLE DINING
Like most B&B's, Buttermilk Falls Inn & Spa provides a hearty country breakfast of fresh farm eggs from the estate's own Millstone Farm along with local cheeses and produce. Be sure to indulge in the excellent selection of artisanal baked goods from Frida's Bakery & Café, a local downtown favorite owned and managed by Buttermilk Falls Inn & Spa.
Buttermilk Falls Inn boasts an on-site full-service restaurant, Henry's at the Farm, which offersa relaxed and rustic atmosphere of barn wood tables, a field of glass jug lighting fixtures, large windows, and French doors. The dining experience proved to be elegant and refined. Celebrating the bounty of the Hudson River Valley, the restaurant sources many ingredients from local farms, including its own Millstone Farm, and artisan food producers and purveyors. This commitment to locally-sourced supplies at Henry's engendered its motto: "Local isn't a trend; it's a mantra." During the warmer months, al fresco dining is offered on a balcony off the dining room and on a kitchen level patio.
Even Henry's Bar furthers the local theme in many of its signature cocktails, which feature Millstone Farm's organic herbs, fruits, vegetables, and honey from its thriving apiary, as well locally sourced wines, beer, and spirits. You might call it a "Barn to Bar" experience. An afternoon tea provides guests more of Frida's baked goods with local herbal teas.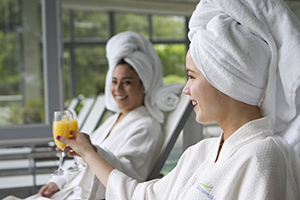 SOOTHE THE BODY
The Spa at Buttermilk Falls Inn is housed in a contemporary stone and glass structure that offers stunning views. The eco-friendly spa uses solar and geothermal power to heat the sauna, steam room, and endless pool and features its signature Soil to Spa treatments utilizing ingredients grown at Millstone Farm. All of the products used in treatments are naturally crafted and plant-based using products sourced from Buttermilk's vegetable and berry garden, orchard, and beehives. Two must have treatments are the Millstone Farm Massage and the Bamboo Massage.
A perfect follow-up to a treatment: enjoy one of the spa's juice elixirs such as The Falls Detox or the Millstone Squeeze, each loaded with fresh, rejuvenating ingredients.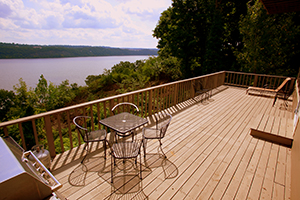 THERE'S MORE…
As enticing as it may be to simply relax and enjoy the serenity and peace of Buttermilk's beautiful grounds, splendid spa, and luxurious accommodations, many guests enjoy exploring the estate's many trails which lead to panoramic views of the Hudson River, flowering gardens, bubbling brooks, and the property's namesake waterfalls. Also popular with guests is the retreat's own working Millstone Farm, home to honey bees, heritage chickens, angora goats, llamas, alpacas, donkeys, and peacocks. The farm has developed a reputation as an animal rescue sanctuary. If you are looking to burn a little bit more energy, the retreat has a well equipped gym and tennis court.
There is no doubt you will marvel at the incarnations of Robert Pollock's vision for a unique retreat overlooking the Hudson River—and it's just an hour-and-a-half drive from New York City.
For more information on Buttermilk Falls Inn & Spa visit, buttermilkfallsinn.com.