ONLY IN NEW YORK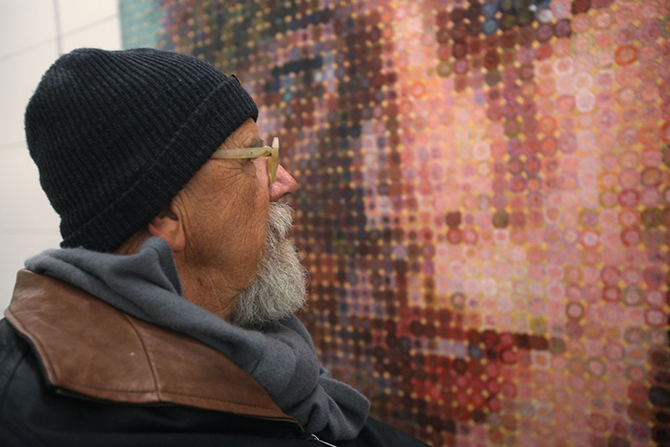 By Joan Hornig | Photography by www.LizzySullivan.com
How often do we hear that famous phrase "Only in New York?" Recently I had a NY moment that was truly authentic and inspiring. It began on the southeast corner of 86th Street and Second Avenue and centered around a visit to our brand new Second Avenue subway station there.
I entered the elevator to go down along with a familiar cross section of New Yorkers—mothers with strollers, delivery people with packages, handicapped individuals, and others—who got in just like I did to experience a working subway elevator. Despite all the hype about the new subway, I was still impressed by the brightness and design. Even more thrilling, I was welcomed by two giant-sized Chuck Close mosaics before I had even entered the turnstyle.
I studied them up close. I had already seen two from the sidewalk subway outpost, but this vantage point offered an entirely different experience. While varied in style of mosaic execution, there is no mistaking them for anything other than a powerful display of this extraordinary artist's work.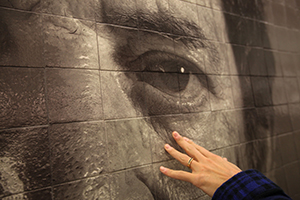 IT'S ALL IN THE TOUCH
Then I had an OMG moment—I could touch them. None of the security guards told me to step back, and unlike at a museum, I was in no jeopardy of being escorted out for handling a piece of art done by a master artist. So, I ran my hand over them. I examined the texture, coloration, lines, finish, grout. I stepped back and forth. I realized they were mine to experience for free! I had not even gone through a turnstyle so I had not even paid to enjoy them. I could go 24/7, 365 days a year and visit this underground art gallery. Amazingly, the entire station is punctuated with nine Chuck Close mosaics. I watched how they acted as people magnets. Clearly I wasn't alone in enjoying the freedom to examine them. People took selfies, talked to strangers about them, and posed their children in front of them.
The station had become enriching, not just functional. Then my "Only in New York" moment got even better. Chuck Close arrived in person to see the finished installation of his work. Over the last few years this generous man and I have become friends as we bonded over philanthropy. Chuck is known for his active involvement in bringing the arts to everyone, not just collectors. He has been an inspiration for kids with limited access to the arts, an encourager to young artists and a great supporter of museums and educational programs worldwide.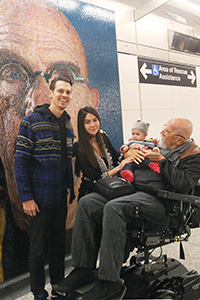 AN ARTIST FOR THE PEOPLE
I delighted in watching Chuck observe how passersby slowed down and engaged with the art. Station workers including the architects, construction engineers and cleaning crews who had never met him flocked to thank him and get photos with him and the works. Everyone stopped when Chuck examined his iconic self–portrait in mosaic format for the first time. Some took pictures from afar but others came over to ask him questions. Chuck was always patient answering any questions they asked. As he posed for picture after picture, I teared up. Things I prize the most—accessible art, a generous and world famous artist mingling with everyday New Yorkers, tourists and MTA workers—was a fantastic "Only in New York" experience.
When I began Joan Hornig Jewelry with the commitment to donate 100 percent of my profit to the charity of the purchaser's choice, I assumed jewelry purchases would inspire many customers to identify arts organizations to receive donations. Yet the arts have remained the least popular area to receive my customers' support. Education, health, the environment and animal rights are regularly selected, and of course, these are all worthy causes. But hopefully this brilliant move by the MTA and Governor Cuomo to reach out to great artists like Chuck Close, Vik Muniz, Sara Sze and Jean Shin to enhance this infrastructure achievement with an underground museum will bring to the forefront New York's unparalleled public art and the value in supporting it.
After all, the arts help us express our values, build bridges between cultures and unite us regardless of ethnicity, religion or age. Studies have shown that students with art education have improved academic performance and creativity sought by employers. Arts have demonstrated healing and palliative effects which can reduce the length of hospital stays, pain levels and medication needs. Communities with larger arts programs are strengthened by lowering poverty rates and increasing civic engagement. And, to further make the case for robust arts support, consider the arts as an industry creating jobs, generating tax revenues, and helping local merchants.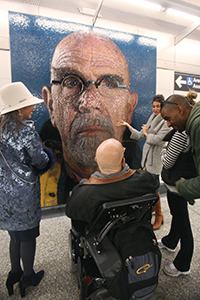 CREATE YOUR OWN EXPERIENCE
The tradition of public arts in NYC is one for which we should all be proud. Consider our early public monuments, WPA projects, the City Walls non-profit founded in 1966 and the Public Art Fund (publicartfund.org) which is currently responsible for organizing many highly visible artists' commissions, projects, installations and exhibitions. Add the Percent for Art Law, requiring that one percent of the budget of City-funded construction projects be spent on art for City facilities. Top this off with Bloomberg Philanthropic gifts, individual donations and nonprofit organizations dedicated to the arts. We enjoy an art love fest every day in New York!
It's up to us to open our eyes and those of our children. With over 180 museums, an online Free Tours By Foot (freetoursbyfoot.com) calendar of free or almost free museums and cultural opportunities to explore, we can all afford "Only in New York" experiences. NYC offers so much art for all to experience for so little.
So, why not create an "Only in New York "experience for a child who has never been to a museum or contact a non-profit that brings art to youths and get personally involved? Google your personal arts interest and start exploring by taking the beautiful new Second Avenue subway with its underground art. We can all afford it. In fact, we can't afford to squander the opportunity.