THE SPA SCENE
By Griffin Miller
There was a time not so long ago when "price and posh" were the sole arbiters of what comprised a luxury spa experience. Quality and results, if wonderful, were a happy dividend—and if they didn't quite measure up to the ka-ching, who cared? Cachet and warm hors d'oeuvres made up the difference.
Looking at "not so long ago" in the rearview mirror, however, I realize just how much the day spa landscape has morphed into an equal opportunity panorama. And what I've discovered is, while many exclusive spas are right on target, sometimes it's the on-trend, lesser-known spas that hit the right note.
---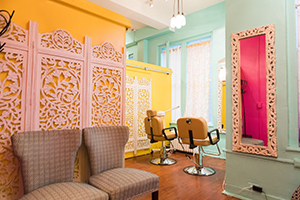 HIBBA COLUMBUS CIRCLE
A case in point is Hibba Columbus Circle, the third Hibba Salon to open in Manhattan. With a solid reputation for eyebrow transformation and waxing, Hibba recently added Express "Classic Facials" to the menu to accommodate a growing clientele seeking a refreshed, healthy look when time is at a premium.
Having sampled a Hibba facial, I urge you to shelve the idea of zip-zip "Express," as the experience was neither rushed nor indifferent. It was, in fact, a meticulous, multi-layered facial with impressive results for weather warriors like myself—a total blessing during these months of erratic New York forecasts.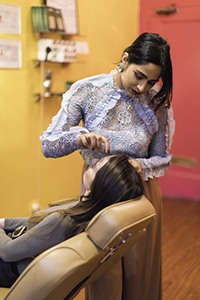 After assessing my skin type and condition, Usha—one of Hibba's facial experts—cleansed and massaged my face. She then left me for a few minutes while a thin vapor of warm steam prepared my nose and chin for delicate extractions. But for me, the highlight of the facial came with the application of a thick, lush facial mask targeting my dry skin, followed by tranquility for several minutes while it soaked in. By the time Usha returned to remove the mask, I was relaxed and poised to enjoy the end game—especially the rejuvenating results.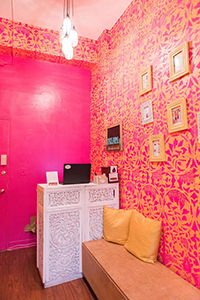 FEW WORDS WITH HIBBA KAPIL
It started 15 years ago, while she was still in her teens: Hibba's obsession with eyebrows—threading, shaping, tracking trends, knowing what flatters one person might be a disaster on another. Indeed, the first thing you read when you visit the Hibba Beauty website is her philosophy: "I believe that beauty comes from inside and out, and brows should be groomed to create a natural shape that best enhances your features, letting your inner beauty shine."
Petite, pragmatic and passionate about introducing new services, Hibba began offering micro-blading four years ago. "With full, dark eyebrows in right now, micro-blading is an option for people who don't want to have to use a pencil every day," says Hibba, going on to describe the concept as a semi-permanent tattoo created with a tiny, fine blade. Touch-ups are generally needed every six-to-seven months.
And word is spreading. Notes Hibba: "During Fashion Week it got so busy that editors who couldn't make it into the salon called in requesting deskside micro-blading." Clearly, confident brows are the new black!
Hibba Columbus Circle
(1841 Broadway, Suite 1106; entrance on West 60th Street; 646-858-2405; hibbabeauty.com).
---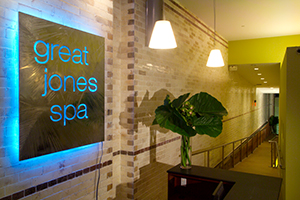 GREAT JONES SPA
When Wall Street workaholics want to unwind without the uptown trek, the buzz has it they head to Great Jones Spa. Welcome to NoHo's three-and-a-half story wellspring of massage, facials and assorted other treatments complimented by an expansive Water Lounge boasting a three-story glass and steel waterfall, sauna, steam room, hot tub, cold plunge and nicely clustered pockets of lounge chairs.
As for the spa's overall public space design, think contemporary industrial elements, serious stonework and some of the building's original 1875 bricks coming together to shape a unique ambience. Brick also defines the treatment rooms, nicely offsetting the sliding opaque glass-and-dark-wood doors. It was here I experienced Great Jones' 90-minute Signature Massage, a service incorporating three indulgent elements: aromatherapy, hot towels and hot stones. I was talked through this wonderfully decadent treatment by my therapist, Christy Vannoy, manager of the spa's massage department. She disclosed that deep tissue and Swedish massages are most in demand, no doubt because 30 to 35 percent of the spa's regulars are men who gravitate to the familiar. Still, guys, try the Signature Massage—and ladies, if it isn't on your agenda, make it a priority. I do a lot of spa-ing, and this one was a five-star eye-opener.
The popularity of Great Jones Spa—clients, flow in and out at a comfortable pace during the week while weekends tend to have a party vibe as guests alternate treatments and socialization—is not left to chance. From the management and estheticians to the front desk and the individuals who keep the locker rooms pristine and well stocked with robes, towels, sandals and toiletries, the staff is laid back and accommodating. Overall rating: outstanding.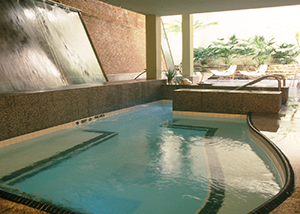 TRENDING: GUA SHA FACIALS
To explore the history, fine points and impact of Gua Sha—an ancient healing method involving various kinds and shapes of scraping stones (or boards) would require way too much space and far more finesse than I have at my disposal. So let me just say that Gua Sha facials (a relatively new spinoff of Gua Sha body scraping) are being billed as "Eastern Facelifts" and "a rejuvenating replacement for acupuncture." Using a gentle flicking motion on age spots, for example, breaks up melatonin both on top and underneath the skin with impressive results.
With less than a handful of qualified Gua Sha estheticians available to Manhattanites, Great Jones' entry into the field is welcome. A formidable expert's unique single agate stone to target fine lines, dark circles, puffy eyes, age spots and facial contouring, these facials are said to reduce toxins while stimulating the lymph glands. Gua Sha facials at Great Jones will debut later this spring. For details, visit their website or call for updates.
Great Jones Spa
(29 Great Jones Street; 212-505-3185; greatjonesspa.com).
---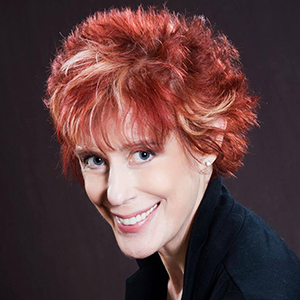 Griffin Miller, Spa Editor, specializes in spa travel and New York theater. Griffin's resume includes writing for The New York Times, For the Bride and Hotels. She also creates promotional materials for the Metropolitan Opera, BAM and Guggenheim Museum. A member of The New York Travel Writers' Association, she is a playwright and award-winning collage artist. She is married to Richard Sandomir of The New York Times.