A TASTE OF IRELAND
By Patricia Canole
Today, dining in Ireland is an epicurean delight. Food is farm-to-table fresh with seafood topping the menu. Not to be overlooked, naturally raised lamb is used in many recipes including the always satisfying Irish Stew. But it's the potato that reigns supreme and the all-important part any Irish meal. Colcannon is a favorite!
Irish hospitality is unquestionably warm and inviting. This custom goes back to ancient times when it was declared you must share with those who knock at your door. If not, you were shamed. This custom is still alive and very often when visiting friends or family slices of warmed homemade soda bread and a dollop of creamy butter are sure to be within reach.
Not to be overlooked are the thirst-quenchers. Centuries ago, the Irish enjoyed home brewed varieties. A favorite was Mead, a honey wine that was both potent and delicious. Ales were also on the list. In the late 17th-century, tea was introduced in Ireland and became the beverage of choice. Today, the Irish consume more tea per capita than any other nation. Whiskey was also introduced and dates back to when the Normans invaded Ireland. They could not pronounce the Gaelic Uisce Beatha (Water of Life); instead, they used the word fuisce which became whiskey.
Needless to say, beer is still a favorite beverage for one and all. You'll find ales, stouts, and a multitude of microbrews. Irish breweries are located mostly in Dublin (Northern Ireland has its good share, too), with the most popular being Guinness, brewed at St. James Gate, Dublin. It is often said, "The closer you get to Dublin the better the Guinness." There's probably much truth to this!
Here, some of our Irish favorites. And, as they say in the land of a thousand welcomes—Sláinte!
---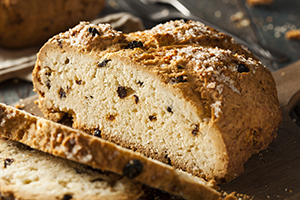 IRISH SODA BREAD
Ingredients
1 cup raisins
1/2 cup Irish whiskey
3 cups all-purpose flour
1/2 cup sugar
1 Tablespoon baking powder
1 teaspoon salt
1/2 teaspoon baking soda
1-1/3 cups buttermilk
1/4 cup butter or margarine, melted

Preparation
Soak raisins and whiskey overnight.
Combine flour, sugar, baking powder, salt, and in a large bowl; mix well. Stir in whiskey-soaked raisins mixture, blending well. Dissolve baking soda in buttermilk; add to flour mixture, stirring well. Stir in butter, mixing well. Spoon batter into a greased 2-quart casserole. Bake at 350 degrees for 50 minutes or until golden brown. Slice and serve with butter or marmalade. Serves: 8 to 10.
---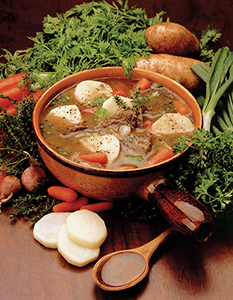 IRISH STEW
Recipe and photo courtesy Idaho Potato Commission
Ingredients
2 pounds Idaho Potatoes (4 medium potatoes) peeled and sliced 1/4-inch thick
3 cups onions, peeled, cut in half and thinly sliced
2 cups carrots, peeled and cut into 1-inch lengths
12 sprigs fresh thyme, or 1 1/2 teaspoons dry thyme
Salt to taste
Fresh ground black pepper to taste
2 pounds boneless blade steaks (6 lamb shoulder chops can be substituted)
12 ounces prepared beef broth
3 tablespoons flour
Fresh chopped parsley

Preparation
Preheat the oven to 350° F.
On the bottom of a 3-quart casserole dish or heavy pot with a lid, spread half the potatoes, onions and carrots. Season heavily with salt and pepper. Top with 6 sprigs of fresh thyme or 3/4 teaspoon of dry thyme. Place the blade steaks or chops on top of the vegetables. Top the meat with the remaining potatoes, onions, and carrots. Season well with more salt and pepper. Top with remaining dry thyme.
Cover the stew with the beef broth and enough cold water to barely cover the top layer of vegetables in the pot. Place the lid on the pot and cook for 2 1/2 hours until the meat and potatoes are fork tender.
To serve, remove the meat, potatoes, and vegetables from the pot. Discard the thyme stalks if using fresh thyme.
In a small bowl, blend 3 tablespoons of flour with enough water to make a smooth paste. With a wire whisk, blend the flour mixture into the hot broth. Stir well to dissolve the mixture. Place the pot on the stove and bring to a boil. Cook the sauce for 3 to 4 minutes until thickened. Season with salt and pepper.
To serve, place the potatoes, vegetables and a piece of meat on plates or in large bowls. Top with sauce and garnish with fresh chopped parsley. Serves 6.
---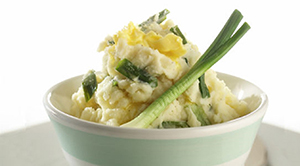 COLCANNON
Recipe and photo courtesy Irish Food Board
Ingredients
2 lbs. potatoes, cooked and mashed
1/2 lb. kale, drained and finely chopped (you may also use cabbage)
1/2 cup milk or to desired consistency
1/4 cup butter
Salt and black pepper to taste

Preparation
Mix potatoes, kale (or cabbage) together. Heat milk then add butter; blend into the potato mixture until smooth and creamy. Season to taste with salt and pepper. Serves 4.
---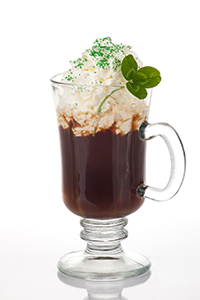 IRISH COFFEE
Ingredients
8 oz. strong hot coffee
2 tsp. sugar
1 oz. Irish whiskey
Whipped cream

Preparation
Start with hot, strong, ground coffee. Heat the glasses with hot water poured into them. Discard the water; pour coffee onto a spoon without touching the spoon to the glass to prevent the glass from cracking. Add sugar and stir well to dissolve. Add whiskey and stir again to mix fully. Finished with a dollop of whipped cream. Makes one serving.