ON STAGE REVIEWS WITH PAT COLLINS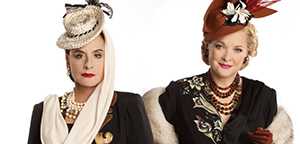 WAR PAINT
Nederlander Theater
Opens April 6th
Few real-life rivalries were as long standing and as exciting as the one between Elizabeth Arden and Helena Rubinstein who for 30 years were fierce competitors and rulers of their respective cosmetics empires. Two of Broadway's most admired and awarded stars, Patti LuPone and Christine Ebersol, are perfectly cast as the two strong-willed women who rose from humble beginnings to become multi-millionaires. The new musical which received positive reviews for its Chicago production at the Goodman Theater was inspired by Lindy Woodhead's book of the same name. Ms. LuPone who won two of her Tonys playing Eva Peron in Evita and Mama Rose in Gypsy adds Miss Arden to her list of strong-willed, real life women she portrayed on stage. The Tony-winning Ms. Ebersol recreates Miss Rubinstein's journey from Poland to New York City where she opened a salon on Fifth Avenue a few blocks from Miss Arden's red door emporium. Director Michael Greif heads the behind the scenes creative team. The two remarkable women who helped blaze a path for women entrepreneurs died within 18 months of each other. Miss Rubinstein in 1965 and Miss Arden in October 1966. Somewhere in the great beyond the two legends are arguing over who should have the show-stopping number—Ms. LuPone or Ms. Ebersol?
---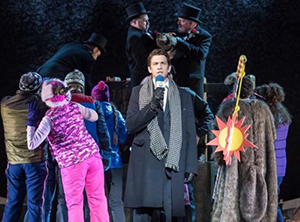 GROUNDHOG DAY
August Wilson Theater
Opens April 17th
In England, it is known as National Hedgehog Day but in London's West End the American name for that day was on the marquee of the Ole' Vic, where the show opened before coming to Broadway. The musical based on director Harold Ramis' 1993 movie, was a hit with Londoners and critics alike. Andy Karl, a Tony nominee for Rocky: The Musical and On The Twentieth Century has the Bill Murray role of a smug Pittsburgh TV news reporter covering the annual Punxsutawney Pennsylvania event. Trapped in a time loop, he is forced to relive the same day every day. Director Matthew Warchus, and songwriter Tim Minchin, the creative team behind the delightful Broadway musical Matilda, are likely to match or perhaps surpass that success with their new show. FYI: Tom Hanks and Michael Keaton reportedly declined the movie role before it was offered to the perfectly cast Mr. Murray.
---

JITNEY
Samuel J. Friedman Theater
Final Performance March 12th
An extraordinary revival of the eighth of ten plays in August Wilson's Pittsburgh Cycle is a thrilling essential experience for all theatergoers. The matchless ensemble cast includes Harvy Blanks who has performed in all ten of Mr. Wilson's plays and John Douglas Thompson as Becker who runs the gypsy cab company and is part advisor, and, part father figure to his drivers whose troubles are many, varied and not easily solved. Their most critical problem is their jobs. Urban renewal will soon claim the space where the drivers gather and gossip while waiting for the next passenger. Tony and Obie winner Ruben Santiago-Hudson who memorably starred in Mr. Wilson's Gem Of The Ocean and Seven Guitars directed this Manhattan Theater Club production. Now stop reading and make plans to see Jitney before its closing date.
---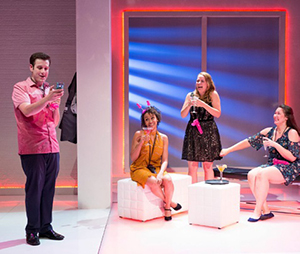 SIGNIFICANT OTHER
Booth Theater
Opens March 2nd
Jordan Berman (Gideon Glick), an unmarried New Yorker in his 20's, has yet to find Mr. Right. His besties are three young women. Kiki (Sas Goldberg), who is blunt and unapologetically self-involved, Vanessa (Rebecca Naomi Jones) the aloof, cynical perennial bridesmaid and Laura (Lindsay Mendez), his closest confidante. Jordan is attracted to a muscle-bound fellow office mate who could qualify for the cover of Iron Man magazine. These intertwined lives are the subject of Joshua Harmon's play—his first on Broadway. Barbara Barrie offers guidance, support, and wisdom as Jordan's grandmother and confidante. Significant Other under Trip Cullman's direction, premiered at Roundabout Theater last summer and received positive reviews. Mr. Harmon describes his play as an unromantic romantic comedy.
---
MISS SAIGON
Broadway Theater
Scheduled Opening March 1st
Another UK import is the London production of Alain Boublil and Claude-Michel Schonberg's musical which ran on Broadway from 1991 to 2001. The love affair between an American soldier and an orphaned teenager working against her will in a sleazy nightclub is set in 1975.
---

SISTER ACT
Abby Mueller recreates Carole King's rise from struggling Brooklyn songwriter to international stardom at the Steven Sondheim Theater. A few blocks away at the Brooks Atkinson Theater her sibling Jesse stars in Waitress until she departs with all those pies March 26. Abby who traveled across the country in the national tour of Beautiful sings Ms. King's chart-topping songs throughout the summer. Jesse won a Tony Award in 2014 for her portrayal of Ms. King.
---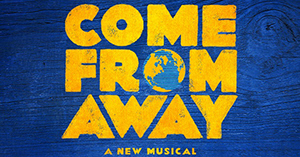 COME FROM WAY
Gerald Schoenfeld Theater
The September 11th terrorist attack on New York City forced the FAA to close all U.S. airports. Thirty-eight of the rerouted planes landed in Gander Newfoundland. The story of the bond forged between Gander's good citizens who fed and housed their unexpected guests and the emotionally devastated passengers inspired producer Michael Rubinoff, composer/lyricist Irene Sankoff and David Hein to create what is undeniably the most unusual new musical of the season.
---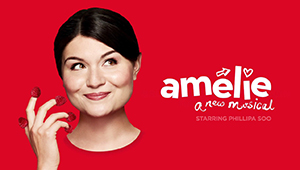 AMELIE
Walter Kerr Theater
Previews Begin March 9th
The musical version of the enchanting 2001 Oscar nominated movie arrives on Broadway by way of Los Angeles where it received mostly positive reviews. Philippa Soo who originated the role of Eliza Schuyler Hamilton in the mega-hit is the shy, lonely 18-year-old, day dreaming, title character who enhances the lives of others by performing random acts of kindness. Few young women are as innocent as Amelie when she leaves her small village and moves to Paris. There Amelie works at a Montmartre cafe, continues to befriend strangers and falls in love with Nino (Adam Chanler-Berat). He pessimistically observes "times are hard for dreamers." Amelie's creative team is led by director Pam MacKinnon, a Tony winner and Obie Award recipient.
---
Theater & Arts
LAND THAT I LOVE
In NYC Public Schools During March and April
A new musical celebrating the history of the city's immigrant population will be seen by thousands of New York City's schoolchildren in March and April. Some 50 schools will participate in the tour produced by Inside Broadway, a nonprofit organization. The show features the music of Irving Berlin, himself an immigrant, who wrote an estimated 1500 songs including "God Bless America." Now in its 35th year, Inside Broadway's programs will reach an estimated audience of 50,000 young people in 2017. Land That I Love focuses on three young immigrants and the obstacles they face pursuing the American dream.
---
CITY CENTER ENCORES / THE NEW YORKERS
March 22-26
Gangsters with Tommy guns and leggy flappers sing and dance in Cole Porter's 1930's Prohibition-era musical. The score includes "I Happen To Like New York" and "Love For Sale"—a then-scandalous number which nearly was cut from the show.