HOLLYWOOD ON THE HUDSON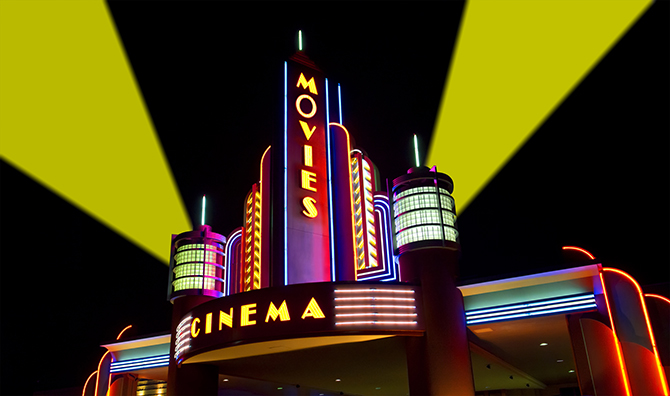 By Patricia Canole
New York was a thriving film production city long before the sunny skies of Hollywood began to lure producers and filmmakers west in the early 1900s. D.W. Griffith loved to shoot here, and Mack Sennett's Keystone Kops ran rampant through Coney Island.
Today, the city goes out of its way to court the film industry: There's a special mayor's office to act as an industry liaison, to provide police protection for stars and production crews—and even to help arrange scenes ranging from helicopter chases to historical location settings.
It's no wonder, then, that many visitors to movie land's Gotham get a feeling of deja vu. Here are just a few of the films and locations you may remember:
America, America (1963), Elia Kazan's portrayal of his own family's immigration to the U.S, incorporates Ellis Island locales.
American Psycho (2000) Director Mary Harron's depiction of yuppie evil brilliantly portrayed by Christian Bale. A parade of Tribeca restaurants and nightclubs are featured throughout the film.
Arthur (1981), in which Dudley Moore questions his dates' (Liza Minnelli) profession just a bit too loudly in the Oak Bar at the Plaza Hotel.
Big (1988) stars Tom Hanks and Robert Loggia performing an impressive musical number at the former FAO Schwarz.
Bonfire of the Vanities (1990), based on Tom Wolfe's novel, captures Sherman McCoy's world of Upper East Side privilege and debauchery. Courtroom scenes were filmed on location in the Bronx.
Breakfast at Tiffany's (1961), in which Audrey Hepburn and George Peppard find love on Fifth Avenue.
Crocodile Dundee (1987), in which Paul Hogan checks in at the Plaza Hotel while visiting from Down Under.
Desperately Seeking Susan (1984) portrays Rosanna Arquette as a suburban housewife and her unexpected adventures with Madonna in Battery Park.
Die Hard with a Vengeance (1995), in which Bruce Willis and Samuel L. Jackson track down a mad bomber (Jeremy Irons) on the streets of New York.
Dog Day Afternoon (1975) stars Al Pacino and two cohorts who turn a simple Brooklyn bank robbery into chaos.
First Wives Club (1996), in which Goldie Hawn, Diane Keaton, and Bette Midler wreak havoc and revenge on their ex-husbands in places including Barneys New York.
The French Connection (1971) casts Gene Hackman as the unforgettable cop Popeye Doyle as he tracks drug smugglers in a spectacular car chase along Brooklyn's Stillwell Avenue.
Funny Girl (1968) has Barbra Streisand sharing the spotlight with the Statue of Liberty.
Ghostbusters (1984), in which Bill Murray, Dan Aykroyd, and Harold Ramis move into (and blow the roof off) the No. 8 Hook and Ladder Firehouse in TriBecCa and finally come to terms with these supernatural beings at 55 Central Park West.
The Godfather (1972), the first of a trilogy, this stars Al Pacino, Marlon Brando, James Caan, Diane Keaton, and Robert Duvall in Mario Puzo's look at the mob.
The Godfather, Part II (1974) returns to Little Italy where Robert De Niro plays young mob boss Don Corleone.
GoodFellas (1990), a Martin Scorsese film in which Robert De Niro, Ray Liotta, and Joe Pesci rise in the mob ranks.
Hannah and Her Sisters (1986), Woody Allen's Manhattan-based family drama starring Mia Farrow, Barbara Hershey, and Dianne Wiest. Michael Caine, Carrie Fisher, Sam Waterson, and Allen add to the angst.
King Kong (1976) is Dino De Laurentiis's version of the 1933 animal magnetism original. Jessica Lange stars along with the overgrown primate and features the Manhattan and the World Trade Center.
The Lost Weekend (1945), in which Ray Milland suffers the DTs at Bellevue Hospital after a three-day bender.
Manhattan Murder Mystery (1993) features Woody Allen as a New York book editor, with Diane Keaton, as his wife, delving into the mysterious disappearance of their neighbor.
Marty (1955), Romance blooms on the Bronx's Arthur Avenue when lonely butcher Marty (Ernest Borgnine) and plain schoolteacher Clara (Betsy Blair) meet at the Stardust Ballroom and find love against the odds.
Mean Streets (1973), Martin Scorsese's slice of life in Little Italy starring a young Robert De Niro and Harvey Keitel.
Midnight Cowboy (1969), in which Dustin Hoffman and Jon Voight stop traffic at West 58th Street and Sixth Avenue.
Miracle on 34th Street (1947) is a classic tale that proves there really is a Santa Claus. A young Natalie Wood co-stars with Maureen O'Hara, a Macy's employee.
Moonstruck (1987) has Cher finding love with Nicolas Cage at the Metropolitan Opera.
Night Falls on Manhattan (1997), Sidney Lumet's drama about police corruption, starring Andy Garcia, takes its cast to the Municipal Building, the U.S. Customs House, and Bowling Green.
On the Town (1949), a musical by Leonard Bernstein, Betty Comden, and Adolph Green is the quintessential New York picture, with Frank Sinatra, Gene Kelly, and Ann Miller dancing from Wall Street to Rockefeller Center.
The Pawnbroker (1965) is Sidney Lumet's film of a Jewish concentration camp survivor (Rod Steiger) running a pawnshop in Harlem.
Prince of Tides (1991) stars Barbra Streisand as a New York psychiatrist who helps a high school football coach (Nick Nolte) uncover his darkest secrets.
Ransom (1996), directed by Ron Howard, stars Mel Gibson as the distraught father trying to save his kidnapped son. Scenes include Central Park's Bethesda Fountain and the FDR Drive.
Rosemary's Baby (1968) highlights the Dakota Apartments (West 72nd St. and Central Park West) in Roman Polanski's film, starring Mia Farrow and John Cassavetes.
Saturday Night Fever (1977) shows John Travolta's life as he tries to escape his dead-end career as a disco king. His identity crisis reaches a climax atop the Verrazano-Narrows Bridge when a friend falls to his death.
Serpico (1974) features Al Pacino fighting corruption in the NYPD, with location shots at New York University.
Sophie's Choice (1982) stars a very Victorian-looking Meryl Streep and Kevin Kline, who reside in Flatbush at 101 Rugby Road.
Superman (1978) finds Clark Kent, the mild-mannered reporter for the Daily Planet, saving the world—and Lois Lane. The former Daily News Building is featured.
The Taking of Pelham One Two Three (1974) finds subway riders at the mercy of extortionists on the IRT's No. 6 subway.
Taxi Driver (1976), a Martin Scorsese film in which Robert De Niro discovers his talents for cleaning up New York's crime-ridden streets.
A Tree Grows in Brooklyn (1945), based on Betty Smith's novel, stars Dorothy McGuire and Joan Blondell in the depiction of a troubled Irish family.
West Side Story (1961) pits two streets gangs on the West Side with opening scenes taking place between Amsterdam and West End Avenues at West 68th Street.
When Harry Met Sally (1989) features a memorable scene in which Meg Ryan demonstrates to Billy Crystal the art of sexual deception as they share a meal at Katz's Deli on the Lower East Side.