PAMPERED POOCHES RULE
By Lori Simmons Zelenko
Move over Kate Middleton; there is a new crop of celebrity royals ruling the roost: Royal Animals, the accessibly luxurious pet apparel collection that makes every pampered pooch feel like a Princess—or for that matter, a Prince. Seeking a blissful world where all pets and people co-exist in harmony, Susan Traub created her successful pet apparel line, Royal Animals. Her thought is all pets should be treated like royalty by their owners whom she hopes will be as dedicated to assuring the health and well-being of their "best friends" as they are to dressing them in chic ensembles.
Susan Traub's bestsellers are the licensed dog clothing from New York's finest, the NYPD, in dark navy, and New York's bravest, the FDNY in fire engine red. Royal Animals apparel adds style to our best friends lives, but soon the collection will be expanding into fun, durable toys and bedding with healthy treats presently in development. The pet offerings from Royal Animals barely stay in stock as consumer demand is overwhelming; this reasonably priced but well made, fashion-forward pet clothing is becoming a new collectible. Pet parents grab the latest styles, assuring that their dogs' look is playfully aligned with each season. Royal Animals is available at Petco, KOHLS and Hudson Bay Stores in the U.S. and Canada. Previously working in publishing for all of her professional career, Susan Traub founded Royal Animals in 2006 out of a personal commitment: dedication to the well-being of our four-legged friends.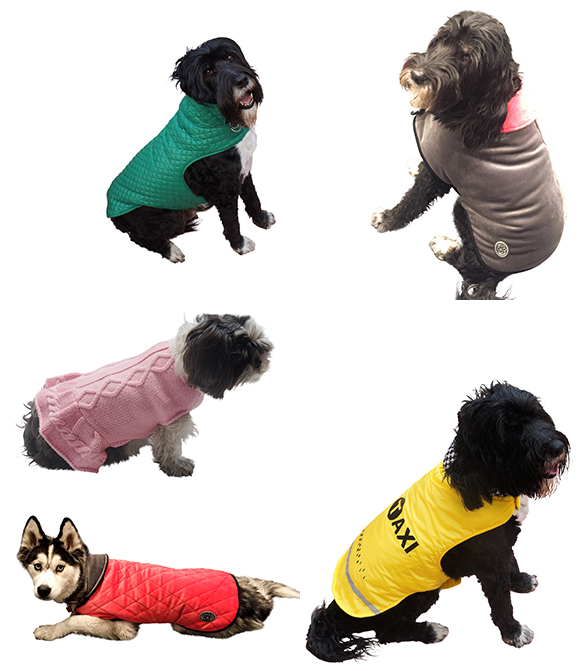 WELL-DRESSED PETS
Sabrina and Darrin, Susan's two Portuguese Water Dogs, have been her top models for her fashion forward designs for more than a decade. Jet black and sleek, they stroll the sidewalks of Sutton Place, safe in Royal Animals LED-harnesses and leashes, glowing in the dark so all around can see. Susan keeps the mantra of pet safety in mind with all the products she creates for Royal Animals. "Our pets go with us almost everywhere now," she says speaking of the lifestyle trend where pets once relegated to backyards or shuttered indoors are now out and about holding court as any royal should, garnering attention for their sophisticated style that emulates their humans' élan. "People enjoy walking with a well-dressed dog. They don't want strictly utilitarian looks. The trend is towards what's close to what we're seeing on the runway during Fashion Week: vibrant colors, stylish patterns, favorites like plaid, and polished details like buttons and bows but with each collection the look though luxe is always priced reasonably. I would never dress my dogs or have a design in a Royal Animals collection that wasn't as stylish as something I would wear myself."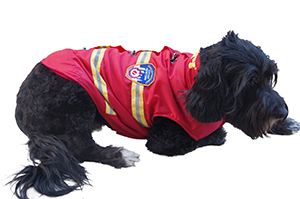 FABULOUS LOOKS
Accessibly priced but remarkably "human" looks that are as stylish as they are practical, Royal Animals is a must for the pet that naturally wants to stand out from the pack. William and Kate's "royal" dog, Lupo, would be proud to wear a luxe velvet overcoat filled with down and trimmed in faux fur. But Royal Animals started simply with a wardrobe essential: puffer coats for the four-legged set, waterproof and ready for inclement weather.
It gives Susan a great thrill to see a dog in Royal Animals. "I have had dogs my whole life and take the responsibility of having them as part of my family very seriously. I hope through my business role as the founder of Royal Animals that I can have a voice which reaches other pet owners and encourages them to learn about their pets, to understand them and to treat them with the greatest consideration." What's the vision for the future then? A time when every furry friend among us is treated like a royal as fabulous as "Princess Kate."
For more information on Royal Animals, visit royalanimals.com or contact Susan at SusanTraub@royalanimals.com.
---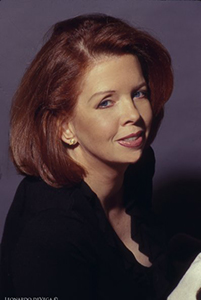 Lori Simmons Zelenko is the founder of LSZ COMMUNICATIONS. To drive sales and buzz, visit lzelenko.wixsite.com/lsz-communications or call 917-693-8602. ©2017 Lori Zelenko, All Rights Reserved. (Photo credit for portrait of Lori Zelenko: Leonardo de Vega)