MY NEW YORK STORY
By Charles Wallert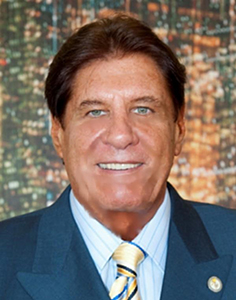 Charles Wallert
I'm a born New Yorker and have seen how the entire city has changed in such an amazing way. The transformation of so many neighborhoods is incredulous. It's hard to believe, but so true. This is a great city which keeps getting better.
My first job was at age seven at the PAL on Hanson Place, Brooklyn where I imitated Elvis and got $20. It was unimaginable then that many years later I would be meeting Elvis in Las Vegas. My life's work would be sealed!
Sure, I had my own band in high school, and loved music, but never thought of it as a career.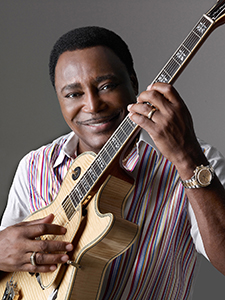 George Benson
MEETING THE GREATS
The next day after seeing Elvis I got into a conversation with a gentleman at La Taverna restaurant in Los Angeles. He asked me about my take and opinion on the show; we talked about the intricacies and nuances of the performance for quite some time. He was shocked I did not work at a record company or in the music business. He strongly suggested and encouraged me to be a record producer. That gentlemen was Phil Spector, arguably the best record producer of all time. I decided to take him very seriously. Eventually, I became a record producer and composer and have been blessed to have worked with some of the greatest talents of all time: George Benson, O.C. Smith, Dionne Warwick, Cuba Gooding and the Main Ingredient to name a few. I have also been credited as an actor and published author.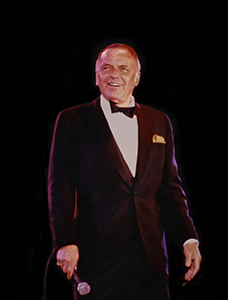 Frank Sinatra
But music is just half the story. Sports have always been an important part of my life. I worked for the New York Giants during my teen years where I met Y.A. Tittle who tutored me in the art of "quarterbacking" and the finer points of taking the snap from the center, the screen pass, reading coverages and so much more. Of course, it was thrilling being on the sidelines with the likes of Vince Lombard, Johnny Unitas and all the greats who came to Yankee Stadium. On Sundays, I would get to the stadium an hour before the players. I remember walking into the stadium one day and noticed a note on the training table. I don't remember exactly what it said, but it was a beautiful message about peace. It was signed Giovanni Montini, Pope Paul VI, who had celebrated mass at Yankee Stadium the previous Monday. It was the first time a Pope ever visited the U.S. I was mesmerized and just stared at the note.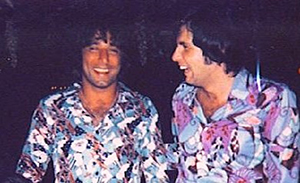 Joe Namath & Charles Wallert enjoying Hawaii
During that time, I played quarterback for St. John's Prep in Brooklyn and that lead to playing at the college level for Central Connecticut State. One summer, I had the opportunity to play for Kansas City Chiefs coach Hank Stram at a summer camp which resulted in meeting Joe Namath when the New York Jets played the Chiefs at Shea Stadium. After an injury which impacted my quality of play, I decided to finish my education at St. John's University and later became a partner in Bachelor's 111 nightclub, originally made famous by Joe Namath.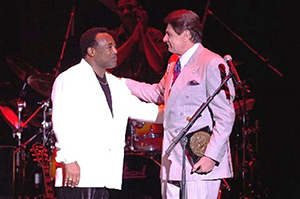 Charles Wallert awards George Benson at a music industry dinner.
JUST THE BEGINNING…
It's been quite a journey: I have attended some of the greatest entertainment and sports events that have ever taken place. Concerts by Elvis, The Beatles, Frank Sinatra and just about every prominent artist of multiple generations. I have seen World Series games, and NFC and AFC Championship games at Yankee and Shea Stadiums, Stanley Cup Playoffs, NBA Finals, events at the old Madison Square Garden & the Grand Opening of the new MSG. I sat ringside at the greatest sporting event of all time(in my opinion), the unification heavyweight championship of Ali-Frazier. I could go on and on.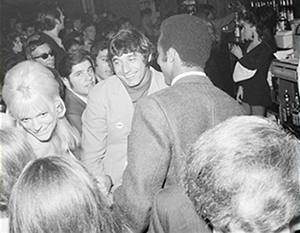 Broadway Joe Namath mingling with the crowds
But it's the music that runs deep. I am very proud of my production of George Benson's recording of the song "New York City" written by Jimmy George & James Auspitz, a real ode to the city that never sleeps. The song is featured on the new Ernie Anastos in New York show on FOX5. Can't get much more New York than that! I am currently working on my memoirs entitled "We Made Them Dance" for a book and screenplay development. The first three cuts are completed including the single and title tune "Magic Night" for Benny Marsella's upcoming album. Benny is a South Philadelphia singing legend, who just happens to be a Yankees fan—that's how he made the cut!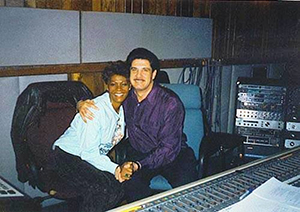 Dionne Warwick & Charles Wallert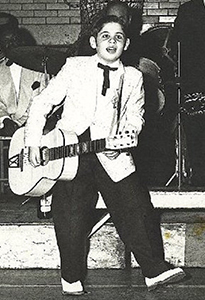 Charles Wallert plays Elvis
WORDS FOR PRACTICAL LIVING
Over time people have often suggested that I write down some of the things I say—original quotes so to speak. I am currently working on a book of original quotes and want to share seven—one for each day of the week. I hope you find these inspiring!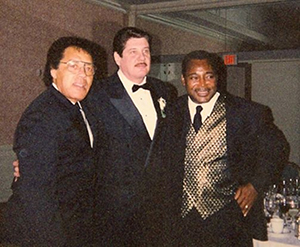 O.C Smith, Charles Wallert & George Benson
• "You're always where you're supposed to be, but that doesn't mean you have to stay there."
• "What you have done or what you haven't done has nothing to do with what you can do."
• "The most surprising revelations usually come to those who think they know it all."
• "I have discovered that some of our feelings should come with an expiration date."
• "Attempting anything without believing will get the same result as putting a minus and plus of the same digit into an adding machine."
• "If you feel sad that someone you want is not in your life, you might feel worse if they were."
• "No one breaks your heart but you."