TONY SHALHOUB

Stars In Broadway's Hit

THE PRICE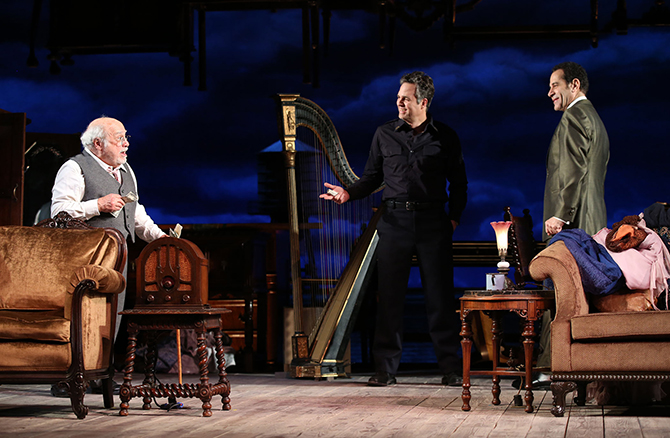 Danny DeVito, Mark Ruffalo and Tony Shalhoub in THE PRICE Photo by Joan Marcus
For most, award-winning actor Tony Shalhoub may be more well-known as the obsessive-compulsive detective Adrian Monk, than any other character he's portrayed in his illustrious career. For this character actor, it's just fine. You see, Tony is always reinventing himself by playing an entirely different character every time the lights go on and the camera rolls. He is the kind of man who loves to do different things.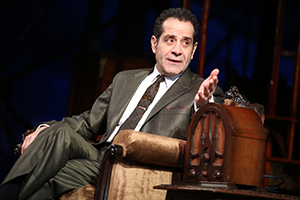 Tony Shalhoub in THE PRICE
Photo by Joan Marcus
Born to Lebanese parents in Green Bay, Wisconsin, Tony became intrigued with the acting world at age six. From the little school production, he flourished and graduated Yale Drama School with a Masters in 1980.
Eventually, he moved to Broadway where he met his future wife, Brooke Adams, whom he married in 1992. Then Hollywood beckoned, and soon after arriving was auditioning for the role of Antonio Scarpacci in the long-running sitcom Wings (which starred Tim Daly and Steven Weber). More success followed with roles in Men in Black and Men in Black II. But his big break came, playing the eccentric detective in Monk. The series made him a star and earned him many awards.
Today, Tony can be seen in the highly acclaimed The Price as Walter Franz, a wealthy surgeon along with his estranged brother Victor (played by Mark Ruffalo) who are reunited after many years in their late parents' Manhattan townhouse to decide how to dispose of the antiques and other collected items. Danny DiVito (it's his Broadway debut) plays a wise and comical antique dealer. Jessica Hecht is Victor's wife, Esther.
Our Arts and Entertainment editor, Pat Collins, recently spoke with Tony about his current Broadway hit The Price, the success of Monk—and his life off the stage.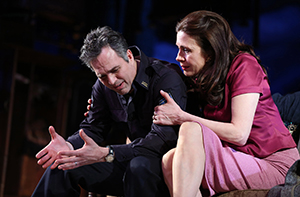 Mark Ruffalo and Jessica Hecht in
THE PRICE Photo by Joan Marcus
Is the strained relationship between the brothers the reason why Arthur Miller's play, The Price, is timeless—and universal in its appeal?
The play is certainly timeless because it deals with issues like the "haves and the have-nots" as well as American culture and gender and how people can get their priorities mixed up. It's relevant now as it has been throughout history.
What was your very first appearance on stage—before Broadway or even regional theater?
I was an extra in my sister's high school musical The King and I, and that's when I was bitten by the proverbial bug and love of theater.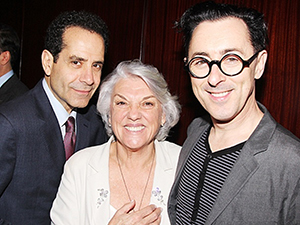 Tony with Tyne Daly and Alan Cumming
Photo courtesy of broadway.com
You won three Emmys, A Golden Globe, and two Screen Actors Guild Awards for your portrayal of Adrian Monk. Looking back on the first of eight seasons, did you envision the program would be one of the most successful prime-time shows.
There are so many factors and things at play, but you can never get too complacent. We felt we had something that was unusual and we felt proud of it. We were in the right place at the right time. USA Network was rebranding itself, and it didn't have any original series at the time. I'm not sure Monk would have gotten the attention and care that USA gave it initially if were broadcast elsewhere.
You were Tony-nominated for Conversations with My Father, Golden Boy, and Act One. How did The Heidi Chronicles change your life?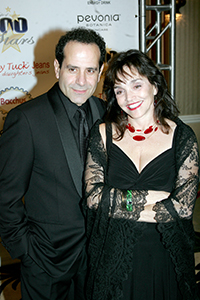 Tony Shalhoub with
Brooke Adams
Well, I met my wife Brooke Adams during The Heidi Chronicles. I was part of the first replacement cast, as was Brooke, and that's kind of how it happened. Next month is our 25th anniversary, and I am forever indebted to Wendy Wasserstein for introducing me to Brooke and helping to create my life.
In what show did you make your Broadway debut?
The female rendition of the Odd Couple by Neil Simon in the mid-80's. I played the role of one of the Costazuela brothers, who were the neighbors upstairs. It was a really funny rendition, and we did a pre-Broadway tour all over the country for about six months, and then we brought it to New York, and we ran for another six months on Broadway.
What revival, play or musical is on your wish list to appear in next?
There are several things I've done before that I'd like to get another shot at! I did an off-Broadway play with John Turturro, and that was a play that you can drill down forever and never fully master it. That's one that I'd love to revisit.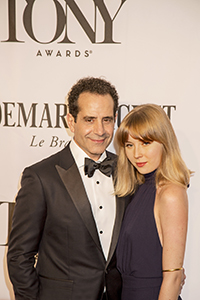 Tony Shalhoub with daughter Josie Lynn
I'd like to do more Shakespeare as well. I've done some Shakespeare earlier in my career, but haven't in a while, so that's always in the back of my mind as well. Right now, I'm keeping my options open.
The Price is a limited engagement. When is the last performance?
It's scheduled to end on the 7th of May. However, there's a strong possibility it's going to be extended to the 14th of May.
Have you had the opportunity to see other Broadway shows while starring in one? Once I have the performance schedule, it becomes nearly impossible. For now, I'll have to wait for the schedule for The Price to finish before I can get out and view other shows.
What is your post-show routine?
If there are people I know in the audience, I'll typically bring them in the back into the dressing room. If that's not the case, I leave the theater, and there's usually a line of people waiting outside, and we'll do photographs and autographs and so forth.
It takes a while to wind down and decompress from the play; it's very intense. Sometimes when I get home, I'll sit and stare out the window and bring myself back to my own world, my own realm outside of the character I was playing.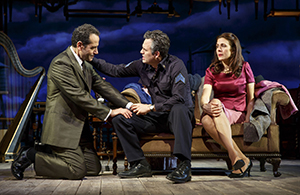 Tony Shalhoub, Mark Ruffalo and Jessica Hecht in THE PRICE Photo by Joan Marcus
Describe working with Mark Ruffalo who replaced John Turturro?
I had met Mark when I was in London last year; we spoke for about a half hour because we had mutual friends. We hit it off, and it felt as though he was someone I'd known for a long time even though I had just met him. I think he's one of the best actors of our generation, and I was very pleased that I would be working with Mark after John Turturro.
What are your plans after the show's final performance? I assume you are not planning to shop for antique furniture!
I did a play off Broadway just prior to The Price called The Band's Visit, and it did very well. It was a musical based on a movie, and there's a good possibility that it will move to Broadway.