DINING OUT

Angus Club Steakhouse
Angus Club Steakhouse is a rare find and fits in well in the Midtown East restaurant scene where shops and hotels line Lexington and 55th Street. When we stepped inside, there is a surprisingly beautiful Art Deco influence throughout. The bi-level restaurant boasts muted shades along with beige and metallic accents. Add leather chairs, along with the soft illumination from the chandeliers, and you have what co-owner Margent Maslinka calls a steakhouse with a not-too-overly masculine ambiance.
But the real star here is the food. All natural. The menu is built on years of experience and knowledge from Executive Chef and co-owner Edward Avdyli in preparing perfect steaks and seafood for the masses. Only dry-aged Prime USDA cuts from the Midwest make for the most delicious beef that is tender and full of flavor. The selection process is crucial to ensure the quality of meat provided is second to none.
For starters cut into the Jumbo Lump Crabmeat Cocktail, filled with juicy crabmeat, which illustrates sheer freshness and perfection. Bacon-lovers will enjoy the Thick Slab of Canadian Bacon—charred to perfection. There's also Lump Crab Cakes, Prime Steak Tartare, and the Baby Lamb Chops are incredibly tender and good.
SATISFYING TO THE LAST BITE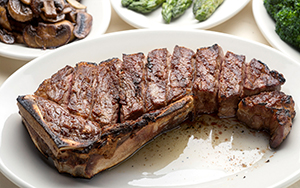 Main course choices are endless: Try the signature Porterhouse or Ribeye - both prime examples of how satisfying the meat itself can be. All steaks are served in their natural juices. Melt in your mouth perfection with each bite is the proper way of enjoying steak. Also on the menu are a perfectly prepared NY Sirloin Steak as well as the Filet Mignon.
But let it be known, Angus Club isn't only for those meat lovers who appreciate their knives held at the ready to dig into a juicy steak. Seafood and those tempting side dishes happily reflect another side of their menu that melds American comfort food with a bit more decadence. The Grilled Chilean Sea Bass, prepared with capers and carrots in a white wine reduction, is served well-seared and delivers an elegant taste. Also for the seafaring crowd don't miss the 3 lb. Lobster (steamed or broiled), and the pan-seared Norwegian Salmon with Beurre Blanc Sauce. Of course, no main course is complete without a few sides. For comfort food to the max, try the delightful Truffle Mac 'n' Cheese with its creamy texture of cheese and essence of truffle oil. Other sides to try include Sautéed Mushrooms with a slight hint of garlic and oil as well as the ever-popular Creamed Spinach, marinated and cooked in its own broth, allowing for a more flavorful heartiness.
Angus Club Steakhouse houses well over a thousand bottles of wine in their temperature-controlled wine cellar (located on the Lower Level). Sommelier Margent will happily recommend some excellent wine pairings to go with your meal.
This steakhouse knows their beef (and seafood, too). They also deliver on service and generous portions. Dining here is truly a pleasant way to enjoy an evening on the town. We guarantee it won't be your last!
For more information on Angus Club Steakhouse (135 East 55th Street), visit angusclubsteakhouse.com.
-Lyle Seltzer
---

Tessa
TESSA is an energetic, lively, restaurant featuring original, inspired and delicious food. Located on the Upper West Side, the Michelin-recommended eatery is an excellent place where you can enjoy everything from cocktail hour to a full meal at the bar which seats 50, or dinner in the bustling 65-seat dining room. It's well-appointed and an ideal pre-theater spot or post-concert mezze with drinks, as well as for dinner paired with the finest bottles of wines from TESSA's reserve list.
The theme and style of the restaurant are aptly captured by the desiagn and décor at once rustic and urban-industrial, welcoming and chic. In the back, there's a private dining/wine room that is quiet, but still part of the action.
A DINING EXPERIENCE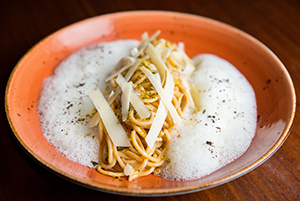 No matter what you choose to order—the flavors pop and surprise. The Mediterranean-inspired menu is designed to please and offers guests everything from mezze, cheese boards, shared plates, appetizers, pasta and risotto, entrees, sides. From Executive Chef Eric Cope, examples include a Mezze Trio of house dips—carrot harissa, smoked eggplant, ricotta cheese. Or, opt for the Tender Octopus a la Plancha with Yellow Squash Caponata, Tangy Green Olive Tapenade, and aged Balsamic. Don't pass up the pasta which is available as an appetizer or entrée or sharing portions that may include Lobster Whole Wheat Spaccatelli tossed with Local Corn, Chanterelles, Shallots, and Purslane and Rabbit Cavatelli. Entrees are equally delicious and range from Long Island Duck to 32 oz. Cote de Boeuf for two (45-day dry aged Certified Angus Beef with a side of your choice). Sides include Housemade Fries with Rosemary Salt, Creamed Spinach and Kale, and other Seasonal Vegetables.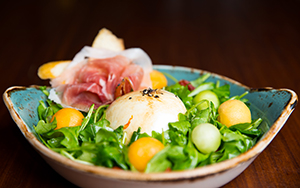 To pair with the food, the TESSA team has developed an intriguing and balanced wine by the glass program with selections from France, Italy, Germany and the US and ten beers on tap with frequent rotations. The cocktail and wine list features classic cocktails and inventions such as La Flor de Tessa with Broker's Gin, Cocchi Americano, lavender honey, fresh lemon, rose water and an edible flower. But it doesn't end there—after dinner drinks include an enticing list of dessert wines including Port, Madeira, Armagnac, Cognac, Calvados, Amaro, and Chartreuse. Perhaps most impressive of all, there is also a thoughtfully curated wine list of over 90 labels in the wine room.
For more information on TESSA (349 Amsterdam Avenue), visit tessanyc.com.
-Patricia Canole