ON STAGE REVIEWS WITH PAT COLLINS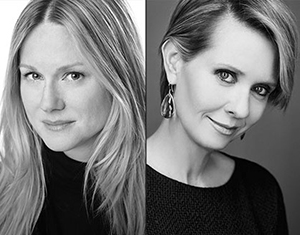 THE LITTLE FOXES
Samuel J. Friedman Theater
Laura Linney and Cynthia Nixon alternate playing the leading roles in a revival of Lillian Hellman's play set in a small Alabama town in 1900. Regina Hubbard Giddens, a character made unforgettable by Bette Davis in the 1941 film, is a conniving, resentful Southern belle determined to do whatever it takes to live as well as her two wealthy brothers. As male heirs, they inherited their father's estate. The role of her sister-in- law Birdie, an emotionally fragile, alcoholic married to Regina's morally bankrupt brother, went to Patricia Collinge in the movie version. Do not delay arranging for tickets to this Manhattan Theater Club production—one of the season's most anticipated theatrical events.
---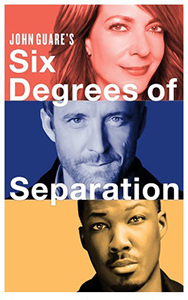 SIX DEGREES OF SEPARATION
Barrymore Theater
Alison Janney and John Benjamin Hickey are the WASPY gullible Kittredges who welcome a young stranger into their Upper East Side home in a revival of John Guare's 1990 play. A charming young man named Paul (Corey Hawkins) convinces Ouisa and Flan that he is their son's boarding school friend and is seeking their help after thugs stole his money in Central Park. He also claims to be Sidney Poitier's son—a claim not easily confirmed before Google existed. Mr. Guare's critically acclaimed work won the Olivier Award, received a Tony nomination and was a Pulitzer Prize finalist for drama. The 1993 film adaptation starred Will Smith as the persuasive con man.
---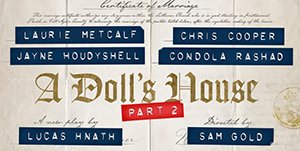 A DOLL'S HOUSE, PART TWO
John Golden Theater
Laurie Metcalf, one of the most versatile and in-demand talents on stage and screen has the Nora role in Lucas Hnath's new play which begins many decades after Henrik Ibsen's heroine left her husband and children. The story resumes when Nora unexpectedly returns to her former home. Sam Gold, a Tony recipient for Fun Home, directs the ensemble cast—Oscar winner Chris Cooper, Jayne Houdyshell whose performance in Humans brought her a much deserved Tony and Condola Rashad who made her impressive Off-Broadway debut in Lynn Nottage's Pulitzer Prize-winning play Ruined.
---

ANASTASIA
Broadhurst Theater Twenty years after the animated movie was released a Broadway musical version of Anastasia transports audiences to early 20th-century Russia to retell the tale of a young amnesiac member of the royal family. The titular character and her beloved grandmother, the Dowager Empress Maria, narrowly escape the Bolsheviks with the help of a servant boy but are separated as they flee Russia for Paris. A few years later the teenaged Anastasia, now known as Anya, is hired by a charming con man named Dimitri and his duplicitous partner Vladimir who plan to present Anya as the missing royal and collect the reward money. Anya/Anastasia, of course, is unaware she is Maria's real granddaughter. And you have guessed by now who her romantic interest is. A word of advice to young theatergoers—do not base your report on 20th Century Russian history on Anastasia's plot. Christy Altomare has the title role, Derek Klena is Dimitri, and Mary Beth Peil plays the Dowager Empress. The production's behind the scenes talent which made Ragtime a hit reunited for Anastasia—Terrance McNally (book), Stephen Flaherty (composer) and Lynn Ahrens (lyricist). The show will be seen by young participants in "Camp Broadway's summer session." For more information about the program catering to theater-loving kids, visit campbroadway.com.
---

SUNDAY IN THE PARK WITH GEORGE
The Hudson Theater
A limited amount of $41 rush seats are available on the the day of the performance at the magnificently restored Hudson Theater on West 44th Street. The box office is open every day but Monday. The original production of the Steven Sondheim/James Lapine musical did not receive the Tony Award for best musical in 1984. However, I predict this splendid revival with Jake Gyllenhaal and Annaleigh Ashford will be a strong contender in that category when the awards are presented in June. Mr. Gyllenhaal was not an obvious choice to play impressionist painter George Seurat—a role created by Mandy Patinkin in the original production. Two years ago Mr. Gyllenhaal delivered a solid performance in Constellations co-starring Ruth Wilson. However, he is best known for his movies including Zodiac, Brokeback Mountain, and Night Crawler. None of the roles above required him to burst into song, and I admit to being skeptical about Mr. Gyllenhaal's singing ability. But I was wrong. His Finishing The Hat was greeted with a well-deserved standing ovation at the performance I attended. The glorious Tony-winning leading lady Annaleigh Ashford adds another memorable performance to her resume as Seurat's lover. Kudos as well to director Sarna Lapine who shepherded this production from Encores! The limited run ends April 23rd.
---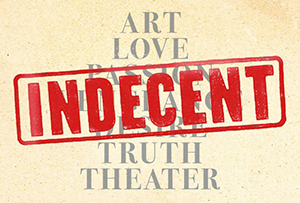 INDECENT
Cort Theater
Paula Vogel's new and unusual play with music directed by Rebecca Taichman comes to Broadway by way of Yale Repertory, La Jolla Playhouse and the Vineyard Theater. The same cast has been with this production for more than two years. Ms. Vogel's subject is the actual story of the controversial 1923 Broadway debut of Sholem Asch's The God of Vengeance and the risks taken by those who performed it. When the work was read at a literary club meeting in the 20's one participant accused the author of "pouring petrol on the flames of anti-Semitism." Indecent also dealt with prostitution and homosexuality which were forbidden topics 94 years ago. When the first production opened on Broadway, the cast and producer were charged with obscenity and jailed.
---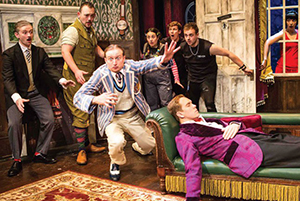 THE PLAY THAT GOES WRONG
Lyceum Theater
Lead producer Kevin McCollum, the recipient of three Tony Awards (Rent, Avenue Q and Lin-Manuel Miranda and director Thomas Kail's first hit In The Heights), brings the Olivier Award-winning comedy from London to Broadway. The plot revolves around a small theater company's attempts to stage a 1920's murder mystery. Three members of Mischief Theater—Henry Lewis, Jonathan Sayer, and Henry Shields—co-wrote the play and co-starred in the UK production. Members of the original cast will appear in the New York version. It is comforting to know they were not replaced by former TV stars attempting to reboot their careers. Three of the aforementioned writers/actors respectively had worked at a Gourmet Burger Kitchen, a call center, and a pub before their show became a critical and commercial success. One of the producers J. J. Abrams, the acclaimed movie director, admits to being a theater buff since he was a kid and has boxes of old Playbills to prove it.
---

THE BANDSTAND
Bernard Jacobs Theater
The new big band era musical set in Cleveland in 1945 was directed and choreographed by Andy Blankenbuehler—the Tony-winning choreographer of Hamilton and In The Heights. Laura Osnes, a Tony nominee for Cinderella and Corey Cott best known for Newsies, co-starred in the Paper Mill Playhouse production before moving to the dressing rooms of the Bernard Jacobs Theater. Mr. Cott's character—Donny—and his buddies return to Cleveland after serving their country in World War II. Jobs are scarce, and the now forgotten veterans are struggling to make ends meet, Julia—Ms. Osnes—a young widow and band singer persuades Donny and his disillusioned friends to enter a competition sponsored by a major radio network to discover the next Duke Ellington or Glenn Miller. The winner is promised an opportunity to write musicals for a major Hollywood studio. The plot resembles that of a post-World War II MGM movie but is there a happy ending here? I will not divulge that answer.
---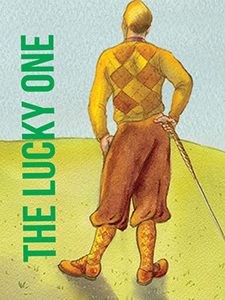 THE LUCKY ONE
Beckett Theater
The Lucky One written by Winnie The Pooh creator A. A. Milne opened in 1922. Ninety-five years later the Mint Theater Company is staging a revival directed by Jesse Marchese. The New York Times theater critic all those decades ago wrote: "Few plays have ever been more directly and deeply searching of the springs of conduct; more subtle in depicting the essential character ." Timeless is another adjective used to describe the plot. A long-standing hostile relationship between two brothers turns more acrimonious when the younger, likeable, successful sibling Gerard (Robert David Grant) refuses to offer financial and moral support to his brother Bob (Ari Brand). Tickets for all performances are $65.
---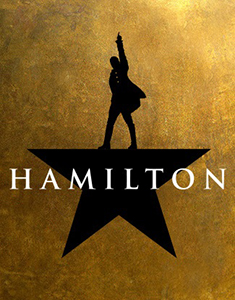 BROADWAY BUZZ
Hamilton Update
Brian D'Arcy James who originated the role of a nutty King George in the original production at the Public Theater will be back in the show beginning April 14th for a limited engagement. Mr. James had exited the musical before it became a hit due to a previous commitment to co-star in Dirty Rotten Scoundrels with Christian Borle. He received his third Tony nomination for hilariously playing the character Nick Bottom.