ENTREPRENEUR'S CORNER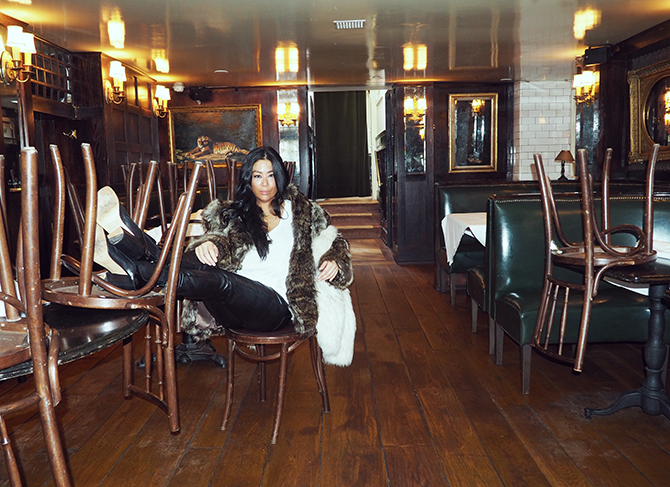 By Judy Goss
Sharpen your knives and get ready for a chophouse feast! This female chef is re- setting the table for a New York City legendary, albeit controversial, former celebrity haunt.
When Angie Mar took over The Beatrice Inn as Executive Chef in 2013, she was a relatively new chef taking over an iconic restaurant known for their debauchery and mediocre food, riding on the aftermath of a sour New York Times restaurant review. It was shocking to discover that she had only been cooking for about three years at that point. When Angie was offered the opportunity to turn the kitchen around as Executive Chef, it took her two months of contemplation before she accepted the position. She hesitated at first, turning down the job, then after persistent offers from the owners, she decided to take on the challenge. "Everyone thought I was crazy to take the job," Angie exclaimed. But she knew that to elevate her status as a chef in the restaurant industry she would have to start cooking her own food, and the offer was too tempting the more she thought about it. Also, she realized that if she could bring back a highly controversial restaurant "from the dead" that it would make her career. It also doesn't hurt that the venue itself is a stunning piece of architecture, established back in the 1920's as a speakeasy. The Beatrice Inn is rich with history, culture, and nightlife in its existence throughout the decades but right before Angie took over, they were struck with disparaging reviews and controversial press about both the food and rowdiness of the parties that were held there.
SOUL-SEARCHING OVERSEES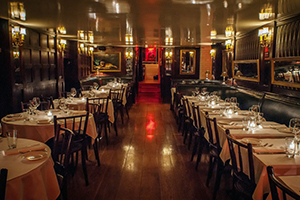 Originally from Seattle, Angie was in commercial real estate for a decade before she realized her passion for cooking. Coming from a family that was prominent in the restaurant industry in Seattle (her Aunt is Ruby Chow who established the first Chinese restaurant outside of Chinatown in Seattle), she didn't follow family tradition at first. Angie was traveling in Spain when she realized that her passion was to cook, and after immense soul-searching decided she was going to NYC to invest all of her savings into enrolling in culinary school. I asked her what the trigger was in Spain that finally made her go after her real passion and walk away from a successful corporate career. "You know, I think it was the lifestyle. I was on a tapas crawl by myself and realized this is what my family has always done. This is what I love, this is my passion—and to be able to make a business out of it, I am very thankful, she said."
But Angie attributes her cooking prowess mostly to working in kitchens, not necessarily culinary school. Working full-time and attending school full-time was tedious, but she skillfully made the right moves to become a quick success in a short amount of time. With her ambition and decisive drive, the sky's the limit for Angie who is excelling rapidly within an industry that is competitive and physically demanding, not to mention typically male-dominated. She was happy to see that there were several women in her class in cooking school. She believes the landscape of culinary school is changing from as little as ten years ago. Women are participating more and more but even so, out of the 30 students in Angie's class she was the only one that stayed within the industry.
A MEATY PHILOSOPHY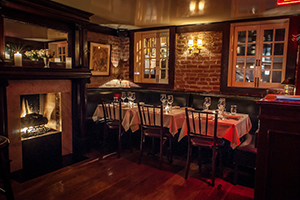 After taking over and revamping the menu, Angie bravely brought the restaurant back up through the ranks with her culinary talent and unique flair for focusing on meats. Only three years after she became Executive Chef (remember, at this point Angie had only been cooking for a total of six years!) she was offered ownership of the restaurant, and she jumped at the chance. Angie Mar re-opened at the end of 2016 as a "not so traditional" NY chophouse with her savvy business background and unique culinary expertise that reflects in the meaty menu. Since then The Beatrice Inn has been transformed into a recent success. Soon after re-opening, as the new owner (along with her investor partners, Carla Ruben of Creative Edge Parties and Melissa Merrill), Angie received a positive review as a "Critic's Pick" in the New York Times.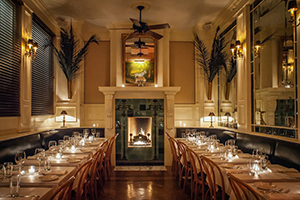 It's admirable to find a female chef obsessive with meat. Angie is forging a new path within the restaurant industry and indeed has become a role model for female chefs who are currently working their own way up the ladder of a culinary career. Angie emphatically states that "I cook what I want to eat." And by the way, she will butcher it herself too! Angie's upbringing was focused mainly on meat, and she does not bother to make every diner happy. "I don't have a vegan, vegetarian or gluten-free option on the menu." Angie cooks what she craves and what she mostly desires is meat. The menu is a "celebration of my parents and the culture that they gave me. It's what I want to eat and share with others who come into my restaurant."
Angie concluded she's opened restaurants before but taking over one is completely different. "You're acquiring someone else's family, kitchen culture, what they built; it's not an easy thing." But she figured the only way to go was up. So she stuck to her mission to elevate the restaurant's success to the highest that it could be. And not only has she set the table for a new reputation for The Beatrice Inn but female chefs and entrepreneurs too.
---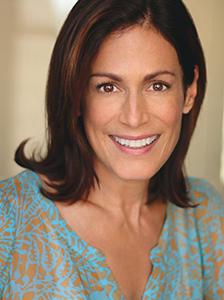 Judy Goss is currently the radio show host of What Women Want with over 500,000 downloads and is a published author of St. Martin's Press. She is also an entrepreneur who founded the nationally acclaimed networking organization What Women Want with its 20 chapters from New York to California. Judy is also a freelance journalist who interviews people about her favorite topic; their personal stories and what inspired them to be who they are today.