15 MINUTES WITH LAURA OSNES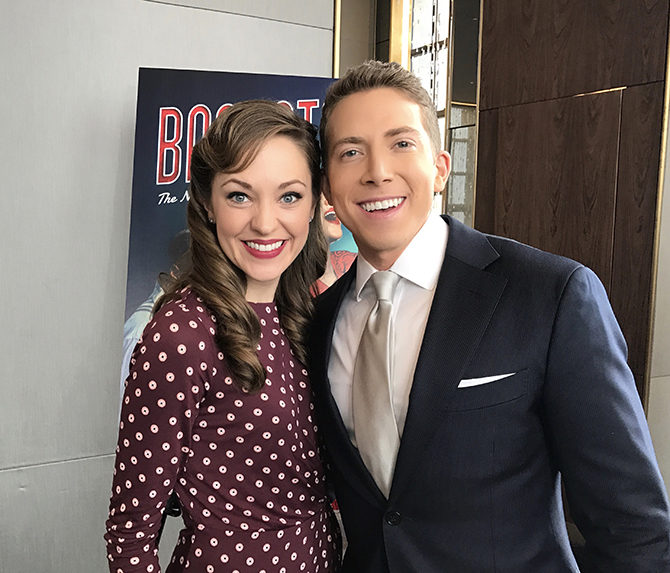 By Baruch Shemtov
Laura Osnes has been taking the Great White Way by storm ever since her Broadway debut as Sandy in Grease. She's starred in Cinderella, Bonnie and Clyde, Anything Goes, and more, scoring two Tony nominations along the way. Now she's starring in the brand new original musical Bandstand, about a group of World War II vets performing in a band that features Osnes' character Julian Trojan as its singer. As she reflects on her career here in New York, it's clear that Osnes is continuing her winning streak as Broadway's leading lady.
Take me back to your childhood. What did Broadway represent to you?
I was one of those kids that grew up listening to Broadway cast recordings, acting them out in my living room. Broadway was the dream—the pinnacle of the theatrical experience, both as an audience member and as an aspiring performer.
What did it feel like to first take the stage on Broadway?
It was pretty surreal for me. I remember making my first entrance in my first performance of Grease and getting entrance applause....What?! Because of the nature of how I got to Broadway (via a reality TV show on NBC called Grease: You're The One That I Want), we had some loyal fans who had watched the TV show and made us feel like rock stars early in the run. But more than that, it was the most exciting, humbling, rewarding, and magical moment. My childhood dream had come true.
What does it take for you to get into character?
I love having the rehearsal process to do research, discover, and dig deep into who my character is. But the finishing touch for me is always adding the costume—that's what truly helps me transform into each character I play.
Which role have you most identified with over the years?
Probably Cinderella. I like to think she and I were the most alike at heart, though she always inspired me to be better. Cinderella was the most imaginative dreamer—a hopeless romantic—yet strong and smart enough to decide her own fate (in our Broadway version!). She was known throughout the land for her kindness, generosity, and forgiveness. May we all strive to be like Ella!
Let's talk about Bandstand. What will the show bring to Broadway?
Bandstand's high-energy, exuberant, original swing score is played live by the Band's characters in the show. Tony winner Andy Blankenbuehler (Hamilton) has infused these numbers with sizzling choreography that feels both thrillingly fresh yet completely authentic to the 1940's swing style. The compelling original story follows a talented singer/songwriter and World War II vet, Donny, who returns home, lost and scared. Donny's only hope becomes assembling a band of all vets to compete in a radio broadcast competition, whose winners get to be in the movies. My character, Julia, lost her husband, Michael, in the war. She, too, feels lost and scared in her own way, and Donny convinces her to sing backup in the band. Through the highs and lows, their bonding friendship and their music become the healing power they all need.
There are moments of sheer joy and other moments of deep, complex emotion. We hope people come to the show and are changed, challenged, and moved by the end.
How do you think audiences will relate to the show?
Even though it's a period piece, Bandstand feels fresh, hip, and exciting. What Andy can create through staging and movement is just brilliant—it's impossible to describe, you have to experience it! But it hits the soul and is unmatched by any director/choreographer I've worked with. I also think people will be able to relate to the show's themes of love, loss, belonging, healing through music, and going after a dream.
What's the best part about opening a brand new musical?
Getting to create a role is every actor's dream. I've been a part of Bandstand's developmental process for the past two years, so seeing it through to its Broadway opening is a very emotional and fulfilling experience for me. I am so grateful that I will get to put my stamp on originating this role on Broadway, and we will finally get to share this beautiful story with our audience!
---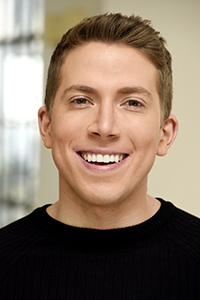 Baruch Shemtov is a New York-based television reporter. A graduate of Harvard College, Baruch has interviewed a long list of leaders and stars including Senator John McCain, Secretary of State Madeleine Albright, Prime Minister Gordon Brown, Tom Cruise, Ryan Seacrest, Yo-Yo Ma, and many more. Baruch grew up in the City and is passionate about everything the Big Apple has to offer. Visit Baruch Shemtov at baruch.tv.