WOMEN OF BROADWAY
By Pat Collins
We salute all women who worked either behind the scenes or on stage during the 2016- 2017 season.
Here, nine women, all of them recipients of the coveted Tony award.
---
AUDRA McDONALD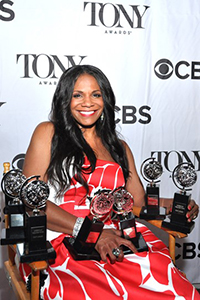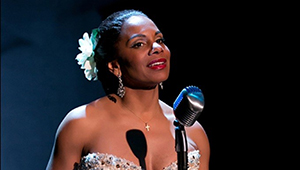 Audra holds the record as the first to win six Tony Awards, replacing Angela Lansbury and Julie Harris who each received five awards. She also enters the record books as the first to win a Tony in all four performance categories: Lead Actress in A Play: Lady Day at Emerson's Bar and Grill. Lead Actress in A Musical: The Gershwin's Porgy and Bess, Featured (Supporting) Actress in A Musical: Ragtime and Carousel. Featured Actress in A Play: A Raisin in The Sun and Master Class. At age 28 she had collected three of the awards mentioned above. Audra also made history in director Nicholas Hytner's 1996 production of Carousel and Lonny Price's 2007 revival of 110 in The Shade as the first black actress to appear in roles written for a white performer. In a New York Times interview, Audra said "I refuse to be stereotyped. If I think I am right for the role, I will go for it whatever way I can. I refuse to say no to myself."
Her prodigious talents were evident at a young age as a graduate of the Roosevelt School of The Arts in Fresno, California and later as an undergraduate at the Julliard School in New York. Her theater credits also include The Secret Garden, Henry IV and Twelfth Night. Audra is known to TV viewers for playing Dr. Naomi Bennett on ABC's Private Practice and the host of PBS' Live from Lincoln Center.
---
BETTE MIDLER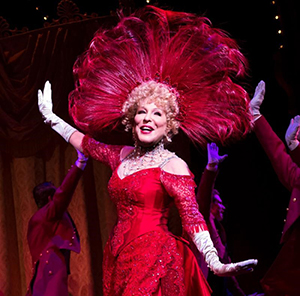 The Divine Miss M is rarely seen on Broadway. Her Clams on The Half Shell Revue which ran from 1975 to 1978 was hugely successful. She returned more than 30 years later to play an influential real life Hollywood talent agent in I'll Eat You Last: A Chat with Sue Mengers. Her return to the Great White Way is to theater-goers what a Solar Eclipse is to astronomers. Of all the genuine superstars her career path is one of the most unusual. After her Broadway debut in Fiddler on The Roof as Tzeitel, a role she played for three years, Bette re-launched her solo singing career in 1970 at the Continental Baths frequented by gay men who became her devoted fans. She rightly was proud of the role she played in the gay liberation movement.
Her 1972 debut album, co-produced by Barry Manilow, was the first of many platinum records to come. Bette by The Numbers: 14 studio albums released/35 million records sold worldwide, four Gold records, three Platinum and three Multi-Platinum, three Grammys, four Golden Globes, three Emmys and one special Tony. The Rose which brought her an Oscar nomination was followed by Down and Out in Beverly Hills, Beaches and For the Boys in 1991. The next year she was offered the starring role in the musical comedy Sister Act but turned it down. The part went to Whoopi Goldberg. Now that she, at last, has returned to Broadway is it "great to have her back where she belongs"? You bet.
---
GLENN CLOSE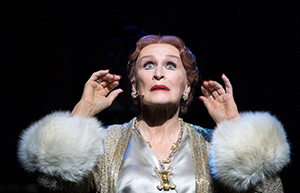 According to the Tony rules, Glenn is ineligible for a Tony nomination for her brilliant performance in Sunset Boulevard because according to the rules actors cannot be nominated for roles they previously played. She won the prestigious award in 1995 as Norma Desmond adding a third Best Actress Tony to her list of extraordinary achievements in theater, television, and film. She was Oscar nominated for leading roles in Fatal Attraction, Dangerous Liaisons and, Albert Nobbs. Supporting roles in The World According to Garp, The Big Chill and The Natural earned her three more nominations. Considered one of the most respected actors of her generation, Glenn while a student at William & Mary, decided to pursue an acting career while watching her idol Katherine Hepburn being interviewed by Dick Cavett. She made her Broadway debut in 1974 in Love for Love, directed by Hal Prince. Six years later her performance in Barnum earned Glenn her first Tony nomination.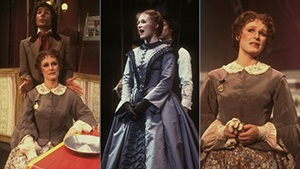 Her other Tony wins are for The Real Thing directed by Mike Nichols, and Death and The Maiden. Glenn has proved she can immerse herself in a wide variety of roles on stage and screen from the ruthless lawyer Patty Hewes in Damages to the regal Eleanor of Aquitaine in The Lion in Winter to Harrison Ford's vice president in Air Force One. In an interview Glenn reflected on how her childhood affected her acting. "I have no doubt that the days I spent running free in the evocative Connecticut countryside with an unfettered imagination playing whatever character our games demanded is one of the reasons that acting has always been so natural to me."
---
CYNTHIA NIXON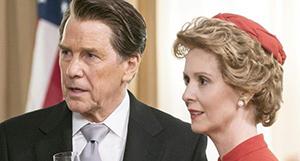 Cynthia is one award away from achieving EGOT status which is conferred on those who have won an Emmy, Grammy, Oscar and a Tony. The elite group includes Whoopi Goldberg, Rita Moreno, and Mel Brooks. Cynthia has an Emmy for Sex and The City, a Grammy for the spoken word version of An Inconvenient Truth and a Tony for Rabbit Hole. As further proof of her range as an actress, Cynthia played two distinctly different First Ladies: Eleanor Roosevelt in Warm Springs and Nancy Reagan in Killing Reagan.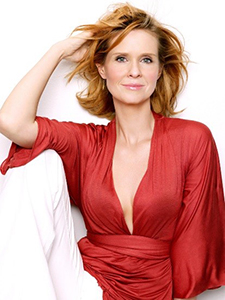 She is also credited with being the first performer to appear in two Broadway productions at the same time. During her first year at Barnard College, she ran from the stage door of the theater where Mike Nichol's The Real Thing was being performed to another theater to join the cast of Hurlyburly. Cynthia's career began early when she was cast to play a tween who is romantically pursued by the class rich kid in an ABC Afterschool Special. After appearing in some programs for young audiences, Cynthia was offered a role in NBC's The Murder of Mary Phagan starring Jack Lemmon and Kevin Spacey. In her personal life, she raises money for and awareness of breast cancer as an Ambassador for The Susan G. Komen For The Cure not for profit organization. Cynthia was diagnosed with breast cancer 11 years ago. Cynthia is back on Broadway this season in a not-to-be-missed revival of Little Foxes co-starring Laura Linney and directed by Daniel Sullivan.
---
LAURA LINNEY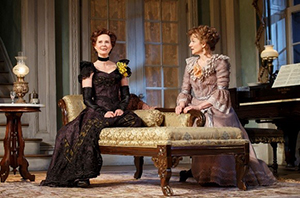 The three-time Oscar nominee, three-time Tony Award nominee and recipient of four Emmys majored in theater at her alma mater Brown University and subsequently earned a graduate degree in drama at Juilliard in 1990. That same year Laura was cast as an understudy in John Guare's Six Degrees of Separation and two years later her performance in Sight Unseen impressed critics and audience members alike. Thirteen years later she received a Tony nomination for her performance in the play's revival. Laura is one of the most sought-after actresses of her generation and also one of the most versatile. Here are a few examples. Films: The Truman Show, You Can Count on Me (Oscar nominee), Mystic River, Kinsey (Oscar nominee), The Savages (Oscar nominee) and, Love Actually. Television: Armistead Maupin's Tales of The City, Running Mates, Wild Iris (Emmy Award), Frasier (Emmy Award), John Adams (Emmy Award for the role of Abigail Adams) and The Big C. Theater: The Crucible (Tony nomination), Sight Unseen (2004 Tony nomination) and, Stands Still (Tony nomination).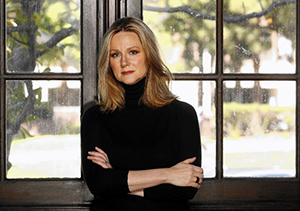 More awards are likely to follow for this new production of Little Foxes in which Laura and Cynthia play alternate roles. At the performance I attended Cynthia played the ruthless Regina and Laura had the role of the alcoholic and seemingly naïve sister-in-law Birdie.
---
CHRISTINE EBERSOL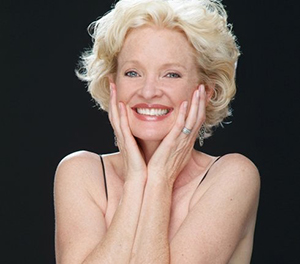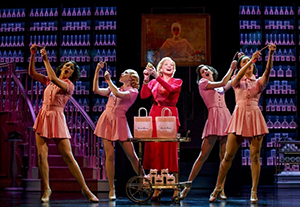 To the best of our knowledge, Christine is the only woman on our list to have co-anchored Saturday Night Live's Weekend Update. She memorably impersonated Princess Diana, model Cheryl Tiegs, Mary Travers of Peter, Paul and Mary fame and other celebrated women of the early 80's. Her work on SNL was one example of Christine's ability to easily slip into character, a skill which has served her well during a remarkable career on Broadway. Ado Annie (Oklahoma), Elvira (Blithe Spirit) Millicent Jordan (Dinner at Eight) and Dorothy Brock (42nd Street) are among her most notable roles. The later role brought Christine her first Tony award. The second was earned playing the dual roles of Edith Ewing Bouvier Beale (Big Edie) and Edith Bouvier Beale (Little Edie) in Grey Gardens. Her performance remains one of the decades most remembered and celebrated. In addition to the Tony Christine has a Drama Desk Award and an Obie for the Off-Broadway production of Talking Heads.
This season she and Patti LuPone received glowing reviews for the musical War Paint. Christine, swathed in pink and wearing significant bling, as Elizabeth Arden and Patti, in the role of Miss Arden's fierce competitor Helene Rubenstein as the two female titans of the cosmetic industry.
---
PATTI LUPONE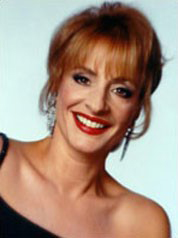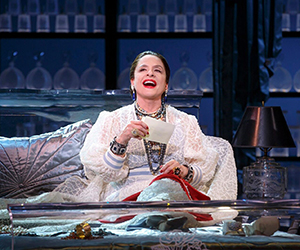 For Patti Lupone, it's all been well-earned: Two Tony Awards (Evita and Gypsy), two Olivier Awards (Les Misérables and The Cradle Will Rock), two Grammys (Best Classical and Best Opera recordings for The Rise and Fall of The City of Mahagonny) and enough other honors to paper a wall. In a career spanning 45 years, Patti starred in more than 40 Broadway productions in addition to appearing on innumerable concert stages and in a variety of TV shows. She was Emmy-nominated for her guest role on Frasier. There are several "firsts" in her bio. She, Kevin Kline and David Ogden Stiers were among those who were in the first graduating class of Julliard's Drama Division. When John Houseman founded The Acting Company Patti enrolled and was in the first graduating class. She was the first to play Eva Peron in the 1979 production of Andrew Lloyd Webber's and Tim Rice's Evita. Known for her candor, Patti publicly expressed her displeasure with the production declaring "Evita was the worst experience of my life." Nonetheless, she reunited with Lloyd Webber for the original Sunset Boulevard, but the truce did not last long, and he replaced her with Glenn Close. Despite those and other behind the scenes contretemps, Patti remained an in-demand Broadway baby. She went on to star in Sweeney Todd, Master Class, a revival of Noises Off and most recently as cosmetic Helena Rubenstein, in War Paint.
---
JESSE MUELLER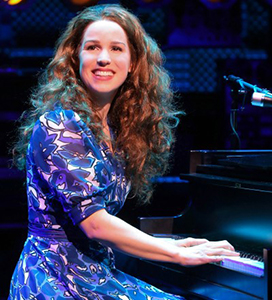 Acting is in her DNA. Jessie's parents, Jill and Roger are actors as are her two brothers Andrew and Matt and older sister Abby. Four years ago Beautiful was in tryouts in San Francisco with a young actress playing one of her idols, Carole King. She was not yet a star, but Jessie was more than well prepared to take on the role of the legendary singer/songwriter. Her resume includes She Loves Me, On a Clear Day You Can See Forever, and The Mystery of Edwin Drood for which she was nominated for a Drama Desk Award. Those accolades were followed by a Tony Award for Beautiful, the musical that overnight established Jesse as Broadway's newest leading lady and as it turns out one of the most popular.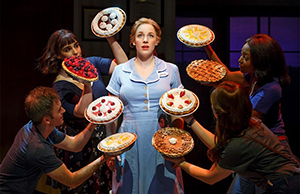 Teenage girls, their mothers and grandmothers alike helped make her most recent musical Waitress a success. Critics myself included gave her glowing reviews for her portrayal of Jenna a small town waitress with a talent for baking extraordinary pies and a tendency to make wrong decisions about the men in her life. Two years ago Jesse received the coveted Sarah Siddons Society Award which previously was given to Bette Davis, Angela Lansbury, Audra McDonald, Julie Andrews and other equally extraordinary women in the theater.
---
ANNALEIGH ASHFORD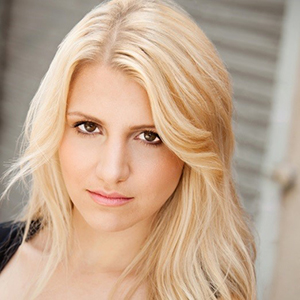 There are those who at an early age choose a career path, and Annaleigh is one of them. In the second grade, she spent after-school hours at a dance and performing arts center in suburban Denver and made her stage debut at age 9 in Ruthless, an all-female musical which spoofs musicals. She sped through Marymount College and graduated with a degree in theater at 19. The hit musical Wicked factored in the early stages of her career. An understudy for the role of Glinda in the show's 2005 national tour preceded her playing the good witch. Also to her credit the Great White Way, and the musical version of Legally Blonde. Succeeding roles in revivals of Hair and Rent, led to her being cast in the Chicago previews for Kinky Boots, the Harvey Fierstein-Cyndi Lauper musical which transferred to Broadway, and earned Annaleigh a much-deserved Tony nomination.
Three years later she won Broadway's most prestigious award for her supporting role as Essie Carmichael in a revival of You Can't Take It With You in which she co-starred with Rose Byrne, Elizabeth Ashley, and the legendary James Earl Jones. In between shows she provided the voice of the troll in the Oscar-winning Disney film Frozen and originated the role of a young prostitute in Showtime's Masters of Sex.
Back on Broadway Annaleigh and Jake Gyllenhaal delivered superb performances in a revival of Sunday in The Park With George. Months ago she and her husband celebrated the birth of their first child—a son named Jack.