NYC'S BEST BEAUTY SPOTS
By Gigi Stone Woods
It's been a long cold winter of hibernating and hiding under wooly layers and hats. But now that your pasty skin and dried- out hair are going to be exposed to the public, you might be wondering where to start. Whether you're facing a high school reunion, a wedding where you'll run into that ex-boyfriend who dumped you for his receptionist, or just a new season full of promise, we've got your back. Like dating, the search for the perfect salon can be exhausting, but when you find your match, we swear: it'll be worth it. Boys come and go, but a hairdresser—that's a relationship that can last. (Some surveys, albeit sketchy ones, have even found that women stay with their hairstylists, on average, longer than they do with their husbands.). Whatever you're looking for, here are New York City's top salons.
OSCAR BLANDI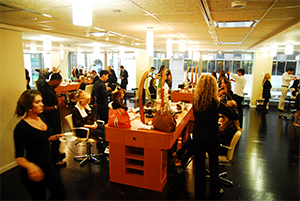 Well-heeled Upper East side ladies don't just flock to the immaculate and majestic
Oscar Blandi
for the precision, for the talent, for the jewel-box environment. They do it for the experience. The Mediterranean-style salon is always buzzing with at least a dozen blow-dryers and the very best gossip. Colorist Kyle White is world-renowned for his unparalleled, natural-looking color technique. And given Blandi's Italian origins, styling is in his blood. He got his start as a teenager, lending a hand in his father's salon to meet girls. Now, he works with everyone from Julianne Moore to Naomi Watts to Julia Louis-Dreyfus. When finished, the results are less runway edge, more polished flair. Walk in with a mid-length cut and walk out like an Italian goddess.
Oscar Blandi, 545 Madison Avenue (212-421-9800; oscarblandi.com)
---
SERGE NORMANT
Serge Normant's salon is an elaborate three-floor townhouse in Chelsea, decked out with chandeliers and multiple fireplaces. Normant is responsible for cutting the most jaw-dropping tresses out there. Everyone: from Julia Roberts to Gisele to Sarah Jessica Parker has put their hair in his hands. If they've done it, trust that you can do the same.

Serge Normant,
336 West 23rd Street
(212-879-1000;
sergenormant.com)

ELIUT SALON
Eliut Rivera was the assistant to the mythical Oribe for seven years before the apprentice decided to open his own salon. He's since worked on the sexiest hair out there: Jennifer Lopez, Penelope Cruz, and Sheryl Crow—all have sat in his chair. And now that he's moved to a bigger location, he's got even more space to make the magic happen.

Eliut Salon,
30 East 60th Street, Ste. 1207
(212-472-3440;
eliutsalon.com)

MARIE ROBINSON SALON
These stylists are known far and wide for their palette for hair color: every hair color. Robinson's perfected innovative techniques that will make you look like you were born that way: from platinum to inky black. Heck, she can even make a deep purple look natural. Everyone from Anne Hathaway to Natalie Portman has recognized her genius.

Marie Robinson Salon,
40 West 25th Street (212-358-7780; marierobinsonsalon.com)
NUNZIO SAVIANO SALON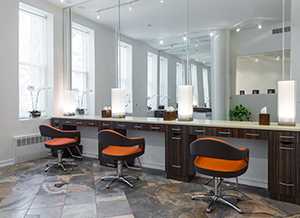 This beautiful, intimate salon in a classic brownstone offers full hair care and cutting services under Nunzio's detail-oriented eye. For Nunzio and his team, there is no "signature cut" because the signature should be your own—a custom-style that makes you look and feel good. That philosophy has served him well; he's developed a loyal following and recently opened a second namesake salon at The Ritz-Carlton Westchester to accommodate his flock. Luckily, the man delivers. To create highly-personalized looks for his clientele, Nunzio draws inspiration from his native Italy. He mashes up current runway trends and timeless classics, analyzes the facial structure, hair texture, and lifestyle (read: how much time you can spend with a blow dryer on weekdays), and delivers a cut that's at once bespoke and approachable. Is it any surprise, then, that Nunzio Saviano Salon was voted as the "Best Only Slightly Elitist Haircut" in New York Magazine?
Nunzio Saviano, 130 East 65th Street (212-988-0880; nunziosaviano.com)
---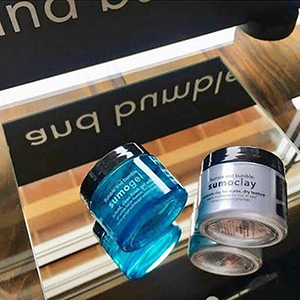 BUMBLE & BUMBLE
It's fast, efficient, and gets the job well done. The staff is friendly, impeccably trained and always reliable. Beyond cut and color, Bumble offers natural-looking extensions and artistic up-dos, plus it boasts a vast salon network of like-minded stylists. And if you can't squeeze in an appointment, recreate the salon experience at home with its much-lauded, eponymous line of products that can be found at various retailers, including Sephora (sephora.com).
Bumble & bumble, several locations throughout NYC (bumbleandbumble.com)
---
HAIRMATES
It may be a less expensive option than the big name salons, but regulars swear this place doesn't skimp. Instead, the salon combines American and Japanese techniques, including the Liscio Super Straight treatment—a hair relaxer that shines up even the frizziest locks.
Hairmates, several locations throughout NYC (hairmates-ny.com)
---
FELLOW BARBER
Men need hair love, too. Thankfully, the barbershop revival is here to stay. This popular bi-coastal chain has transformed haircuts and straight-razored shaves into the luxe experiences that even your supposedly no-frills dude will love. Sam Buffa debuted his original location in the back of a hip retailer on New York's Lower East Side. Over a decade later, his salons are a religion. They're so good, we've observed some women think the same. Plus, the paraben- and sulfate-free line of shaving products has given their worshippers a daily ritual. Pick some up for someone special. And while you're at it, book Angie Elizalde for his next appointment at the SoHo outpost.
Fellow Barber, several locations throughout NYC and San Francisco, CA (fellowbarber.com).
---
HALE ORGANIC SALON
An option for those looking for a chemical-free, organic experience, Hale offers ammonia-free hair color, a buffet of organic products, no hairspray fumes, and tremendous customer satisfaction—just check its stellar Yelp! reviews.
Hale Organic Salon, 91 Franklin Street (212-966-5656; halesalon.com)
---
SECRET PLACES
BLUSHINGTON MAKEUP & BEAUTY LOUNGE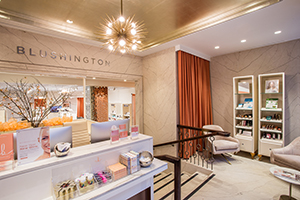 You won't find better than this premier makeup service and retail destination that boasts locations in Dallas, Los Angeles, and New York City. Blushington is on a mission to bring expert makeup artists into the lives of everyday women and men of all ages in a beautiful, welcoming environment while keeping the experience affordable and accessible. Known for natural, sexy makeup, Blushington's highly trained artists can doll you up for a date or special events and photo shoots.
Blushington Makeup & Beauty Lounge, several locations throughout NYC and the U.S. (blushington.com)
---
BRONZE BOUTIQUE & SPA
You don't need me to tell you that applying self-tanner at home is a risk. We've all seen the orange Oompa-Loompas, the streaked faux-glow, the muddy palms, and feet. So when it's time for a special occasion, leave it to the professionals. Owner Heike Muschik will give you a gorgeous glow that lasts for a week and makes you look like you just got back from the Caribbean. Looking for a cheaper option? Dip into their Versa Spa Spray Tanning Booth—quicker and more affordable than a custom job, yet, surprisingly even.
Bronze Boutique & Spa, 330 East 65th Street (212-319-5805; bronzeboutiquenyc.com)
---
BLINK BROW BAR
This luxurious eyebrow and lash service bar, it's located in both New York City Saks Fifth Avenue outposts. The pint-sized salon ushers the ancient Indian technique of threading into the 21st century with "drop-in" locations for efficient, precise results. Show up for eyebrow threading, lash, and eyebrow tinting, and lash and eyebrow extensions. Wide-eyed at the prospect? I was too—until I tried it myself.
Blink Brow Bar, located at both Saks Fifth Avenue (blinkbrowbar.com)
---
BEST AT-HOME HAIR & MAKEUP
MAUREEN PEDALA MAKEUP ARTISTRY
Here's a one-sentence endorsement: This is the most attractive you will ever look, no matter how old you are and how much SPF you wore in your youth. Need I say more?
Maureen Pedala Makeup Artistry, serving all of NYC (917-847-9494; maureenpedala@maureenpedala.com)
---
MERRELL DALY
If what you're looking for is pure, unadulterated va-va-voom, Merrell's your girl. I mean, woman.
Merrell Daly, serving all of NYC (917-434-8113; merrelldaly.com)
---
GLAM SQUAD
It's the Uber of the beauty world, a quick, on-demand way to have a highly trained stylist at your fingertips. Pick your service (hair and makeup!), and wait for a trusted professional to show up at your house or office—anytime, anywhere, and with precision and a full toolkit. Game-changer.
Glam Squad, serves Miami, Washington DC, Los Angeles, and NYC (glamsquad.com)
---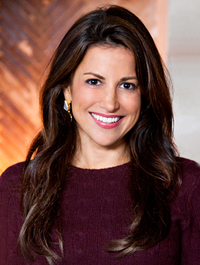 Gigi Stone Woods is an award-winning, national TV on-air host, anchor, correspondent and producer from ABC News, CBS News, NBC News and Bloomberg TV. She is currently a rotating anchor and producer of various national news shows including "Early Today" on NBC and MSNBC and appears regularly as a business expert on Fox5 NY. She also works as an on-air media trainer, media message writer and TV consultant through her company, Stone Woods Media.
Stone Woods received her master's degree in journalism from Columbia University. She is a native New Yorker.