TELLING THE STORIES OF ENGLAND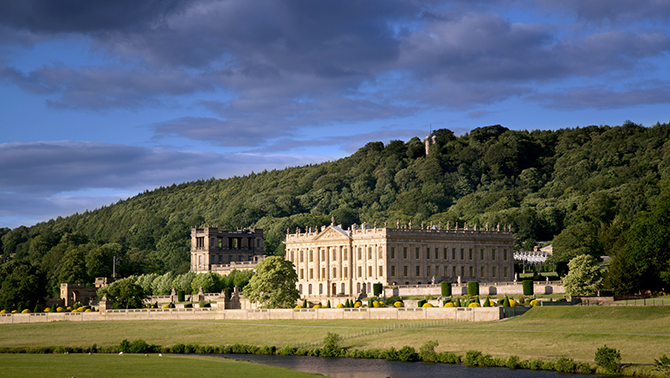 Chatsworth
By Clint Brownfield
In 1845 Robert Browning wrote Home Thoughts from Abroad, which begins with the well-known line:
Oh, to be in England now that April's there… And that's just where we were this spring via a tour conducted by newly formed travel provider UK Countryside Tours (UKCT), which is the creation of Jim Dixon, UK travel expert and noted columnist for the Times of London.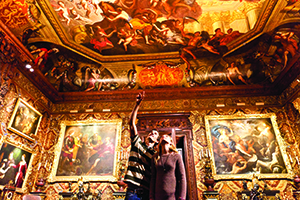 Many of us have been to London down through the years, with maybe an occasional foray into the rest of England. What UKCT provides is an insight into England and the UK—Scotland, Wales and Northern Ireland. Their tours are led by expert guides and feature incredible access to attractions that would be virtually impossible for individual travelers to pull off on their own.
This year NYC's spring was nipped in the bud by a snowstorm named Stella. So, a trip into the English countryside was a perfect way to get away from the havoc Jack Frost had wrought. Our group of six would spend parts of five days traveling the 180 miles from Cambridge, up through Nottinghamshire with a final stop in Manchester.
ACROSS THE POND
Spring was really springing! With daffodils and snowy white blackthorn trees blooming as far as the eye could see. Newly born lambs cavorted on fresh green meadows, and a sense of renewal that only spring can provide was most welcome.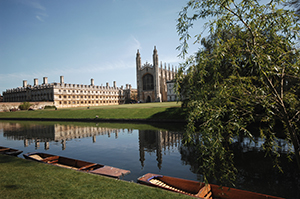 Kings College, Camberide
Photo courtesy of Visit Britain
UKCT offers tours with themes such as literary, country houses, culinary, gardens and even England's contributions to computer science. Want to fly fish for trout in the rivers and streams made famous by Izaak Walton in his 1653 masterpiece The Complete Angler? That can be arranged. Want to see the landscapes featured in Emily Brontë's only novel Wuthering Heights? No problem. We would visit a sampling of these themes during out five-day visit.
Cambridge, about 50 miles north of London was our first stop, which is home to the famed University, with 31 individual colleges under its umbrella. Here, licensed guides such as Ian Melvin, who led our group, offer expert insight into this magnificent town that's divided by the River Cam. Its population according to the last census was 123,867, including 24,488 students. A possible rule of thumb is: Cambridge produces the scientists and Oxford produces the politicians. Strolling through the various colleges and attractions along the way is an excellent way to learn more about some of the bold-faced names who have studied at Cambridge such as Charles Darwin, whose collections from his travels, form much of the holdings of The Sedgwick Museum of Earth Sciences.
You can have a pint or a meal at The Eagle Pub, which provides views of one of the colleges where D-Day was planned. You'll also see plenty of apple trees that once aided Sir Isaac Newton in his discovery of gravity. Spend as much time as you can in Cambridge.
THE FOREST & BEYOND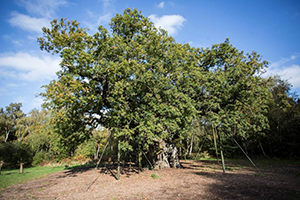 Major Oak Sherwood Forest
Photo courtesy of Visit Nottinghamshire
Up the road in Nottinghamshire is Sherwood Forest, where we were greeted by none other than Robin Hood himself—as portrayed by actor Ezekial Bone, who leads visitors through the ancient oak forest and tells the tales of this beloved hero of England fiction—or is it fact?
Nottinghamshire is also home to one of the truly great remaining English treasure houses Chatsworth House. The spectacular grounds leading up to the 126-room house are open free to the public and dogs(on leashes) are welcome to do some exploring and sniffing around. Jim Dixon joined our group on our visit, where we were greeted by current Chatsworth House resident, Peregrine Andrew Morny Cavendish (his friends call him Stoker), 12th Duke of Devonshire. Noteworthy reason to visit the house through October 22nd is House Style: Five Centuries of Fashion at Chatsworth a truly spectacular show of items worn by members of the Cavendish family down through the centuries.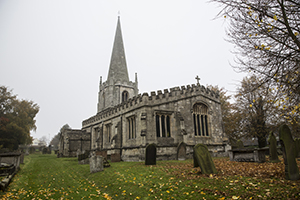 St Wilfrid's Church Scrooby
Photo courtesy of Visit Nottinghamshire
That day was Mother's Day in England, and we were treated to Sunday dinner at The Peacock at Rowsley, Derbyshire. On the menu were roast beef, Yorkshire pudding and a generous array of vegetables. You can't get much more English than that.
That afternoon, Sue Allen, expert guide, and author, greeted us at All Saints Church in North Nottinghamshire. Her simple outfit was made out of plain black and white cloth. As we sat in the beautiful church, she described a group who secretly began to meet at this very spot in the early 1600s. They would call themselves Separatists and/or Puritans. The ruler of England then was also the Keeper of the Faith, and at any moment the reigning monarch could decide whether the entire country would be Protestant or Catholic. The Puritans wanted to worship in a way that would be more reflective of what was actually in the Bible. After a while, they moved to Holland for a few years, bought a boat and sailed to what is now Plymouth, MA. The boat was, of course, The Mayflower. The year 2020 will be the 400th anniversary of that landing. Mark your calendars.
After that sobering experience, we pulled up to nearby Haddon Hall and were greeted by Lady Edward Manners who, along with our guide, showed us through the house that dates back to the Middle Ages and has been in the continuous ownership of the same family since the early 1100s. It's described as one of the most romantic houses in England and was the setting for movies such as The Princess Bride, Sense and Sensibility and several versions of Jane Eyre. You can easily spend a day here, touring the house and Elizabethan gardens and dining in the on-site restaurant.
FEELING ROYAL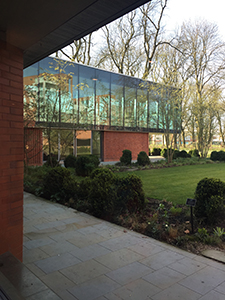 Whitworth Art Gallery
Photo by Clint Brownfield
After our idyllic tour of the English countryside, it was a bit of a jolt to enter the major city of Manchester. But, we soon felt right at home after checking into the city's trophy hotel—
The Midland
—where Rolls-Royce was founded, and royalty stayed. The Beatles were famously denied entry back in the day because they were "improperly dressed."
On our last day, we had a truly memorable English breakfast in the café at the Whitworth Art Gallery at the University of Manchester. UKCT then arranged for our group to meet curator Uthra Rajgopal who showed us selections from the museum's extensive textiles collection, which is second only to the Victoria & Albert in London.
Of course, none of these stops would have been possible without UKCT's access and ability to make our trip flow like seamless magic. Oh to be in England—April, or any other time of the year!
For more information on United Kingdom Countryside Tours, visit ukcountrysidetours.com.
---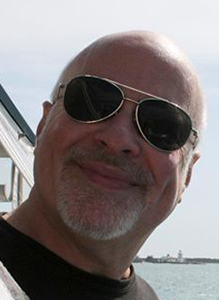 Clint Brownfield is a travel, food and beverage writer and has reported from all seven continents, more than 100 countries and 45 states. He is based in New York City—his favorite destination in the world.