THE PIERRE HOTEL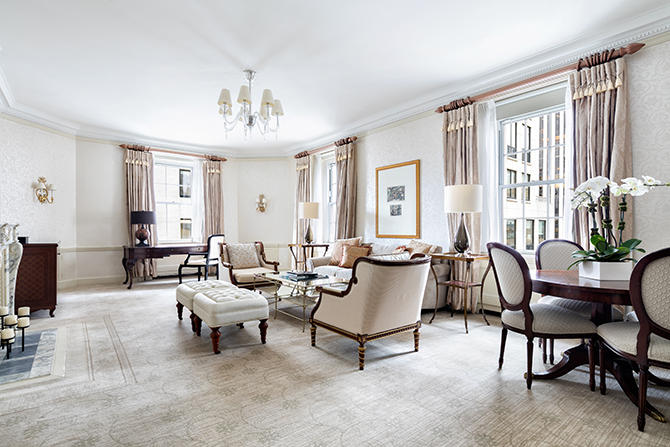 By Gretchen Kelly
The old days of the "Grand Hotel" seem to be fading. The Plaza has been gutted of its Oak Bar, and most of its rooms and The Waldorf-Astoria is morphing into a mixed-use condominium/much-changed hotel, leaving few examples of the Titanic model of luxury, and that hushed-footfall-on lush-carpet feel of yesteryear. There is, however, The Pierre.
The Taj Group hotel punctuates the Grand Army Plaza on 59th Street at the Upper East Side corner—once a member of an exclusive club: The Plaza and The Sherry Netherland being the others (The Sherry Netherland is still a hotel, but a sliver of its former self).
But a stay at The Pierre still feels like something "Grand" in the tradition of the Grand Hotel.
I recently had the decadent pleasure of a Cinderella-stay at The Pierre—a night on the town for a native New Yorker with a clear window into a world of exclusivity and élan in which few of us get to revel. My introduction to this august world of privilege was drinks in the newly-redesigned Rotunda Restaurant and Cocktail Lounge with The Pierre's new General Manager, Francois-Olivier Luiggi. Luiggi (or Francois, as he insists you call him) is a charming Corsican with the look of a young and more robust Yves St. Laurent (a one-time occupant of the hotel).
MURALS TELL A TALE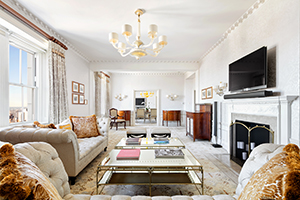 Tata Suite Living Room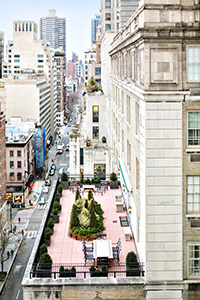 Getty Terrace
Luiggi points out the trompe l'oiel murals that festoon the walls in this confection of a room and tells us that it was painted in the swinging sixties. Hence, the fairytale characters that look like Jackie O and Lee Radziwill and other jet-setters (in an apparent nod to discretion, Onassis himself was painted out of the Jackie panel). You can imagine Truman Capote swooning.
"Yes, this is a historic mural," Luiggi says with a tres charmant French accent. "But I do not believe it being a historical hotel and all of the past occupants who stayed here. Everyone who stays at the hotel is making his or her history—his or her own story. That's what I'm focused on."
NEW YORK-STYLE DINING
We are currently focused on the elegant tray of spirits in cut glass bottles which is wheeled to our table. As the barman mixes a series of concoctions with ginger, rum, vodka, bourbon and a variety of tea and mint flavors you smell the aromatics as delicate perfume and drink it as smoothly as the best cocktails.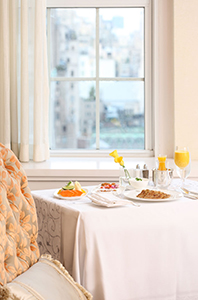 After drinks, my dinner companion (a food-savvy New York novelist) and I head to Perrine, the hotel's sumptuous but stylishly restrained modern-esque restaurant, for dinner. I opt for a charcuterie board for my appetizer while The Novelist, satiated with cocktail tastings, slathers expensive butter over good bread and wonders if a $28 hamburger is something palate-changing.
I go for the lobster in a butter and crème sauce because The Pierre seems the kind of hotel in which to have lobster and because at this point, I'm feeling a lot like Rose in The Titanic (minus the iceberg, thankfully!). It's piquant, perfectly prepared and well-portioned (not too spare but not all over the plate, either). An elegant Lebanese white wine partners well with my meal, and leaves me with room for a dessert. My friend, however, has indeed ordered the platinum card version of a burger, which he is reveling in and affirming, that yes, it most likely is worth the price of admission. Dessert is a cheese plate to pair with the rest of the wine after which I repair en seule to my suite on a floor graced with a portrait of a one-time resident, Yves St. Laurent.
The Luxurious Suite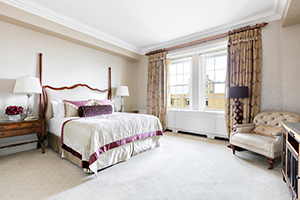 Park Suite Bedroom
The dimensions of the room that has windows overlooking the iconic square green space of Central Park is intimate but semi-majestic. The bathroom, with its Etro amenities, is the first thing you see on entering. Yes, it's grand and marble and has its own window on the park, thank you. A slim vase accommodates a Georgia O'Keefe canvas-like calla lily.
The bedroom, which opens after a narrow corridor is lit with the city lights from the park and Madison Avenue below and features a huge, firm bed with high thread count sheets befitting the Vogue models that were seen that afternoon, leaving the Presidential Suite. Even if you're not staying in the Presidential Suite, a stay in this large and luxurious room make you feel like you're a super model or a foreign diplomat checking in on the QT.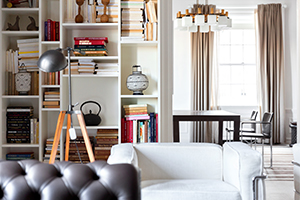 Charles Pierre Suite Detail
In the morning, I admit I could not tear myself away from the park view and the comfy bed and called for room service which was prompt and friendly. A hot cup of strong coffee and poached eggs are eaten in one's plush bathrobe. Could this be a dream?
Upon check-out, the front desk attendant gave me a parting gift—a plant-ready forget-me-not seeds that will sprout beautiful blooms. It seems a bit unnecessary; no one who stays at The Pierre is bound to forget.
A STEP BACK IN TIME
On October 1, 1930, The Pierre hotel opened for business with 700 rooms and the mission to create the ambiance of a private club. Two weeks later a gala dinner hosted by the president and managing director, Charles Pierre Casalasco himself, marked the official grand opening. All of New York was impressed, and society turned out to taste the menu prepared by 85-year-old August Escoffier—the "father of French cuisine." He served as a guest chef at The Pierre in its early days. The Pierre flourished and became the toast of the town, with a 1930s guide describing the hotel as a monument of beauty.
Through the years The Pierre has hosted celebrities, politicians, royalty—and those who can afford the best in the way of luxury.

Pierre-61st Street Entrance-early
1930s


Pierre Lobby with Bell Captain Louis Rabone 1970's


Andy Warhol - Yellow Bird Room 1981


Escoffier with Opening Team
---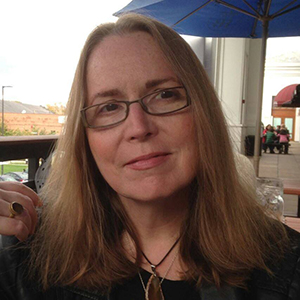 Gretchen Kelly writes on travel and hotels for The New York Post, TravelwithVal.com, Frommers.com, and many other websites and publications. She has appeared on Fox5's Good Day New York, BBC Worldwide News and Bloomberg News. She's been to over 80 countries and is an expert on "set-jetting" or traveling to places connected with movies and TV.