SO MANY HEROES
By Joan Hornig
I love the month of May. The weather tends to be delightful. The parks are filled with spring green, flowers and the wonderful sound of children playing. I think everyone is grateful to have said "goodbye" to winter and feels optimistic. But May is also, special because of two holidays that ask us to reflect on what others have selflessly done for us—Mother's Day and Memorial Day.
MAY IS SPECIAL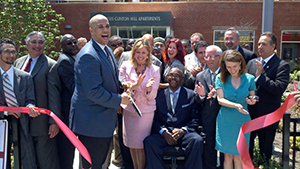 Mayor, Cory Booker and Mario Cuomo-Cole and several others
Some would say that Mother's Day should be recognized every day. The Mom job description is not for the weak—cleaning up messes of all kinds 24/7, 365 days of the year, no time off when ill, managing responsibility for the safety and care of others not to mention also holding down her day job!
Another highly committed group is also recognized in May—our military service women and men. Like Moms, their crucially important work often goes unheralded. How many of us know that in 1999, May was proclaimed National Military Appreciation Month (NMAM) by Congress? May includes five national observances designed to help us honor the current and former members of the Army, Marine Corps, Navy, Air Force and Coast Guards and their families.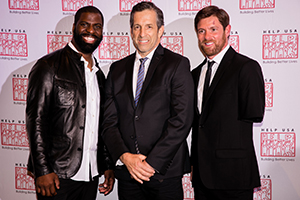 Che 'Rhymefest' Smith, Kenneth Cole and Noah Galloway
Of course, we are all familiar with Memorial Day. But how many of us even consider Loyalty Day (May 1st) meant to reaffirm our loyalty to the US and reflect upon our proud heritage of freedom. Then there's V-E Day (May 8th) commemorating the day the Germans unconditionally surrendered to WWII Allies, Military Spouse Appreciation Day (May 12th) to honor military spouses, and Armed Forces Day (May 20th) for citizens to come together and thank our military members for their service?
Some years ago, I was honored by HELP USA in recognition of my charitable business model of donating 100 percent of Joan Hornig Jewelry sales to the charity of the purchaser's choice. Before this, I had limited knowledge of the scope of services it provides or the magnitude of the problems it addresses.
HELPING VETERANS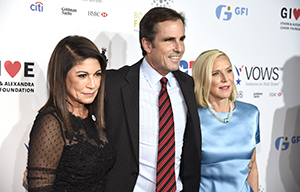 Caroline Hirsch, Bob Woodruff and Lee Woodruff
In fact, HELP USA is our largest national provider of transitional homes and services to people in need. From its NYC beginnings, HELP USA's services extend to helping homeless in Buffalo, Nassau and Suffolk Counties, Westchester, Newark, Philadelphia and Las Vegas. HELP USA is also developing innovative Veteran housing in Washington, D.C. on what was the former Walter Reed Army Medical Center facility.
Not surprisingly, with nearly 65 thousand veterans homeless on any given night in the United States and another 1.4 million at risk of becoming homeless, veterans are among those who most need HELP USA's housing and homelessness prevention programs. HELP USA leverages the resources of the Veterans Administration, foundations, corporations, other non-profits and generous individuals.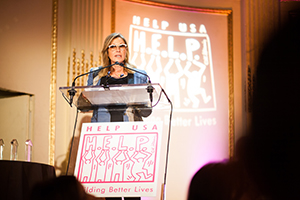 Mario Cuomo-Cole
It doesn't take a lot to make a difference in a homeless person's life. For example, HELP USA suggests donating clothing for job interviews. So, in keeping with another May theme—spring cleaning—when going through your closets, make it a priority to find something interview-appropriate to donate to help others get back to work and rediscover space in your closets!
Having learned about the needs of our veterans, I was thrilled to meet Lee Woodruff. Her transition to activist occurred after her husband, Bob, was nearly killed by a roadside bomb in 2006 while reporting on U.S. and Iraqi security forces for ABC's World News Tonight. Though Bob returned to work after 13 months of rehabilitation from his traumatic brain injury, his career trajectory was altered. Spearheaded by Lee, together they created a nonprofit dedicated to ensuring that post-9/11 injured service members, veterans, and their families would receive the help they need after returning home. Over the past ten years, the Bob Woodruff Foundation has invested more than $38 million dollars in veteran aid programs, made over 300 grants and reached 2.5 million in need. They review more than 46,000 nonprofits to find, fund and shape innovative programs in communities where veterans, their families, and caregivers live and work.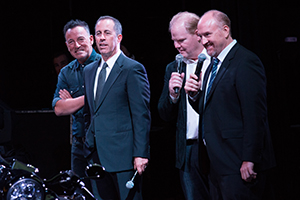 All stand up comedians
And, there are a lot of people who need help. Approximately 2.8 million U.S. service members have been deployed to Afghanistan and Iraq since September 11, 2001. Nearly 53,000 service members have been physically wounded, including nearly 1,700 amputations. It is estimated that more than 350,000 have likely sustained traumatic brain injuries and 1-in-5 suffer from hidden wounds like post-traumatic stress and depression.
STAR POWER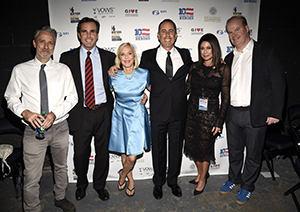 Jon Stewart, Bob Woodruff, Lee Woodruff, Jerry Seinfeld, Caroline Hirsch and Louis C.K.
Early on, Lee and Bob enlisted the help of Caroline Hirsch, who with her partner, Andrew Fox, created the most moving and funny evening of the year, Stand Up for Heroes, which kicks off Comedy Week. Caroline is a leading entrepreneur and innovator in the entertainment industry, yet remains a humble and understated philanthropist. She leverages her star power to support fundraising events across a broad spectrum of needs—health, education, the arts and more. But Stand Up for Heroes remains her crowning philanthropic innovation.
Along with some of the greatest entertainers—Bruce Springsteen, Jerry Seinfeld, Jon Stewart, Louis C.K. and many others who donate time as well as money—almost $40 million has been raised for the Bob Woodruff Foundation. Which reminds me of another important challenge for all of us: Finding creative ways to raise money for non-profits. Need an idea: Google "creative ideas for fundraising, " and you will get 1,780,000 results in under a second.
This May you too can be a hero by helping veterans while showing your Mom you were listening when she taught you to be generous and share with others. When you go out and celebrate this Mother's Day think about donating in her honor. I'm sure if you asked her whether it makes sense to recognize her and our veterans at the same time, she would be pleased by the comparison and that you learned one of her most valuable life lessons: it is better to give than to receive.
---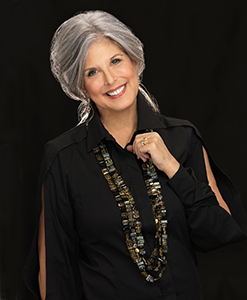 Joan Hornig is a New York-based Jewelry Designer, Social Entrepreneur, and Philanthropist. She left a Wall Street career 15 years ago to create a jewelry line at Bergdorf Goodman, where 100 percent of her profit is donated to the charity of the purchaser's choice.