180 EAST 88TH STREET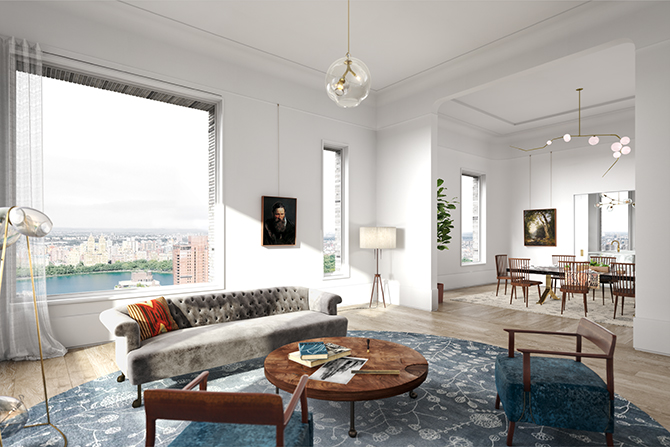 By Daniel J. Bollinger | Photography by March Made for DDG
DDG has done it again with a beautiful new development at 180 East 88th Street. Rising high above the Upper East Side in Carnegie Hill this luxury condo offers 48 units from studios to four bedrooms including three duplexes. Located directly across the street from a Whole Foods and close to Central Park, The Met, The Guggenheim, and many private/ public schools, DDG couldn't have a picked a better location. The layouts and designs of the residences are fantastic.
A LOOK TO THE PAST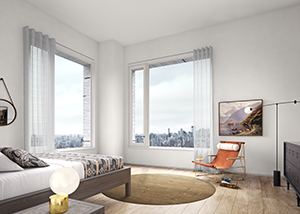 DDG is quickly becoming a leader in NYC development. They are an integrated national real estate firm that takes their design aesthetic and follows it throughout the whole project tastefully and eloquently. For this project, DDG wanted to stay faithful to the pre-war designs in NYC. Some of the characteristics of pre-war residences include brick buildings, high ceilings, herringbone patterns, spacious foyers, arched doorways, and solid wood doors with brass fixtures. DDG has given respect to the past but with a contemporary spin and on a much grander level. As Joe McMillan, DDG chairman and CEO states, "All of our projects have unique attributes to them, such as craft, the unique quality of the materials, or handmade qualities. These attributes are a thread throughout our portfolio."
The façade is built of handmade Kolumba Danish brick by Peterson Tegl. Each brick is made by hand, and one of the attractive characteristics of these bricks is you can see the thumbprints in each block made by the artisans when pushing the bricks out of the mold. The entryway is a private gated entrance surrounded by natural plantings and a sculptural bronze marquee. The lobby has vaulted plaster ceilings with architectural concrete walls and silver travertine floors inlaid with Austrian white oak which create movement and direction. There is a warm and inviting fireplace with a custom hand-sculpted plaster wall by German artist Jan Hooss. "The city is a very busy place, so we wanted to create an environment where people decompress as soon as they walk in," says McMillan, and DDG has designed a relaxing oasis with the high arched ceilings and fireplace.
MAGNIFICENT SPACES
The ceiling heights in these residences are enormous. The majority of NYC ceiling heights are between 9 and 11 feet. A maximum limit height above 11 feet is rare and desirable. DDG has designed its upper residences with up to 14-foot 2-inch ceiling heights in primary living areas, and the duplexes have 28 foot plus ceilings. This is what sets this building apart. Combine this with the 9-foot windows in the great rooms and DDG delivers magnificent spaces with unbelievable light and views. These great rooms also have hand sculpted picture railings, arched plaster ceilings, and 18-inch baseboards which are all details popular in pre-war design.
The foyers of the residences have an elliptical entry gallery with a domed ceiling and a matching herringboned oval floor. It is a unique design that nods to pre-war building foyers history with a modern interpretation.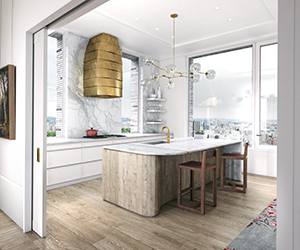 The kitchens and baths are everything we have come to expect in a DDG development. All Gaggenau appliances, custom integrated cabinetry by Molteni&C Dada, with Statuario Marble slab countertops and backsplashes. The custom decorative brass hood enclosure above the range is gorgeous. Brass was a favorite material in the pre-war era, and DDG pays homage by designing the hood out of it but also has accents of brass in the marble island countertop and employs Fantini faucets in natural brass. They curved one side of the marble countertop to help define the 'flow' in the kitchen. I also love the oversized stainless steel sink. The master baths feature a spa-like open wet room design. This opens up the bathroom space. With silver travertine slabs and mosaic tile accented walls and floors, it is truly elegant. Their niche factor is high with a tub length horizontal niche and an equal length vertical niche in the wet room. Once again they employ brass using all Fantini fixtures in natural brass.
The property has seven floors of amenities including a half-court basketball court, soccer pitch, lounge room, and a 2,000 square foot gym with yoga room. Three catering kitchens can be found within all of these amenity floors.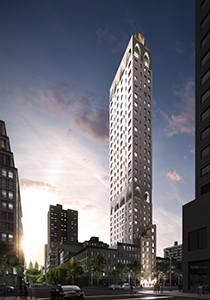 DDG has done it again with their fantastic design by harkening the pre-war style in their designs and building a 21st-century iconic building. Investing in a DDG development is buying into this new era of NYC architectural history. With protected views from the 8th floor and up North, South, and East, unparalleled 360-degree views from the penthouse, and all of the finest materials and design you cannot go wrong with a DDG project. As McMillan sums up: "From duplex penthouses with 28-foot 8-inch ceilings in the living room, full floor units with 360-degree views and amazing outdoor spaces, we've created something that isn't currently seen in new construction in Manhattan. If you look at the amenities, the quality, the craft, and the materials, it's something special."
For more information on 180 East 88th Street, visit 180e88.com.