DINING OUT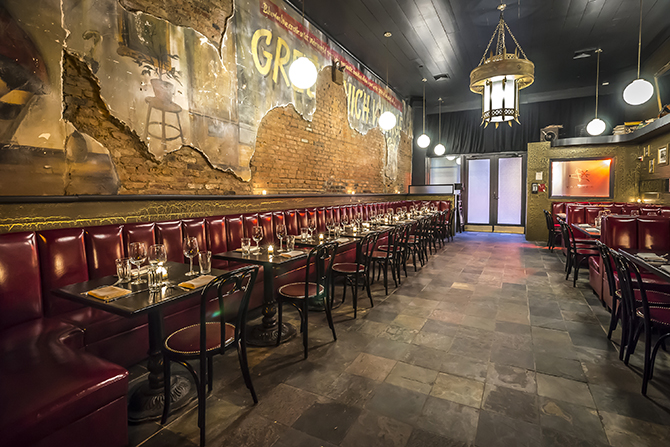 By Patricia Canole
From the moment you step into The Anthony, you are transported into the glamour, grit, and surprise of Greenwich Village during the 1950s. From the meaning behind the venue's name to the intriguing mural on the wall, The Anthony is more than a restaurant or lounge. It's an experience that pays homage to the history of its geography, and to its namesake, Anthony Lispenard Bleeker, the prominent 18th-century entrepreneur who bought property throughout the Village and after whom Bleecker Street is named.
The newly opened restaurant boasts a high ceiling held up on both sides by large sweeping walls—one of which features a mural from the book Greenwich Village Girl. In one corner, you can spot a pinup version of the novel's lead character, "Suzy," after which one of their most favorite cocktails Suzy's Secret is named. The opposite wall is coated in ebony black and forest green crackle paint and bedecked with black and white photos of original icons from 1950s Greenwich Village.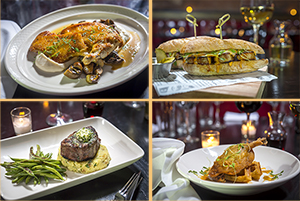 AMAZING FARE
The menu revolves around elevated comfort pub fare with global flavors, from Executive Chef Max Renny. Begin with standout appetizers of Mini Banh Mi's with a smear of chicken liver mousse topped with Char Siu Pork Belly with pickled vegetables, and fresh cilantro. The Crispy Duck and Waffles pair duck confit with a buttermilk waffle, glazed with a smoked duck fat maple sauce. Entrees include Wild Scottish Salmon in a miso beurre blanc sauce of ginger, miso, dashi and white wine. Another good option is the signature Tony Prime Burger with Pat LaFrieda's Best Ground Blend, topped with house-made creamed spinach, cheese, and steak sauce. Other standouts are the Maine Lobster Fondre, an uber-creamy version of lobster mac and cheese, with an entire half-lobster portion. Don't forget the popular sides which include Cacio e Pepe Fries topped with shaved pecorino and fresh cracked black pepper, served with parmesan-pepper aioli.
To top off the meal, enjoy desserts with signature strokes of playful creativity from Michelin-starred pastry chef Ashton Warren, like the Caramel Corn Cheesecake, popcorn-flavored cheesecake with whipped salted caramel on a peanut butter crust, topped with house-made caramel corn. The Fruity Pebbles Citrus Meringue Pie with a crust delectably reminiscent of the fruity cereal (without featuring any of it as an ingredient), topped with fluffy meringue surrounding fresh lemon curd is another winner.
The curated list of cocktails is mixed by Anthony Nelson, a former model with an engineering degree and pilot's license, who flies helicopters by day and mixes cocktails as the bar manager by night. The cocktail list involves fresh and trendy flavors, each double-strained for a smooth texture, with options to suit anyone's palate. The Suzy's Secret is a refreshing blend of Double Cross vodka with fresh muddled raspberries and cucumber, topped with Champagne. Also recommended is The Matador offering a spicy and smoky blend of mezcal, habañero-infused honey, crushed cilantro, lime juice, and bitters.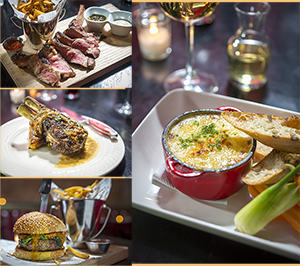 THE LIVING ROOM AT THE ANTHONY
After having the chance to sup on the tasty fare, the magic begins, as the venue morphs into a vibrant nightlife scene, including a surprise spattering of invisible ink graffiti across the walls that can only be viewed with a black light, which pulses from the lamps as their glow turns from yellow to purple. The transition and element of surprise are part of the allure and intrigue.
Old-time movies are projected onto the balcony wall of the upstairs Living Room at The Anthony, a sultry lounge replete with red and midnight blue plush velour seats, flocked red velvet wallpaper and timeless Tiffany-style lamps. The space is equipped with a DJ booth and crystal-clear, high-fidelity sound system. It is here where resident and guest DJs spin a curated list of tunes for the creative, well-heeled guests invited upstairs, who can enjoy table service from the full menu. Guests have the option to reserve tables or the entire Living Room, and VIPs can reach the upstairs via a separate entrance through the back of the restaurant. Upstairs guests can enjoy the luxe space that offers intrigue from below in a distinct but connected experience at The Anthony.
For more information on The Anthony, visit theanthonynyc.com.