TOMATO OYSTER COCKTAIL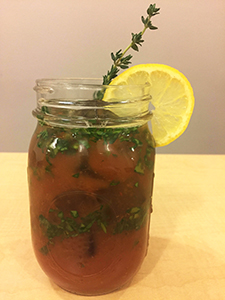 1 Small tomato (equals about 4 oz.)
2 Kale leaves
1 tsp. Cayenne
1 oz. Lime juice
2 oz. Gluten-free, corn-based vodka
Dash Worcestershire sauce
1 tsp. Fresh ginger
1 tsp. Turmeric
1 tsp. Sea salt
3 Shucked raw oysters
Ice
Blend tomatoes, oysters and kale together. Pour into mixing cup add ice to the top. Fill with the rest of the ingredients. Shake ingredients well and pour into mason jar or glass of choice.
Healthful Benefits
• Tomatoes contain large amounts of lycopene, an antioxidant that is highly effective in foraging cancer-causing free radicals.
• Kale boosts the health of your skin because of its vitamin C content, which helps you make the collagen needed for skin strength.
• Lime juice helps to promote healthy skin and improved digestion.
• Cayenne pepper helps to stimulate your metabolism. It's rich in vitamins C and E, as well as several antioxidants, all of which help to reduce the appearance of acne and promote flawless skin.
• Ginger is antioxidant rich which increases blood circulation and helps cut down the toxins by fighting off free radicals to promote youthful looking skin.
• Oysters contain unique nutrients and minerals, which help boost metabolic activity, enhance the rejuvenation and growth for tissue, aid in the healing of wounds, and promote healthy growth.
A STEP IN THYME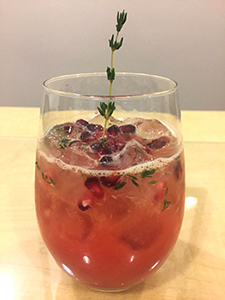 2 oz. Crushed pomegranate seeds
2 Thyme sprigs
½ oz. Lime juice
½ oz. Agave
1/2 Orange wedge
2 oz. Gluten-free, corn-based vodka
1 Egg white
Ice
Salt (optional)
In a cocktail shaker muddle the pomegranate with the orange wedge. Add all the ingredients, but hold the ice. Give the mixture a few hard shakes. Fill with ice to the top and shake vigorously. Strain into a cocktail glass; rim with salt if you choose.
Healthful Benefits
• Pomegranate seeds are rich in vitamins C and K, which help to promote collagen and elastin production for youthful skin. They also contribute to protecting against diseases including cancer.
• Thyme is rich in vitamins C and A which helps to boost your immunity.
• Egg whites are loaded with protein, which can be good for muscle building and fat burning.
• Orange peels contain flavonoids, which have been proven to de-accelerate the growth of cancer cells.
• Lime juice contains limonoids, which may protect against cancers of the skin, breast, mouth, lung, colon, and stomach.