BIG SCREEN PREVIEWS
By Pat Collins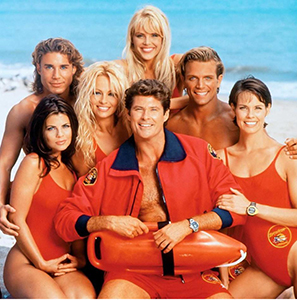 BAYWATCH
Rated R
"Our job is to restore the Baywatch brand" declares the team's boss, Captain Thorpe (Rob Huebel)—to Mitch Buchanan (Dwayne Johnson). Thorpe's directive could also describe Baywatch director Seth Gordon's assignment to reboot the dormant franchise.
When a body is found on the beach, Mitch who is intent on the search for the killer is told to butt out of the investigation by the LAPD. "Your job is to make sure swim happy white people don't drown" orders police captain Garner Ellerbee (Yahya Abdul-Manteen). New to the Baywatch team is Matt Brady (Zac Effron), a brash and cocky Olympic gold medal winner. The team, of course, ignores the police and plunges into the murky waters of drug trafficking to find the murderer. Box office prospects look favorable for yet another TV series inspired movie. Its chief asset is Mr. Johnson who has emerged as one of Hollywood's most popular stars. His box office successes include San Andreas, The Tooth Fairy, five films in the Fast And The Furious series and he supplied the voice of the shape-shifting god Maui in the enchanting Oscar-nominated Moana. Baywatch is set in LA but was shot in Florida.
The TV series which was canceled by NBC after one season was rescued by its star David Hasselhoff who invested a sizeable amount of his own money in the syndicated Baywatch series which ran for seven years.
---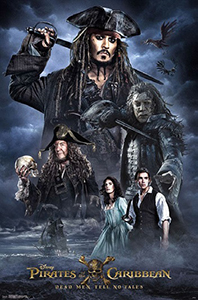 PIRATES OF CARIBBEAN—DEAD MEN TELL NO TALES
Rated PG-13
The combined global box office gross of the four previous movies put $3.73 billion in Disney's pirate chest, so there was some anxiety at the mouse house when the fifth installment ran aground allegedly due in large part to budget and script issues. With those problems seemingly resolved Johnny Depp signed on to reprise the role of Jack Sparrow, the eccentric pirate with too much eyeliner and not enough courage. The presence of two other stars raises the wanna see factor for fans of the franchise and critics alike. Orlando Bloom who created the role of the immortal Will Turner in the first film is on board again. Javier Bardem as the villainous Armando Salazar is another casting coup. Bardem, in my opinion, ranks as the best of the Bond villains—Raoul Silva in Skyfall. Geoffrey Rush's Hector Barbossa, Sparrow's onetime rival is now an ally. Astronomer Kaya Scodelario (Carina Smyth) like all the movie's principal characters is obsessed with finding the Trident Of The Poseidon. Paul McCartney is another famous cast member. Directors Joachim Ronning and Espen Sandberg assure one and all that Dead Men has the feel of the first movie.
---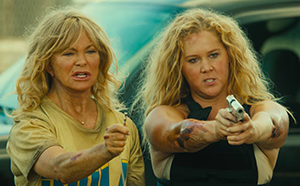 SNATCHED
Not Yet Rated
No, it is not another Taken sequel but an action comedy with two celebrated comedic talents. The abducted victims are the party hardy Emily (Amy Schumer) and her excessively cautious mother (Goldie Hawn). Ms. Schumer who once described her idol Ms. Hawn as "one of my complete heroes," persuaded the Oscar winner to go back to work. She co-starred with Susan Sarandon in The Banger Sisters fifteen years ago. After being unexpectedly dumped by her musician boyfriend an emotionally distraught Emily returns home and convinces Mom to join her for a South American getaway. Too many tequila shots later a tipsy Emily and a panicky Mom are kidnapped from their posh resort and driven to a remote village where happy hours with mimosas are not on the schedule. While their captors make ransom demands the women hatch an escape plan which gives Ms. Hawn the opportunity to remind moviegoers she is as physically adept as ever. The supporting cast in director Jonathan Levine's movie features Wanda Sykes, Joan Cusack, and Christopher Meloni. Ms. Schumer's next project is the dramedy: She Came To Me, with Steve Carrel and Nicole Kidman.
---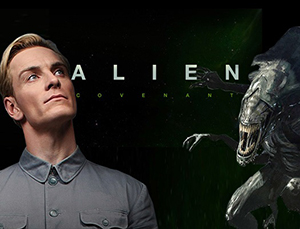 ALIEN: COVENANT
Rated R
Michael Fassbender plays David/Walter, two physically identical but otherwise different androids in director Ridley Scott's sequel to his 2012 Prometheus. Walter joins the Covenant crew comprised of five couples who were selected to colonize a habitable planet before Earth reaches its expiration date. David, displaying many human traits is the mastermind behind a plan to eliminate those involved in the mission who are attacked by an army of xenomorphs the powerful four-legged creatures first seen in the 1979 film and later in various Alien sequels. Mr. Fassbender during an interview with journalists visiting the set in Australia said he thought of Leonard Nimoy's Spock when playing the logical, unemotional and loyal Walter. The first Alien movie was deemed "culturally, historically and aesthetically significant" by the Library Of Congress. Some of the sequels including this one may not qualify for the same distinction, but with few exceptions, they are expertly made science fiction thrillers which have captured the imagination of those who wonder what or who share our universe.
---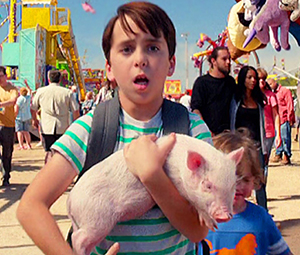 DIARY OF A WIMPY KID: THE LONG HAUL
Rated PG
Do your summer plans include a road trip with your kids or grandchildren? If so the fourth movie in the popular series serves as a cautionary tale—albeit an exaggerated one—about leaving the comforts of home only to endure unexpected mishaps hundreds of miles away. None of the original cast members appear in this installment directed by David Bowers who helmed two of the sequels. Alicia Silverstone and Tom Everett Scott take over the parental roles previously played by Rachel Harris and Steve Zahn. The new Greg, 11-year-old Jason Drucker, persuades his parents to celebrate grandmother's 90th birthday by driving to her home in the Midwest. He has an ulterior motive which is to attend a gamer convention en route. A series of calamitous events ensue when the Heffley family hits the road. The pig Greg's younger brother Manny (Dylan Walters) wins at a county fair consumes the contents of a minibar. A motorboat lands in a pool and a car crash results in a busted radiator. In another scene reminiscent of The Birds a flock of attacking seagulls fly through the open sunroof. The Long Haul, based on Wimpy Kid creator Jeff Kenney's ninth book, also features Owen Asztalos as Greg's best friend, Rowley Jefferson. The family friendly movie should appeal to kids whose most frequently asked questions include "are we there yet?"
---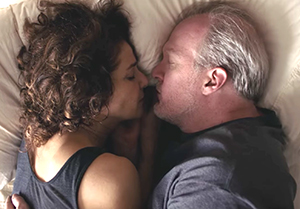 THE LOVERS
Rated R
Michael, the cheating husband, played by Tracy Letts is on the verge of divorcing his spouse Mary (Debra Winger) and moving in with another woman. Mary has a secret as well. She is sleeping with a younger man who urges her to leave hubby and home. Mary and Michael who continue to sleep in the same bed despite their frosty relationship suddenly rediscover their passion for each other and face the same problem. What do you tell your lover? Ms. Winger, who received Oscar nominations for An Officer and A Gentleman, Terms of Endearment and Shadowlands was last seen on screen in 2008's Rachel Getting Married. Mr. Letts, a recipient of the Pulitzer Prize for writing August: Osage County, won a Tony award for playing George in the 2012-2013 production of Who's Afraid Of Virginia Wolf. He is known to television viewers as Senator Andrew Lockhart in Homeland (seasons 3 and 4). The Lovers director Azazel Jacobs made an inspired choice when he cast two exceptionally gifted pros.
---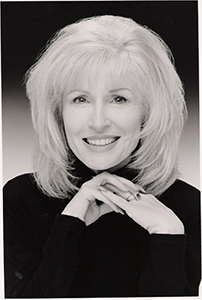 About Pat Collins
Pat Collins is a three-time Emmy award-winning film, theater and entertainment critic/reporter. Her outstanding media credits include WCBS-TV, Good Morning America and WWOR-TV. She is a contributor to CUNY-TV's Arts and The City program and the host of several Broadway specials including Kinky Boots On Broadway, Fiddler On The Roof: Back On Broadway, and The Road To The Tonys.