My New York Story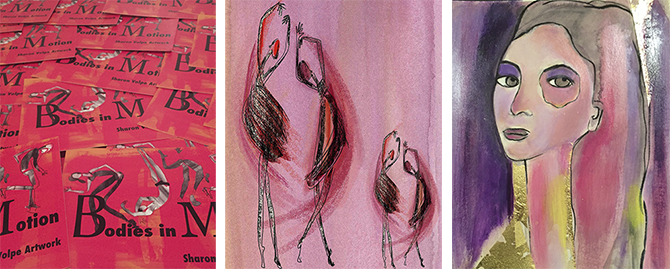 By Sharon Volpe
Born in New York City (and raised in Westchester), was perfect for someone like me. And because I loved the creative arts, it provided the backdrop to dance, theater, music, and art galleries. I was also fortunate to have a family who supported whatever artistic medium suited me at the time. Whether it was art shows, watching me dance in productions, or paying for my drawing training, they knew New York City was always calling out to me.
I studied Graphic Design at The School of Visual Arts on 23rd Street and then went on to obtain an MFA in Illustration from Fashion Institute of Technology. All the while, my personal projects, were aimed to combine my love of dance, sports movement, and design. In the end, my love of people and showing them in an artistic way through many varied mediums.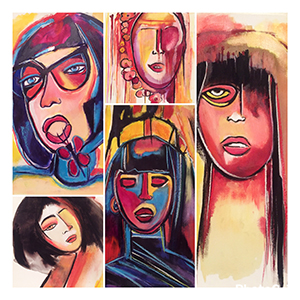 EXPRESS YOURSELF
Last June, I showcased a new series titled Bodies in Motion at the FIT gallery which encompassed a compilation of work that included a large mural, smaller art prints, products and a clothing line representing every type of movement. Take away the sticks, balls or the stage, and what's left is each figure is doing what they do best—using their body as a tool to express themselves. A year later, Bodies in Motion has been featured and promoted by renowned dancers and choreographers, including Melissa Ramos of the Brooklynettes Dance Team.
Bodies in Motion was a very long, thought-out project that required I spend a lot of time drawing figures in action with matte India ink and not allowing myself the privilege of erasing. This is where New York City was so beneficial to my work. I often sat in front of the window of classes going on at Broadway Dance Center, Alvin Ailey, and Steps on Broadway. Many of the choreographers took an interest in my project and allowed me to film. In fact, one excellent choreographer at Broadway Dance Center, Carlos Neto, took to the idea and gave me a lot of access to his classes. He even modeled my first samples and promoted the work to his students. I also have studied other artists who are known for figurative work such as Henri Matisse, Jean Jullien, and Jamie Lee Reardin. Coincidentally, it happened that Lincoln Center was showcasing the art of Jamie Lee Reardin for the Spring 2016 New York City Ballet Season through its posters and social media platforms; it was so great having so much to inspire me right here in New York City.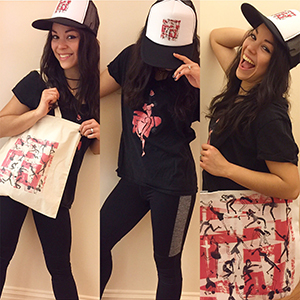 POP-UP OPPORTUNITIES
Of course, I also love to paint portraits, and I take advantage of the many pop-up art shows. It provides artists a chance to demonstrate their work and get feedback—mostly positive—to get a sense of encouragement they need to continue their craft. It's challenging being an artist; sometimes, there are long droughts before someone may buy your work. Getting involved in pop-up shows has encouraged me to make my work better. Two pop-ups that have been instrumental to me are Fantasy in Color, run by Rob Ayala, which offers artists a chance to hang their art bi-monthly in Harlem and Mad Gallery which is seasonal and the artists must be selected. Nevertheless, whether juried or open, meeting other artists and people who frequently come to these shows will often make me feel like I belong to a community.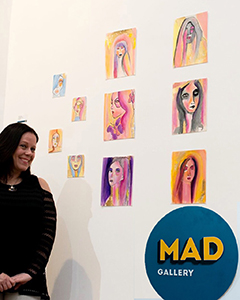 I try to get involved in events as much as possible where I can showcase my diverse talent of painting and creating wearable art and products. I recently was a featured artist and vendor at an art event titled ANTILEMONADE, dedicated to all things Beyoncé and Rihanna. My portrait of Beyoncé was used to highlight the event in The Village Voice!
Besides making my own art, I teach studio art at Queens Vocational and Technical High School in Long Island City. Art is mandatory in high school, so I do my best to weave in themes that my students will find engaging all while learning new techniques such as perspective, inking, hatching and color theory. My student's work has been featured in many shows supported by Arts Connection and The New York City Department of Education. Recently two of the thirteen artists featured at a gallery show at Price Waterhouse Coopers were from my classes.
When I am not painting, or teaching, I love to dance at Broadway Dance Center and Steps on Broadway. I also enjoy New York's professional sports and attend as many games as I can. Now with baseball season in high gear, I can quickly jump on the No. 7 to Citi Field to see my beloved Mets! Let's Go Mets!
---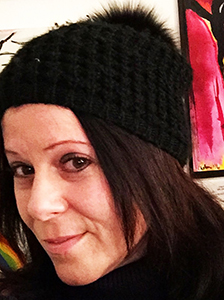 Sharon Volpe's work can be viewed on Instagram @sharonvolpeartwork or purchased at Sharon Volpe Artwork (shopsharonvolpeartwork.com). This site also lists accomplishments, various projects, and links to artwork and products currently on sale.