A BIT OF COUNTRY WITHIN THE CITY
By Clint Brownfield
Let's face it, this Spring had its fits and starts, with unseasonable cool temperatures masking the weather maps. Hopefully by the time you read this, 'normal' June weather will be ushering us New Yorkers into a much-welcomed Summer of sun and fun.
In case you don't have a country house (or a share in one this year), there are plenty of ways to "get away from it all" without even leaving the confines of the five boroughs.
Two fabulous standouts are the Brooklyn Botanic Garden and the New York Botanical Garden—where you can tiptoe through the tulips and just about any other flower you can think of.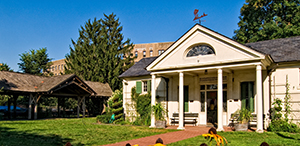 Childrens Garden House
©Antonio M. Rosario
BROOKLYN BOTANIC GARDEN
The Northern end of Brooklyn's 585-acre Prospect Park offers a cultural trifecta: The Brooklyn Public Library, The Brooklyn Museum and the always-gorgeous 52-acre Brooklyn Botanic Garden (BBG), which is about the size of 55 football fields. And just to the south is the Prospect Park Zoo.
It has been said that we often forget to stop and smell the roses. Well, you can correct that by heading to the BBG in June to savor Rose Month—where the Cranford Rose Garden has been one of the most popular attractions since it first opened in 1928.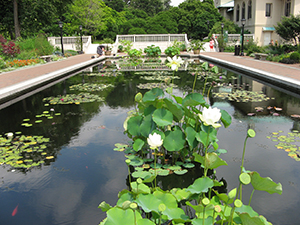 Lily Pool Terrace
RAMBLING ROSES
In June, when the roses are in full bloom, tens of thousands of blossoms cascade down arches, climb lattices and clamber over the pavilion—all superstars in one of the largest collections in North America where over a thousand types of roses are cultivated. This glorious garden within a garden is a repository for roses both old and modern and some of the first roses planted in 1927 are still thriving in the garden today—more than 1,000 varieties in all.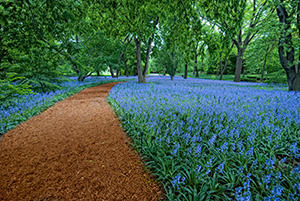 Bluebell Wood
©Antonio M. Rosario
But, as they say: There's more! The other big news at the BBG this Summer is the newly opened Yellow Magnolia Café. This isn't some concession selling hotdogs and soft drinks but rather a major destination restaurant, open for lunch Tuesday through Friday, 11 am to 5 pm; Saturday and Sunday, 11 am to 4 pm (look for weekly brunch specials). Reservations are recommended, although drop-ins are welcome on a first-come basis.
The yellow magnolia tree, the café's namesake, was first developed at the BBG and its flowers provided inspiration for noted architect David Rockwell who designed the restaurant and its interiors. Set in a long greenhouse, the café features a mural of yellow magnolia flowers and looks out onto the BBG's famed (and soothing) Lily Pool Terrace. The café is a wing of the historical Palm House, a glass and steel structure designed by McKim, Mead & White, dedicated in 1917 as the Conservatory. Today it's available for special events and weddings.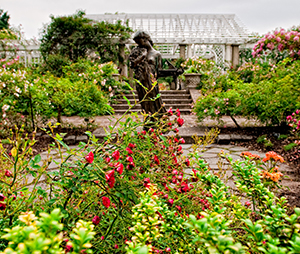 Cranford Rose Garden
©Antonio M. Rosario
The café and Palm House are both run by Patina Restaurant Group (Lincoln, Sea Grill among others) where chef and restaurateur Rob Newton of Smith Street fame (Brooklyn) offers his take on what food served in a botanic setting should be. Emphasis is placed on locally sourced organic/natural produce and meats and is served in a clean and straightforward manner. But, there is also a great burger and crispy fried chicken on the menu. There's whimsy, too: the fried chicken is accompanied with a small bottle with an eye-dropped in it, so you can add hot sauce to taste. The menu, of course, will change with the seasons so visit this urban oasis as often as you can—whether the roses are in bloom, or not.
For more information on the Brooklyn Botanic Garden (990 Washington Avenue; 718-623-7200), visit bbg.org.
---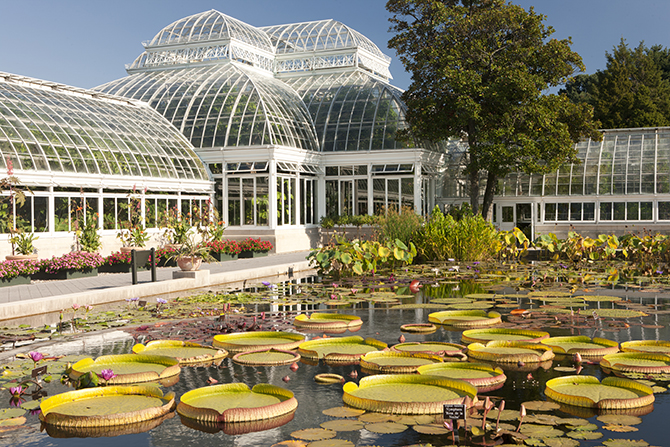 Enid a Haupt Conservatory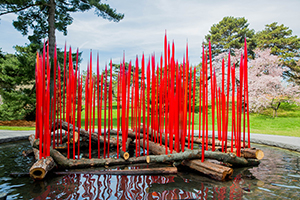 Red Reeds on Logs
NEW YORK BOTANICAL GARDEN
It could not be easier to travel to the New York Botanical Garden (NYBG) in The Bronx. Just hop on the Metro-North Harlem local line at Grand Central (or 125th Street), and 20 minutes later you'll be at the Botanical Garden stop, just across from the main entrance.
Each year more than one million visitors explore the gardens, which feature more than one million plants. But don't worry, there is plenty of room for everybody at this 250-acre national landmark that first opened to the public in 1891.
NEW EXHIBIT
Through October 29th, there's a major, once-in-a-lifetime special exhibit. For the first time in New York City, in more than ten years, works by Dale Chihuly are being featured. Twenty installations of his artworks are currently on view throughout the NYBG gardens and its structures.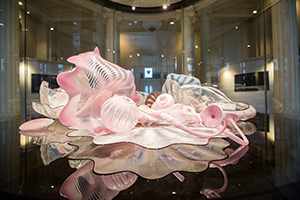 Seaforms
The garden's already dramatic vistas become living canvases for work created specifically for NYBG, showcasing Seattle-based Chihuly's signature organic shapes. Within the 20 installations, three new works enliven the water features of the Native Plant Garden and the Enid A. Haupt Conservatory Courtyard's Tropical Pool, reflecting the interplay and movement of color and light.
You can easily spend a day viewing the regular offerings at NYBG and the unique Chihuly installations. You don't even have to leave the grounds to enjoy a nice meal or snack at the casual Pine Tree Café or the full-service Hudson Garden Grill within the idyllic setting of the 40-acre Ross Conifer Arboretum.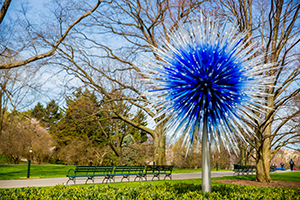 Sapphire Star
On "Chihuly Nights," the exhibition is infused with an incredible, perhaps even magical, energy as the artworks are illuminated amid NYBG's already spectacular vistas and magnificent Conservatory.
You will most likely want to do what thousands of others do each year—become a member of the NYBG and enter as many times as you wish, year round, at no charge beyond the initial membership fee. There are special weekend celebrations, films, and poetry and art programs for all ages offering colorful and imaginative tributes to nature.
For more information on New York Botanical Garden (2900 Southern Blvd.; 718-817-8700), visit nybg.org.
---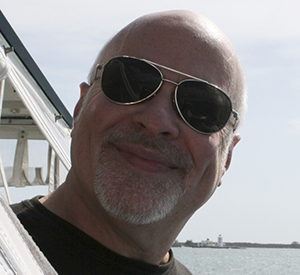 Clint Brownfield is a travel, food and beverage writer and has reported from all seven continents, more than 100 countries and 45 states. He is based in New York City—his favorite destination in the world.