COOL TIPS FOR HOT STYLES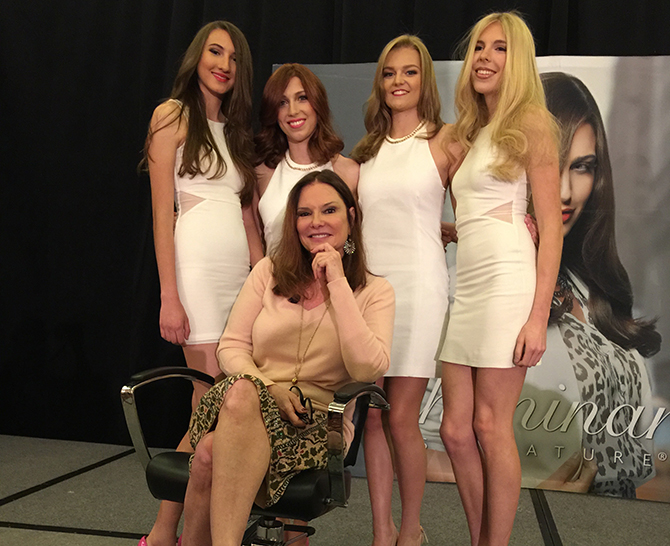 By Lori Simmons Zelenko
With the arrival of warm, humid days, it's time to take extra special care of your hair. Between sun and surf at the beach and wind and grit in the city, our hair is taking a beating this season. With this in mind, we caught up with uber colorist Beth Minardi at the Samuel Shriqui Salon who has the answers to looking good despite heat and humidity and all the other challenges Summer throws our way.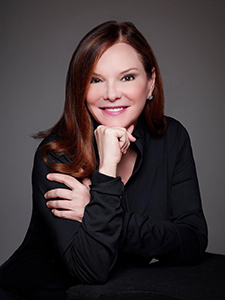 Beth Minardi
TAKE CONTROL
Though Beth Minardi may count Brad Pitt and Christie Brinkley among her celebrity clients, she's just as concerned about real life men and women maintaining their looks every day especially when the weather throws a curve ball. To that end, she offers a 360 of how to manage and control hair without damaging unruly locks.
Beth is considered an eminence in salon color certainly for her exceptional training at Bristol-Myers and Clairol but also for truly knowing her craft; few others in the colorist arena can compare to her level of skill and excellent understanding of the properties of hair color. She was the first woman hairstylist to have her branded line of products which she learned how to create in the lab. But it is the quest for perfection and the need to keep evolving motivates her, not the celebrity of the moment. Genuinely authentic, a visit with Beth is a transformation and a fun, wonderfully enjoyable education.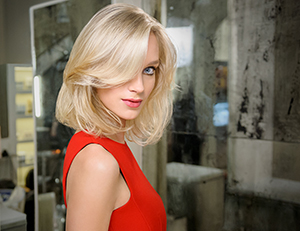 PROTECT HAIR
"Deconstruct," is her motto for Summer hair. Embrace the light, the heat, the humidity. Don't fight it. But what's most important is avoiding salt water or chlorine when it comes to preserving the integrity of your hair color. Swimming is no doubt an enjoyable exercise but destructive to the hair. Beth recommends: "Bring a bottle of club soda to rinse your hair after a dip, it dilutes the damaging effects." And she adds, use Minardi Pre-Wash Conditioner as a veil against sunlight and condition as the day goes by.
Blondes she feels can softly highlight the hair in the Summer, but, she says, "there is no need to ask your colorist to 'do your roots,' all over. Let that deeper root provide needed contrast." And, at the start of the season, ask your colorist to add champagne or caramel threads: It will provide the eye-catching contrast that prevents a monochromatic look. "Enter into the season with sun-kissed streaks that look like the beach is already second nature," Beth advises. "Just protect your hair as much as you can from the wear and tear of fun in the sun!"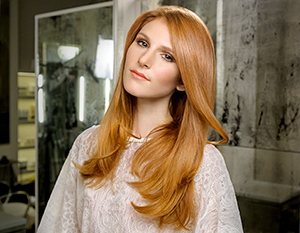 HEALTHY LOCKS
Beth strongly emphasizes to get a great cut in June, make sure hair is healthy with a trim and shaping but leave it be until September. Hiro, her colleague at Samuel Shriqui, who is known for his exceptional precision cuts, shares his point of view. Summer hair may be a little bit "messy," but that does not mean the ends should be frayed or uneven. Healthy hair is consistently textured and shiny not brittle or dull even when "undone." It's the cut and color combo at the start of the season that lets you maintain the casualness of the "do" that looks so effortless.
Remember UVA/UA rays and the environment itself stresses hair, why subject it to further trauma? "It is fine to wash your hair—even daily!" but she cautions, "do not go to bed with chlorine, salt or perspiration. Lather only once; leave-in conditioner is a must at all times, Beth insists.
An impressive color conditioning system called EVO has a fabulous collection of Beige, Icy, or Caramel color refreshers, and the Fusio-Dose Ciment Treatment I apply after my color services, insures fortified, strong and protected hair."
But again, don't do further damage with a metal barrel brush that rips the hair when it heats up. Use a Mason Pearson boar bristle brush or maybe a boar bristle with nylon. "Look on hair as if it is fiber. Stop tearing it up; it is not as strong or as thick as rope, acknowledge its fragility," Beth reminds us. Preserve fragile hair by not scrubbing with a towel as excess rubbing and scrubbing lead to split ends. Skip the metal brush or comb.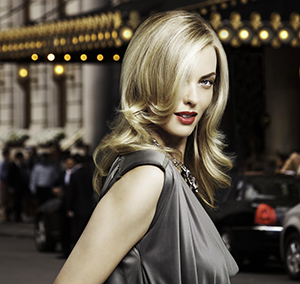 COLOR YOUR WORLD
Overall go for more depth and more warmth, recommends Beth, but she acknowledges that red, the cool burgundy shades, are harder to maintain when the weather heats up. Just as blondes need to avoid over-bleaching so do brunettes need to avoid brassiness. Color conditioners can help banish red tones, in fact, violet conditioners get rid of that orange tone that warps color after sun exposure.
Hair needs moisture/protein replacement to survive. So, don't apply Keratin Relaxers containing formaldehyde (it dehydrates) after May. Do so, and you risk a chemical burn to your hair. Although Samuel Shriqui Salon offers an excellent conditioning treatment that renews hair from the inside out but to follow up and maintain, Beth recommends at-home care as well.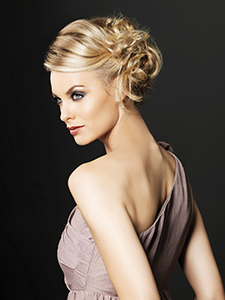 Struggling myself with a volume of fine, wavy hair often dry and brittle at the ends, I discovered in my search for the perfect conditioning system at home a brand called Milbon, Japan's top salon brand for sleek, shining hair achieved by infusing each strand with protein. Positioned as an age-defying system of products, their new Enriched system, is "advanced anti-aging hair care designed especially for mature, color-treated hair." Restoring youthful appearance and natural movement for hair (both coarse and fine) that is unmanageable and depleted from the combination of chemical and aging stress, Milbon works wonders. For more information on Milbon, visit milbon-usa.com.
Protect your investment says Beth Minardi. Don't over wash your hair—multiple lathers are probably not necessary as a rinse of club soda can tide you over between shampoos. Cover up in the sun. Stop over-heating with hot tools for a scorching blow dry. Accept the fact that the best look for this time of year is free and easy, undone and casual.
If you're looking to put Beth Minardi's recommendations into action, you can find her at Samuel Shriqui Salon (35 East 65th Street; 212-472-6805) or visit at bethminardi.nyc.
QUICK TIPS FROM BETH
• Embrace the Light Realize there is more opportunity for lightening of hair color so don't rush into the season lighter and brighter; it will happen naturally.
• Summer Hair Do Let it be loose and free.
• Banish Brassiness Use a color conditioner to correct changing tones due to sun or sea exposure. Rinse with club soda after a swim to avoid damage as much as possible.
• Adjust Your Color Don't enter into warmer months with drastically darker or lighter hair than usual. Blondes, it's OK to have roots this time of year—contrast is cool.
• Treat Hair Kindly No scrubbing to towel dry. No metal brushes. Condition as much as possible.
---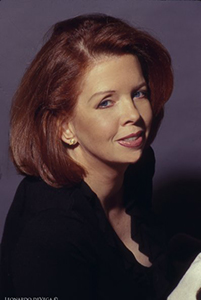 Lori Simmons Zelenko is the founder of LSZ COMMUNICATIONS. To drive sales and buzz, visit lzelenko.wixsite.com/lsz-communications or call 917-693-8602. ©2017 Lori Zelenko, All Rights Reserved. (Photo credit for portrait of Lori Zelenko: Leonardo de Vega)