Those Wildwood DAYS... STill Shine Bright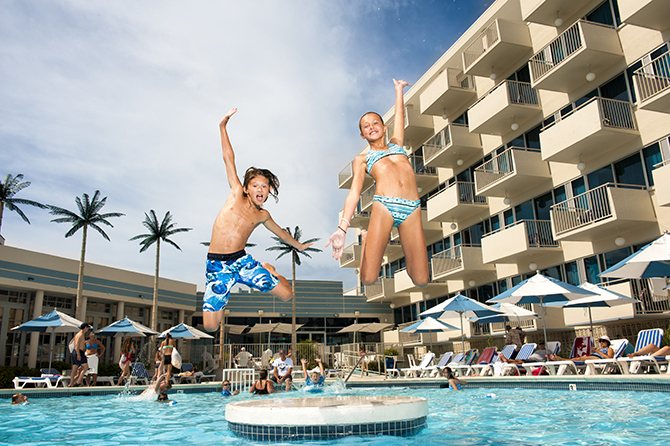 Pan American Pool Time Fun Photo by David Howarth
By Daniel J. Bollinger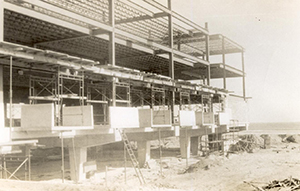 Pan Am Construction
The summer is here again and many families have already begun planning their vacations. The Wildwoods on the Jersey Shore is a popular destination located just 2 ½ hours from New York City. Morey's Piers is a focal point that has it all – beachfront amusement park featuring 100 plus rides and attractions including two waterparks spread over 3 piers.
Nearby restaurants, hotels and a bevy of attractions make for a happening area. It is easy to see why Morey's Piers has been voted the "#1 Best Beach Boardwalk" by Family Vacation Critic. Mariner's Pier, Surfside Pier and Adventure Pier all offer rides and great experiences. The two waterparks – Raging Waters Water Park and Ocean Oasis Water Park and Beach Club provide wet water fun for all ages.
2017 Enhancements
Every year Morey's updates and improves its operations and fun factor with new rides, restaurants, events and more. This year Morey's enhancements will be even more visible. Morey's hired a Philadelphia-based hospitality group specialized in personal dining experiences to consult on menu items, employee training and service, marketing as well as day to day food operations. Jack Morey likes to say, "We doubled down on food this year because we know that the food experience at Morey's is a very important part of the overall experience with service being our #1 priority."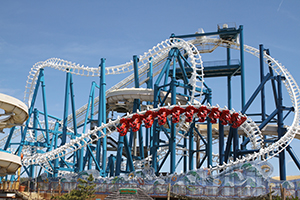 Great Nor'Easter Roller Coaster
You can look for new menu items at all the eateries from the more formal restaurants like Alosi's Bistro, The Royal Grille Café and Jersey Girl to traditional fanfare favorites like Taco Joint and Stubborn Brothers Beach Bar & Grille. Morey's Piers is redefining boardwalk food, going beyond serving funnel cake and hot dogs. A trip to the piers will give you a full culinary experience, adding a dash of gastronomic flare to classic boardwalk fare.
As far as the rides go, the Great Nor'Easter Roller Coaster ride, is now a custom designed suspended looping roller coaster comprised of 2,100 feet of twisted steel that takes you high over the Ocean Oasis waterpark, through a rollover, sidewinder, with double spin at speeds of up to 50 mph. That's 5 upside down thrills! Morey's invested in completely re-tracking this ride and even splashed new coats of paint on it. As family owner Jack Morey says, "The Great Nor'Easter is bluer, faster, and smoother this year."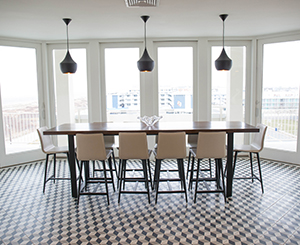 Luxe Living at The Jersey Shore
The most significant update this year at Morey's is the restoration and renovation of the penthouse at the Pan American Hotel, one of the most iconic structures since it was built in 1964. What makes this update significant is that there is a great amount of family nostalgia and history associated with the penthouse. As Jack says, "This is where it all started." When the penthouse was built in 1971 it was built exclusively for Will and Jackye Morey to stay during the summers while they were running Morey's and raising their children. "It was new for its time and the only thing on the beach at that time, which created a whole new area for development," says Jack. The penthouse was inspired by the Americana Hotel in Miami Beach. Will and Jackye stayed at the Americana Hotel on their honeymoon and it left an indelible impression on them. Will's first business partner, Fred Langford is actually the architect who designed the penthouse. Fred is also one of the first innovators and designers of water slides and assisted greatly in designing/building Morey's into what it is today. As a tribute to the passing of Will and Jackye and all the fond childhood memories of the penthouse that their children have from growing up in it, the Morey Family has decided that, "it was time to bring it back to it's heyday, the glamour time of that era, we wanted to return it to those glamour days of James Bond, Austin Powers and Jackie O." They have done that by completing a full restoration of the penthouse, re-installing some of the original design details like a round fireplace and also renovating with modern technology like flat screen tv's and new appliances and systems. The interiors of the space are actually blends of octagons, which make for a series of separate art galleries. The Morey family hired famous photographer Kip Dawkins to create an art gallery in the penthouse made up of pictures of the area during this nostalgic time period. Throughout the space, there will be photo collages of old pictures of the area.
The penthouse suite is a true residence spanning 2500 square feet. It is one of the best suites to stay in since it has views of both the whole boardwalk and the vast Atlantic Ocean. It has a host of amenities including an outside hot tub, enclosed dining terrace, as well as room service. The penthouse is actually a great space to host events or parties(think about a reception for a beach wedding) because of its large size and 360 degree views.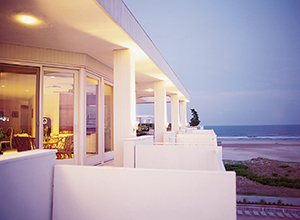 Beautiful Ocean Views
Pan American Hotel
The Pan American Hotel itself is an oceanfront hotel featuring private balconies. It is known for its comfortable rooms, stunning swimming pool and its superior location, being in close proximity to the vibrancy of the boardwalk, Wildwood by night, as well as watersports. What truly makes the Pan American stand out is the level of service provided by its staff. It all starts at the top and trickles down the line. Jim Kelly is the general manager at the hotel and he is entering his 36th year with the family owned and operated organization. He has seen it all and knows what it takes to run a top-quality organization. He says "It's all about being treated like family" and this is what he preaches to his staff and exhibits himself. He sees families coming back every year for decades because of the great service that is provided and the family fun that is always present. Jim goes on to say "I see next generations also visiting every year and I have followed parents bringing their children here to the parents becoming grandparents and their children bringing their children here. It's a great honor to be part of a family that provides such fun and service that even the second generations of families come year after year."
Everyone is looking forward to another exciting summer at Morey's Piers and the Pan American Hotel and remember as the saying goes "What happens at the beach gets laughed at all year long."