SUMMER IN SARATOGA SPRINGS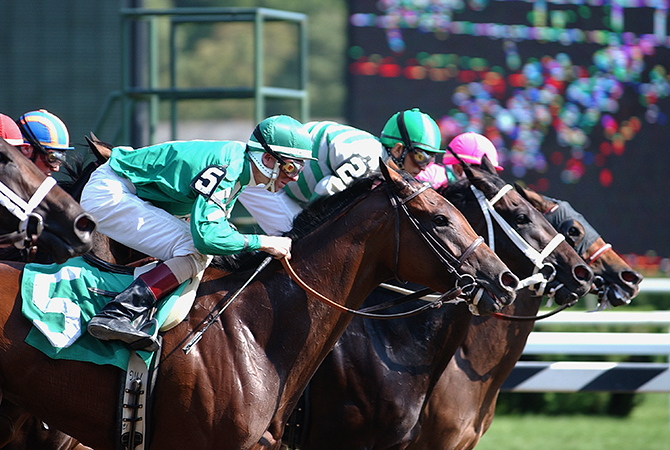 By Patricia Canole
For history lovers, it is an important site of the Revolution and to some of the most elaborate Victorian architecture in the land. To those seeking a bit of relaxation, it is a resort town, famed for its healing waters. For the musical set, it is a symphony of first-rate classical, jazz, rock and folk. And to the equine followers, for six weeks every Summer, it is Mecca. Welcome to Saratoga Springs. A place like none other in Upstate New York. How did this town—less than 3 hours from New York City—come to be a Summer favorite with so many visitors?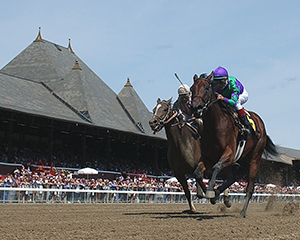 Saratoga Race Track
IT STARTED WITH WATER
Long revered by Native Americans for their medicinal qualities, the springs at Saratoga, bubbling from a fault lying beneath the foothills of the Adirondacks were discovered by European settlers in the late 18th century, and it wasn't long before a community developed. Word spread, and soon a steady stream of well-heeled visitors flowed in to partake of the waters. The tourist trickle increased in the 1860s, when John Morrissey introduced horse racing and gambling to the area, ushering in Saratoga's golden age. Manhattan's moneyed elite—the Vanderbilts, Astors, and Whitneys—quickly made the town their hideaway. Elaborate mansions appeared on the avenues, with massive colonnades, wraparound stone porches, balconies, gables, and cupolas.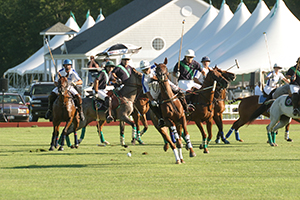 Saratoga Polo
A century later, the ghosts remain--as does one descendant of those gilded days—"the season." Six days per week for 40 racing days from Friday, July 21 to Monday, September 4, all life here revolves around the thoroughbred and Saratoga Race Track. The town's population triples. Top horses ridden by the best jockeys in the country race for large purses – there are 69 stakes races with purses totaling $19 million with the featured race being the $1.25 million Travers Stakes on Saturday, August 26. The one thing that threatens to upstage the horses is the endless fashion show of spectators, whose days and nights blend in a blur of black-tie dinners and Champagne breakfasts. Need more horses? Saratoga Casino Hotel boasts one of the most beautiful half-mile tracks in the country. Enjoy live harness racing nestled amongst a variety of dining options, a gaming facility with over 1,700 slots, one of the hottest night clubs in the capital region and a newly opened hotel. Another Saratoga horse tradition that spans over a century is the fast-paced action of Saratoga Polo (Friday and Sundays July 7-September 3) when the ponies take the field, and the fans enjoy this favorite pastime on historical grounds from the grandstands or the elegant clubhouse.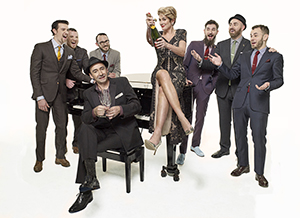 SPAC on Stage - HotSardines
©Joseph Cultice
MOUNTAIN MUSIC
When the horses rest, the crowd still plays. Though the atmosphere remains decidedly small-town, Saratoga is home to entertainment.
For starters, the iconic Saratoga Performing Arts Center(SPAC) hosts the Saratoga Jazz Festival – the longest-running jazz festival in the country showcasing music legends, and up-and-coming artists who fill two stages on June 24 and June 25. Chaka Khan and Gipsy Kings are just a sampling of the talent that will be performing. SPAC will again be the Summer home to two longtime residents, the New York City Ballet (July 5-15) and the Philadelphia Orchestra (August 2-19). New this season will be "SPAC on Stage" featuring headliners including Hot Sardines—one of the best jazz bands in New York City. What makes this so innovative and exciting is the entire audience is on stage with the performers.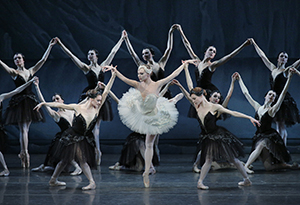 Swan Lake, Choreography George Balanchine ©The George Balanchine Trust, New York City Ballet
Summer at Skidmore College is filled with music, dance and art events along with its famous writer's workshop. Take advantage of the evening readings featuring noted authors including Darryl Pinckney (July 5) and William Kennedy (July 28) as part of the New York State Summer Writers Institute, hosted by Skidmore College. Also, for contemporary art exhibitions, head to the Tang Teaching Museum and Art Gallery on the Skidmore campus. The building, designed by renowned architect Antoine Predock, houses four galleries with world-class exhibitions. For a complete Summer at Skidmore events calendar, visit skidmore.edu.
Saratoga is also abundant in culture and history as well. Its National Museum of Dance is the only one of its kind in the country. The Historical Society of Saratoga Springs—located in a one-time casino—preserves a gaming room of that era. The museum also displays the artifacts of the amazing Walworth family which also houses the Ann Grey Gallery. Younger travelers will love the interactive Children's Museum.
HIT THE TRAILS
For those who enjoy being outdoors in the Summer, you'll find plenty of great outdoor activities and places to stroll in Saratoga. Start exploring the tree-lined streets of East Side with their spectacular estates; Congress Park designed by Frederick Law Olmsted; and Yaddo Gardens, an artist's retreat. And, of course, there's Saratoga National Historical Park for its re-enactment of Revolutionary War battles.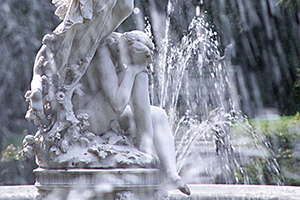 Yaddo Gardens
Water sports are abundant on area lakes, rivers and canal ways, and can be enjoyed through kayaking, canoeing, boating, fishing, and swimming.
There are over a dozen golf courses in the area including the award –winning Saratoga National Golf Club. There are also many trails for biking and hiking.
Numerous festivals and events take place this Summer, including the Saratoga County Fair, Saratoga Balloon & Craft Festival, All-American Celebration, Hats Off to Saratoga, and so much more.
PLEASING THE PALATE
There's plenty to please every taste bud with all types of restaurants serving burgers to five-star cuisine. There's the Olde Bryan Inn, a favorite among locals. At down-home Hattie's, in operation since the late 1930s, jazz and R&B provide the backdrop mouth-watering Southern dishes. For an upscale menu, try Siro's which won't disappoint. Finally, The Parting Glass. Yes, it's serves up shepherd's pie and Guinness on tap, but it's more than your typical Irish pub. It's a beacon for most everyone who passes through Saratoga, from ballerinas to rock stars to regular Joes. This is the perfect place to raise a parting glass to the little town that has everything—and then some. Of course, this is just a sampling of the fare offered in Saratoga. There are a multitude of other fine eateries along Broadway.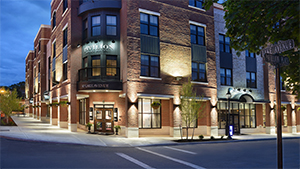 Pavilion Grand Hotel
WHERE TO STAY
The Pavilion Grand Hotel (paviliongrandhotel.com) is located downtown in the heart of Saratoga Springs. The original Pavilion Hotel, built in 1819, was known as the most opulent of its time. Today, the all-new Pavilion Grand Hotel distinguishes itself with the highest level of guest service, over-sized condo-style suite accommodations. Some of the larger suites feature three bathrooms and private balconies, or beautiful rooftop gardens. Amenities include a fitness center, Salon and spa, a Bistro, and the popular Fish at 30 Lake restaurant with its daily menu of fresh offerings from the sea.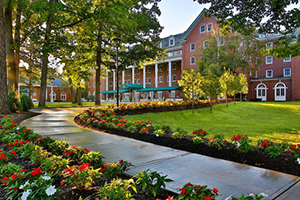 Gideon Putnam Hotel
Experience a bygone era at the Gideon Putnam Resort & Spa (gideonputnam.com), the city's historic hotel, features Georgian-style rooms and where guests can still "take the waters" at the adjacent Roosevelt Baths & Spa, in naturally restorative mineral waters in the WPA-era bathhouse. Nestled in the peaceful Saratoga Springs Spa State Park, it's convenient to the park's golf course. Other amenities include a full-service spa, fitness center, and restaurant/bar. The rooms are comfortable and have mini-fridges and Keurig coffeemakers and a solid choice for repeat guests.
For more information on Saratoga Springs and all it has to offer, visit saratoga.org.