NORTHERN LIGHTS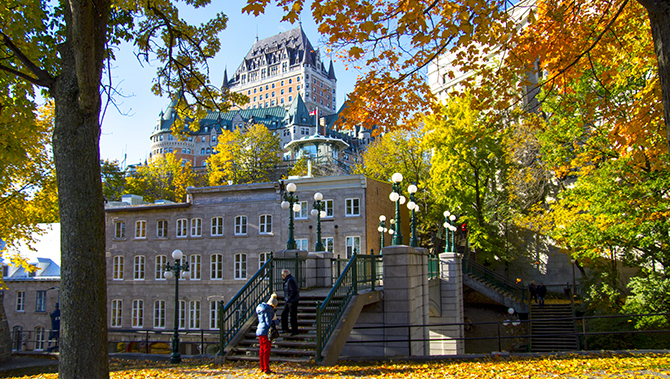 By Patricia Canole
Action-packed days of hiking. Endless hours of shopping. Easy nights under the stars. Hotels and resorts you'll want to call home. Outdoor cafes, French baguettes, and a whole lot of Mother Nature. Decide on a getaway in Quebec City, and you get the best of all worlds. Tucked up in the great white north, here's a shining star that is enough to warm your hearts—anytime of year!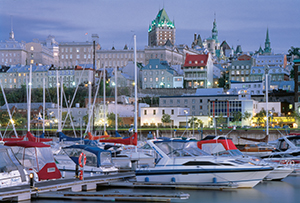 PLAY TIME
Picture a walled city with narrow cobblestone streets, old stone buildings, impressive chateaus and you have the setting. Though French is the official language of the Quebecois, most all speak English, though a friendly "bonjour" always helps set the tone. Be prepared to walk in Quebec with the assurance that there is always a café nearby in which to cool your heels. Have café au lait and croissants at one of the many cafes on St. Jean Street before taking a walking tour of Vieux Quebec, the old walled city.
Start by strolling along the scenic boardwalk on Terrasse Dufferin overlooking the St. Lawrence. You will pass the Citadelle, the 19th century military outpost, before reaching Parc des Champ-de-Bataille including the spectacular Plains of Abraham, where the British and French once battled for the city. Shift altitudes and ride the funicular from Terrasse Dufferin—or if you're really athletic take the steep staircase—down to the Petit-Champlain quarter near the harbor. The oldest area in town, Petit-Champlain boasts shops and cafes aplenty lining narrow cobblestone streets. If you're lucky enough to be in Quebec City August 9th thru 13th, you'll want to participate in the Les Fetes de la Nouvelle-France (New France Festival) and don a 17th-century costume and parade through the city's streets. (You're still welcome to the fun and festivities if you forget your period costume.) This annual celebration honors those who first settled in the Quebec environs.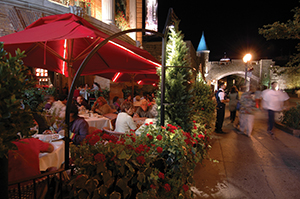 When you've had enough of the city and long for wide-open spaces, explore the countryside along the North or South Shores of the St. Lawrence River., where quaint villages, picturesque farms, and small inns recall the early days of New France. Just 15-minutes away is Ile d'Orléans, which remains a peaceful, slow-paced world apart from the bustling city. Touring the island and its charming historic villages is an easy drive, since the circumference is a mere 40 miles. While here, take in a lunch at Le Moulin de Saint-Laurent for its exceptional regional cuisine. Be sure to try the wild game terrine and chicken liver pate to start. Then dine on a delicious veal stew with filo pastry and mushroom.
Along the way is the spectacular Montmorency Falls. The centerpiece of a park, the huge stunning waterfall cascades 272 feet downward (one and a half times as high as Niagara Falls). During the winter, the waterfall freezes into a giant cone of ice. The site also affords romantic lookout points and a picnic area. No matter what time of year, take in a visit to Mont-Ste-Anne Park, which is dominated by a 2,699-foot high mountain carved with trails. Well-known within the ski community as an international ski center, it is also a prime spot for golf, mountain biking, hiking and horseback riding. Don't miss taking a cable car to the summit for a breathtaking view of the St. Lawrence River and coastline.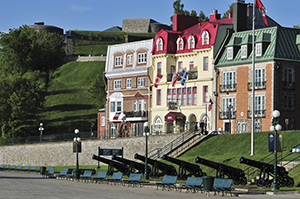 KICK UP YOUR HEELS
The gorgeous Fairmont Le Chateau Frontenac (fairmont.com) is the icon of Quebec City, and you can't visit the city without at least stepping in. Start a romantic evening with a walk through the castle and a cocktail at the first-floor Bar St-Laurent and Lounge. Of course, restaurants are everywhere, and the food is so good—and so French—that you just might forget Paris is all the way on the other side of the Atlantic. Also special within the Quebec City region is Restaurant Toque and a menu of some unforgettable French entrees. The modern dining room is tres chic. Try the duck magret with mushroom consommé. Wherever you sit, say "oui" to duck foie gras and caribou steak with peppercorn sauce, and don't forget the blackberry crème brulee for a sweet dessert. For more casual fare, there's Le Cochon Dingue where you'll find a menu of such favorites including croissants, baguettes and unfussy food that's easy on the palate.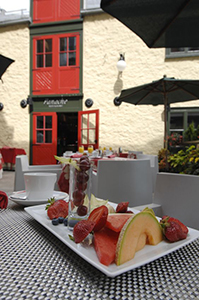 SWEET DREAMS
With its imposing castle-like architecture and prime location overlooking the river, Fairmont Le Chateau Frontenac is a must. The hotel offers a variety of affordable packages, including several honeymoon deals that will pamper you with such romantic perks as chocolates and bubbly while still managing to give your budget a break. For those who want the Lower Town, opt for a stay at Auberge Saint-Antoine (saint-antoine.com) a Relais & Chateau hotel. This former warehouse has been transformed into a charming, well-run inn along the waterfront. Each room is different—though all have private baths—and some are bigger than others.
For more information on Quebec City and its environs, visit quebecregion.com
FUN FACTS

Did you know…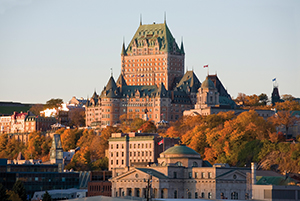 Quebec City's Chateau Frontenac is the most photographed hotel in the world?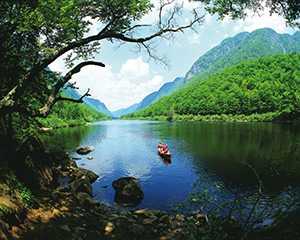 Quebec contains more than three percent of the world's fresh water reserves.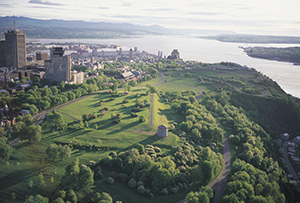 Quebec's forest covers more than the size of Sweden and Norway combined? This represents 20 percent of the Canadian forests and two percent of the world's forests.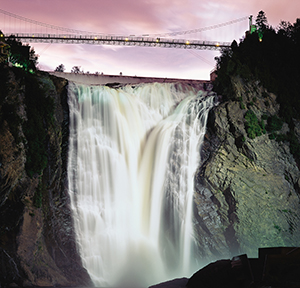 Quebec City is the only walled city north of Mexico and was the first in North American to be placed on UNESCO's Word Heritage Sites.